Anime NYC A Must Attend for Cosplay and Manga Fans
Anime NYC is an annual convention held at the Javits Center in New York City every November and is the pinnacle event for Japanese pop culture art in the U.S.
This year, nearly 50,000 gathered together as a celebration for cosplay, animation and manga.
Giancarlo Naranjo is a long running anime fan and attended the the con on Sat. Nov. 16.
"I thought the venue was great! I had been there before for New York Comic Con (NYCC). Anime wise this con had a way bigger turnout than NYCC, which was great to see."
He and his girlfriend went as Ochaco and Deku from the popular anime series My Hero Academia (MHA).
Positives of the venue were the sponsors, manga, and events.
"While we didn't use it I noticed that they had changing booths available for people to make cosplay changes in at the con."
Negatives of the venue were the weather, space, and lines. While it is hard to blame them for the weather, which isn't in their control, it did make the space more packed.
Pointing out how packed it was, the lineup for when photoshoots were was poorly executed. Having them all in one spot made it hard to move through there especially when it was a popular series.
The Dealer's Artists and Gamers were all in one big room area that at certain times of the day it was really overcrowded and hard to move around in.
While he didn't eat much food at the con, the set up that was provided was well stocked and decently priced. The center itself had its own food court, which looked delicious. There were setups available that included dumplings, curry, ramen, sushi, and vegan options.
"These also looked very well prepared and always had a line by them even though you had to go outside to food trucks," he said. "I did also see that their dishes were themed to popular characters, such as Pikachu."
Security is top notch at the event. They had all the necessary stops for bags and props.
"I think they did an amazing job. I felt very safe and secure while I was there."
The Dealer's Room had hundreds of merchandise items – some being official merchandise, and others from homemade art.
Artist Alley is a hot spot for the convention.
"I loved it! I love supporting independent artists and creators. My girlfriend and I found a booth that had cat ears specifically made for certain characters which were really cute!"
While some of the content was extreme and not his taste, he still enjoyed the content and was inspired by it.
One thing the con mention has in excess is gamers. Lines were long to see the all the newest of games coming out.
"I did enjoy seeing demos for games coming out soon or are out but wanted to see some gameplay of it before committing to buying a copy."
The game demos he saw were MHA, Toyko Ghoul, One Piece, and One Punch Man.
Dozens of panels were opened throughout the convention with long lines and anxious members looking to make the cut.
"I was interested in the panels just from the titles, you could really tell what the panel was about because of them. I also liked that there were panels about sensitive topics that are in the community right now. I definitely think that they should've had a bigger room used for more popular content that the panels were about."
The big two were JoJo's Bizarre Adventure (JJBA) and MHA cosplayers, plus a good diversity of other fandoms.
There were Tokyo Ghoul, One Piece, One Punch Man, Dangan Ronpa, Soul Eater, and Miss Kobayashi's Dragon Maid cosplayers too.
"Along with normal versions, I did see a lot of good alternate universe versions of cosplays and fandoms."
Cosplay rules are zany to some, but quite necessary in this work.
Costumes must be appropriate to the public. The rules actually state: "Naked is not a costume."
Absolutely no Nazi costumes or other hate crime organizations are tolerated. Harassment or intimidation is also not allowed.
Props are allowed but cannot be confused for real weapons. No cap guns, water guns or Airsoft guns. Anything made from foam or cardboard is OK, as the point is to have fun. Bows are allowed but must be unstrung.
The day is long, but filled with fun and excitement.
"People coming together under the same roof and enjoying it and the art style is heartwarming! I had a great time! Made my Day!"
Anime NYC will be held next year on Nov. 20-22, 2020.
Leave a Comment
About the Contributor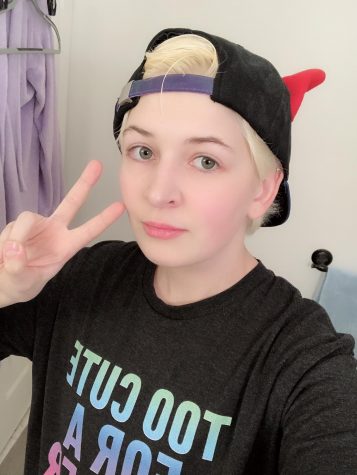 Randi Rooney, Impact Staff
Randi Rooney is a person.

"I enjoy long walks on the beach!" "6:30, eating dinner with myself; Seven o'clock wrestle with my self-loathing."

I live...