Mercy College Musical Drama Club Presents Disney Cabaret Night
The Mercy College Musical Drama Club produced a Disney Cabaret Night, in Lecture Hall on Nov. 23.
After rehearsing for almost three months, the members of the club were ready to perform.
The show was a revue of famous songs from various Disney shows and movies such as The Little Mermaid, Beauty and the Beast, Aladdin, Tangled, Frozen, Hercules, Moana, The Lion King, and The Hunchback of Notre Dame.
Marc Palmieri, the faculty advisor of the club, along with drama club president, performer, choreographer, and director, Natalie Meyer, were thrilled about the experience and were gleeful in perspective on the performance, as were performers Vivian Boyd and Isabel McMahon.
"Natalie really ran this thing beautifully, and while the cast was terrific, so was the stage crew," Palmieri stated.
Palmieri was delighted with how the show came together and incredibly impressed with the work, both artistically and technically.
"The well-rehearsed numbers were performed with terrific confidence, skill, and palpable joy. The collaboration between all club members, those on stage and those off, worked beautifully," Palmieri added.
At least 50 people came to watch the show. The crowd was made up of Mercy College students, parents, family, and friends.
The applause roared after every song and the cast got a standing ovation at the end.
"The audience could not have been more enthusiastic," Palmieri said.
Meyer said that she was surprised by the audience's reaction and was not expecting such a huge turnout.
"I felt very accomplished and proud. I was extremely proud of all the teamwork, hard work, and dedication of all the cast members," Meyer said.
Meyer believes it was both a challenging and rewarding experience to not only perform but to direct and choreograph also.
Meyer, who usually only performs, played both Princess Anna and Princess Rapunzel. She stated that she never saw herself as a choreographer and director since she had never been the type of person to take on a leadership role but she's glad that she did.
"I am extremely grateful that I was able to be given a wonderful opportunity to share my passion for musical theatre with other Mercy College students," Meyer said.
Meyer, along with members of the club, thought about the idea to do a Disney Cabaret performance since it was similar to what Meyer had done in high school and because Disney movies have such a huge fan base. Meyer felt that many students would enjoy the show and would want to participate in it.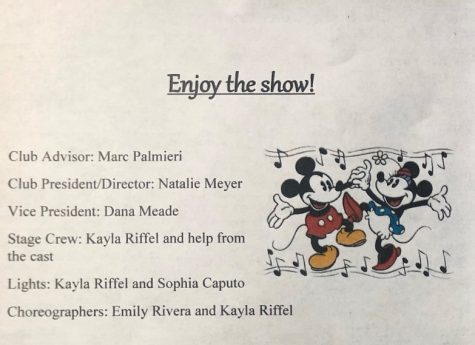 After the show, the cast members met the audience in the lobby outside the Lecture Hall. Flowers, cards, hugs, and congratulations were exchanged.
The Mercy College Musical Drama Club was very happy with how the performance turned out.
"It was a triumphant debut event for the club, a beautiful evening of music, dance, and teamwork," Palmieri said.
Boyd, who played Megara from Hercules, said that she was nervous about performing though she has done it for years.
"The adrenaline you feel when putting on a show in front of others is unlike anything else I can describe," Boyd said.
"Hearing everyone in the cast perform warmed my heart. Seeing the amount of improvement we all made from our first rehearsal was incredible and I am so proud of us all," Boyd added.
McMahon, who played Princess Moana from Moana and the Muses from Hercules, said that the crowd had great energy which made it easy for her to perform.
"We had a lot of cheers after every scene and that makes it a lot easier for me as a performer to know that the crowd is lively and positive," McMahon stated.
McMahon said it was interesting playing more than one role because she got the chance to embody many different traits throughout the show. "It's a lot of fun especially playing Disney characters you always dreamed of being while growing up," McMahon said.
"We put on an amazing show, I'm looking forward to seeing what the future holds for us," McMahon added.
Mercy College students and staff were very impressed with the show.
Many thanks by Mercy to the cast and crew for working as hard as they do to entertain others, and thanks to the Office of Student Life for allowing the club to rehearse and stage the event in Lecture Hall.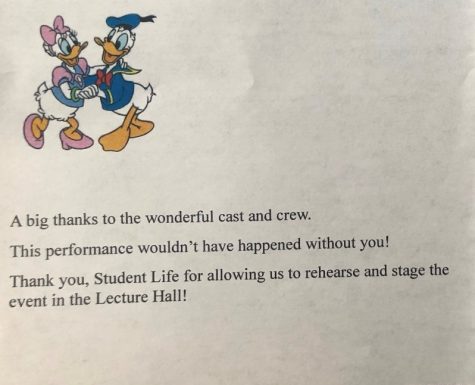 Leave a Comment
About the Contributor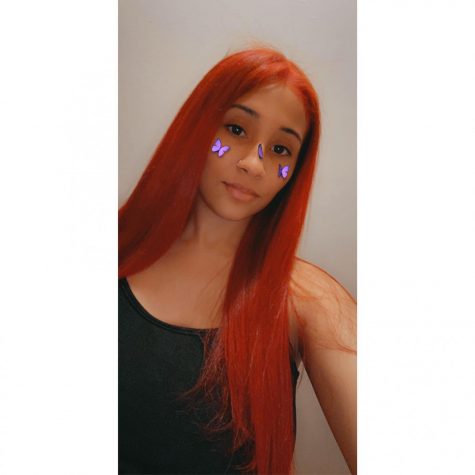 Amber Perez, Senior Writer
Amber Perez is half Puerto Rican and half Italian. She is currently residing at The Bronx, New York and enjoys listening to music and reading books about...