Netflix Original Arouses Controversy
Netflix subscribers are canceling their memberships due to the nature of the original film, "Cuties," and 21-year-old "Cheer" star, Jerry Harris's alleged involvement with child pornography.
The highly regarded streaming service has been the center of attention this past week for the Sept. 9 premiere of their new film. Netflix first promoted the film with photographs showing the underage stars wearing makeup, sensual facial expressions, and revealing outfits. It angered many people and led to Netflix removing the photos and writing an apology statement.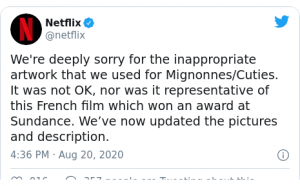 "Cuties" is about an 11-year-old Muslim girl living in Paris, where she decides to join a dance crew. Throughout the film, sexual dances are performed by this crew called "The Cuties." Many people criticized the director, Maïmouna Doucouré, for allowing these scenes to be shown on film. The director received many death threats and people petitioned to shut the movie down.
Doucouré has spoken out about the controversy to the French cinema organization, UniFrance, by saying that she was surprised to hear about the criticism since her film was applauded at the Sundance Film Festival. Soon after, the "#CancelNetflix" trend began and led to the cancellation of many Netflix subscriptions. Netflix stood by the film and encouraged the critics and pubic to give "Cuties" a chance.
Fiona Holsman, 21, a student at Mercy College, recently watched the film and shared her thoughts.
"I started watching it with no context since it was on the front page of Netflix, and straight off the bat, there was a young girl dressed in tight, black, leather pants while ironing her hair and swinging her hips from side to side," Holsman said. "That was very strange, but throughout the rest of the movie, there were scenes of girls dancing and close-ups of their bodies. It was so disturbing that I could not finish the movie."
Harris was arrested on Sept. 17 for allegedly producing child pornography, and he admitted to contacting two 13-year-old boys for nude photos and videos. He was known for his enthusiasm, and many celebrities praised him for his supportive personality.
Now, he could be imprisoned for 15 years per each charge of child pornography if convicted.
"Cheer" is a docuseries on Netflix that premiered in January. It follows the Navaro College cheerleading squad as they prepare to hit the road and compete in the National Cheerleading Championship in Florida. The series was known as inspirational. Many critics praised it for taking its viewers along on the athletes' journey through various conflicts to achieve their goal of winning a championship.
Monica Aldama, head coach of the Navarro Cheer team, has spoken out through Instagram on her thoughts about Harris.
"My heart is shattered into a million pieces. I am devastated by this shocking, unexpected news. Our children must be protected from abuse and exploitation, and I am praying hard for the victims and everyone affected," she shared.
The "Cuties" controversy and Harris scandal have both been compared to the biggest social media platform: "Tik Tok."
Tik Tok is essentially used to make short dance or comedy clips, 15 or so seconds in length. Many children and young adults use the app addictively. Its content consists heavily of young girls dancing in what some might consider 'inappropriate' ways, to explicit songs. Many users on the app are familiar with the original collaborative Tik Tok group members from the "Hype House," such as Charli D'Amelio, Dixie D'Amelio, and Addison Rae, who all lip-sync and dance in their videos.
Tik Tok has been popular worldwide, especially in the United States. President Donald Trump has proposed banning the app nationwide. It led to many concerns in regard to how this ban might affect the relationship between the United States and China since the app is owned by the Chinese company "ByteDance." The ban was supposed to take effect on Sept. 20, but was pushed back a week.
Fox News met with a spokesman from Netflix on Sept. 18 stating "Any abuse of minors is a terrible crime and we respect the legal process." Many people on social media have shared their opinions on the scandals and have criticized Netflix for their statement regarding the Harris situation and for defending "Cuties."
Leave a Comment
About the Contributor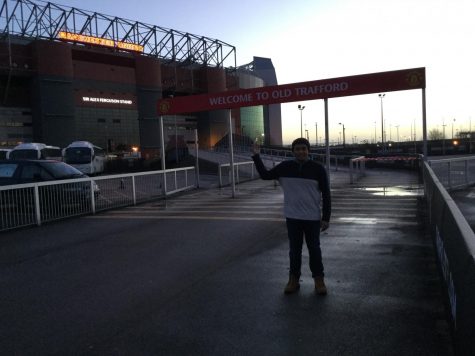 Gino Alva, Impact Staff
Gino Alva is a junior majoring in Journalism. Gino is an avid fan of the New York Yankees, Real Madrid and Manchester United. Soccer played a huge part...