School of Liberal Arts Hosts Annual International Film Festival
Returning back to the screen for the first time in two years, Mercy College's School of Liberal Arts was excited to showcase its annual International Film Festival.
Being the 22nd annual, and the first one after the world took on a global pandemic, the Liberal Arts school strived to generate a buzz throughout the school halls.
With flyers strung about all throughout the Dobbs Ferry campus, and members making check in to different areas to make sure word was spread, it was impossible to not know about the upcoming festival.
The flyer was cleverly designed with passport imaginary on the back with space for you to get a stamp for every night you attended. These stamps even allowed for those who attended each night to be qualified for a reward- an Amazon gift card.
Their unwavering efforts were not in vain. Although Covid has affected numbers deeply, there was still a great turnout amongst students, and with each night attendance grew larger.
Steven DeRosa, Associate Director for Writing, English and Gen. Ed., Center for Academic Excellence and Innovation, and the person taking the lead on the festival was excited to have the festival back in person.
The festival lasted for four nights in a row, starting on Tuesday, April 5 at 6:30 p.m. and ending on Friday, April 8. at 6:30 p.m. each evening in the Lecture Hall, a film was shown and afterward, students were invited to stay for refreshments and a discussion.
The animated French film "Josep", by Aurel kicked off the festival. Released in 2020, Josep is about a dying police officer's memories of his time during the Civil War.
On Wednesday, the Mexican film "I Carry You With Me" by Heidi Ewing was screened. A Mexican film about a decade's long story between two men.
Followed by "Papicha" by Mounia Meddour on Thursday, a film about the oppression Muslim women faced during the Algerian civil war.
Ending off with "Portrait of a Lady on Fire ," a film by Céline Sciamma. Another French film about a woman on an isolated island forced to paint a wedding portrait of another woman. DeRosa said this was the biggest night of the festival.
While it may seem easy to put on an event like this, DeRosa assures that it is actually a long and detailed process. The event takes roughly ten months to plan.
"It's not just selecting the four "best" movies, the four evenings have to play like a show."
He explained how he searched through films submitted for consideration under Academy Award for Best International Feature Film or gained attention during other renowned festivals like Cannes, Sundance, Tribeca, and Toronto. DeRosa strives to have a list of around eight to ten films he can bring to the Film Festival Committee to discuss the best options. This discussion usually happens twice. They're not only discussing the best films to show but also how to make the festival flow together in accordance with the theme and tone of each film.
"A lot of work goes into planning those four nights in the spring, but it's worth it!"
Students were encouraged to stay after the screening for refreshments and a discussion on the film. On some occasions, directors or producers are even available to engage in these conversations with the audience. For "I Carry You With Me" the Mexican/USA co-production film, the producer Mynette Louis joined for the Q&A. She spoke about the film's theme and topics it touched on, and she also answered questions about the screenplay and gave advice on how to break into the industry from an outsider's position.
"It's great for Mercy to be able to coordinate events like this and give students access to professionals."
Events like this are important because they allow you to learn about, and experience other countries in one's own space, she said. Expanding knowledge through film allows for growth in everyday activities and interactions with others, from behavior to perspective. Sharing these experiences with others in person is very immersive.
"While the event was still successful in that virtual format, for me, film is something that is meant to be experienced as a community. We respond differently in a theater setting than we do when we're alone viewing a film on a computer screen or television."
Leave a Comment
About the Contributor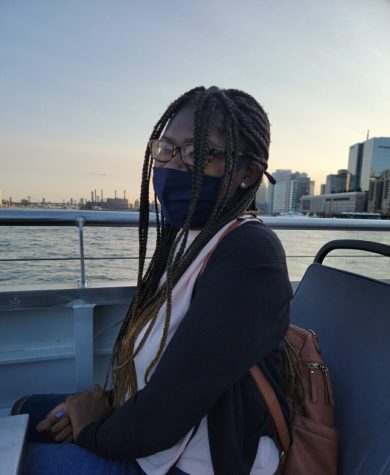 Diannah Plaisir, Managing Editor
Diannah Plaisir is currently a senior at Mercy College, pursuing a degree in Media/Communications. Having decided that she was going to be a journalist...