Artist Martín Rubio Giftes His Artwork to Mercy College
Awaiting artist of public art Dedication for Mercy College
Mercy College shall be gratefully honored by one of the acclaimed artist Martín Rubio's sculptures. He wished to donate to our Hispanic Serving Institution on April 17, 2023, in the Main Hall Library from 4 to 6 p.m., but unforeseen circumstances forced it to be postponed. Martin Rubio's work has also been found internationally in private collections and museums.
Martin made himself known as an artist of public art with his public works within Venezuela. Japan, and NYC. Martin Rubio's work has also been found internationally in institutions and globally in private collections and museums.
For the past twenty-one years, he has worked with his materials in every possible use, mourning the shortage and limits of each. His palette is a duality of aesthetics and cultural identity, from his Latino heritage in the Caribbean to his identity in New York. He picks a side for a project to outline his efforts.
Mercy College will be bearing a sculpture by one of the founders of El Taller Boricua, the workshop and artist-run studio operating as a non-profit. Without that, there wouldn't be El Museo del Barrio located on upper Fifth Avenue.
His basis is rooted in the 1970s Nuyorican" movement, a time of poets, writers, artists, and musicians of Puerto Rican descent contributing to the issues Puerto Ricans faced in the city. Those who set an example in Spanish Harlem. Artists used their creative process and foresight to fight for their community. Tackling the issues that they were dissatisfied with on their platform while uplifting underrepresented artists.
Martin is currently a legally blind artist who evolved as an artist to continue giving his passion to the world. Inspiration is illustrated as he carries on. Bearing a Bachelor of Fine Arts degree from the School of Visual Arts, and earned it by working weeks isolated and focused in his studio to complete his projects. After leaving the School of Visual Arts, he took private classes to work with countless materials. He grew up in Puerto Rico in an open art-oriented family.
Mercy College earned this honor by educating Hispanic students. Supporting those who are first-generation college students with post-secondary opportunities. Especially those who were enrolled in the College of New Rochelle [CNR]. CNR is the private catholic College Campus that was absorbed into Mercy before the fall of 2019. Showing that opportunities were not disappearing but instead exhibited elsewhere. " Two colleges, one guiding principle." The promise and the statement for the invitation and the CNR Legacy Scholarship.
A CNR alumna, Laudelina Martinez SAS '63, is administering the gift. She owns and founded the Martinez Gallery based in Troy, New York. As well as being someone who interviewed Martin Rubio in the past for the gallery. An accomplished woman who curated countless exhibitions and was curious about what shaped Martin's craft and aided him in his career.
It was posted on the Martinez Gallery Youtube Channel, while Rubio's work "Am I Nuyorican" was on the gallery's second virtual exhibition on the gallery's official site. In the clip, Laudelina inquired about his earliest memories in New York connected to art, and Martin described the early of when his parents took him to visit cultural sites. He calls it the origin of his interest. His favorite artists at the time before he was truly blown away by sculptures were Rembrandt and Turner. Once he experienced the level and craft of the visual arts, he left behind his start as an illustrator once he gained his scholarship to the School of Visual Arts.
The to-be-dedicated art is part of the A Series, titled G3A. Weighing in at 70 lbs. with a 30" diameter. The A Series is a collection of Rubio's molding symbolic forms to draw out emotional reactions from those embracing his art. The rich variation of wood tones act as a whole and are a delicate category of art and dedication. But on the aluminum rolling pin with furniture-grade laminated plywood is a wide collection of wood tones without a dominant tone but without rendering it neutral or lifeless to the audience. The dedication does not abide by the words that don't touch the exhibit the original invitation stated, "invites touching. Because it was Martin Rubio's wish for the sculpture."
Tara Alfano the director of Development of Mercy's CNR, emphasized that statement. All in good preparation for the audience confused by this liberty.
Alfano is working diligently on Martín's bio. Tara informed everyone of the delay and is working on the new scheduled date for the sculpture Dedication Event. She's currently willing to be contacted for further information.
The Sculpture Dedication Event has not been dismissed, only delayed. The sculpture will still bring the intended emotional reaction and be properly discussed as Martin's gift to Mercy. For some time, Mercy and Martin Rubio have refined and inspired new generations of artists and students with great dedication.
Leave a Comment
About the Contributor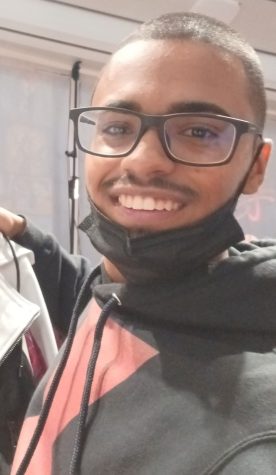 Edwin Gonzalez, Impact Staff
Edwin Gonzalez is a Senior Media Major. Trying to shift from creative and essay writing to entertainment writing and reporting.  He writes under  Empathic...