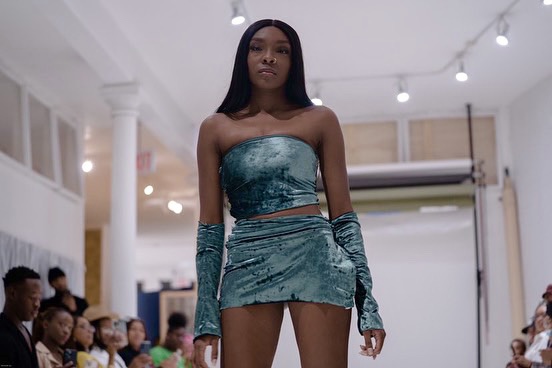 September has started which means fashion month. From the basic taupe, black, and white color fabrics to teal blue and rusty red or the golden flare jumpsuits, snakeskin belts, oversized white furry coats, and black lace dresses. Fall fashion trends are out and ready to wear.
The annual New York Fashion Week (NYFW) took over this September again for the week of Sept. 7 to Sept. 13. It showcased Ralph Lauren, Victoria's Secret, Coach, and more designers. Some may recognize even their favorite celebrities who attended the runway shows, including Gigi Hadid, Sofia Richie, Winnie Harlow, and more.
At Mercy University, the Fashion Club has put on its own in-school and out-of-state fashion runway shows where students may not have recognized celebrities who modeled and designed but recognized fellow talented Mercy students.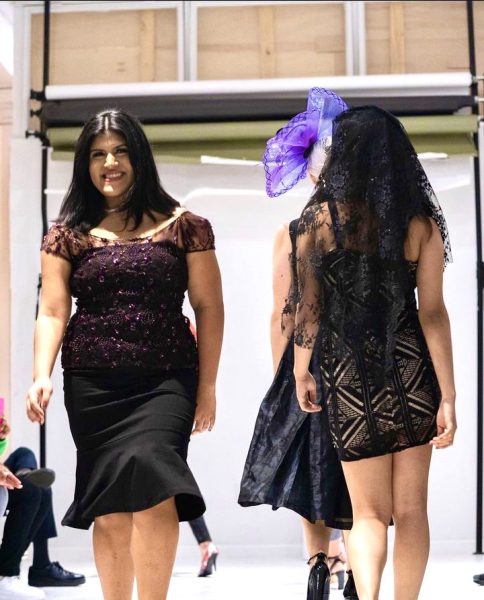 Mercy Student and Fashion Club President Kathleen Benitez started the Fashion Club as a sophomore in 2021 when she was new in her Ralph Lauren internship gaining the most knowledge about fashion. Prepping models for shows and networking with women small clothing business owners.
"I grew up loving seeing my aunt work in the industry where she would ask women if it's okay to wear certain clothing before going on stage." She added, "I knew there were opinions about fashion creating insecurities and giving exposure to women but I was willing to work in the type of industry where it protected boundaries, build confidence or grow, showcase diversity, and being able to work will all women." She even praised the support men provided to the fashion industry that she witnessed in her experiences.
In relation, Mercy Student and Fashion Club Secretary Heather Gibeault said, "Fashion club has also given me so much more confidence." She added, "It's such an inclusive environment where we all learn about things we enjoy!"
"
Fashion club has also given me so much more confidence.
— Heather Gibeault
The Fashion Club is meant to be social by meeting new people from all backgrounds and genders, discussing the latest trends, and showcasing design creativity.
Benitez said, "What I mainly loved from every human being in my experiences with fashion seeing overall the constant inspiration to create something where they would be proud of it too." Benitez added, "Fashion creating a gateway for everyone to express themselves to clothes."
"
Fashion creating a gateway for everyone to express themselves to clothes.
— Kathleen Benitez
This is exactly what Fashion Club has been able to do for its creative student members. The Club hosted its first fashion show in the Mercy University Rotunda its same year of origin in 2021. The student officers and members displayed their creativity on student models as they sewed their designs to life.
The club's first out-of-state fashion show took place early last September where Benitez paid homage to sketches she drew when she was 8 and designed them for Atlantic City Fashion Week. Mercy University students and Fashion Club members had the unique opportunity to be cast as models for the runway show that took place at the Showboat Hotel in Atlantic City.
The Club's most recent fashion show was hosted in December last year in Manhattan, New York, which featured designs from Benitez and fellow Mercy student Keira Smalls and modeled by Mercy students.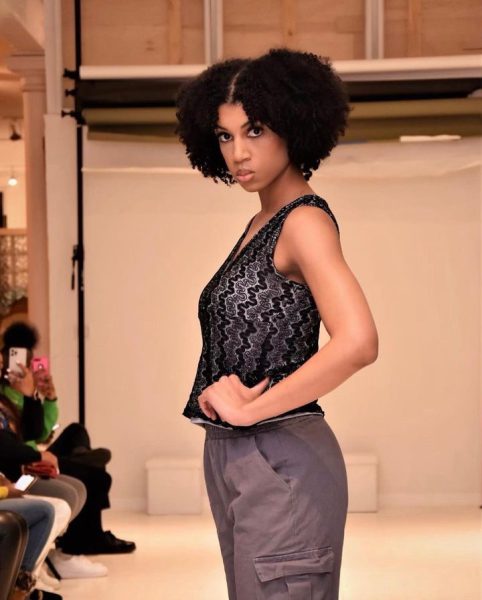 The show included this look which showcased a unique squiggly design on a v-neck shirt paired with simple cargo pants with a color range of grey, black, and white. The cargo pants are a foundational element for this fall.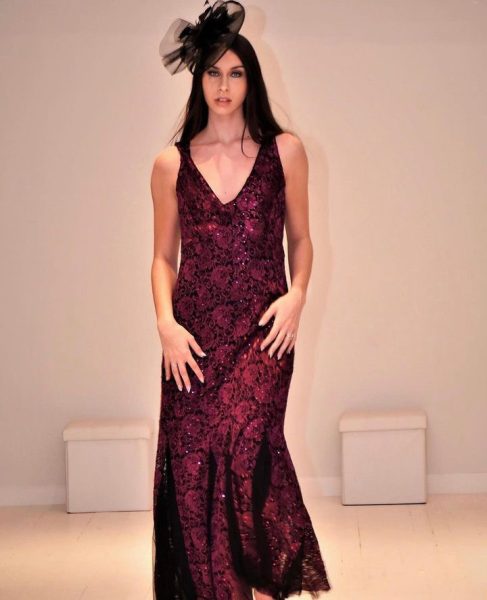 The model is posing in a faded floral designed v-neck wine red gown with elegance and poise accompanied by its black lace tophat accessory. The effect was confident and feminine. The mystique red color is representative of attire for this fall. The gown in particular is perfect to wear in attendance as a fall wedding guest.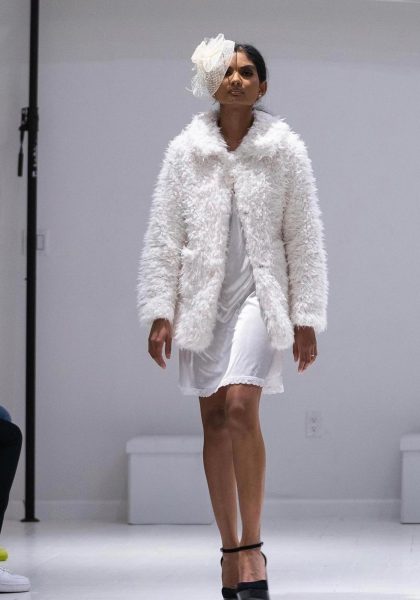 The model is wearing an almost sheer white dress underneath a hefty white fur coat and accompanied by a classy white lace headpiece. The cream-white color and fur almost give off the same aura of a classic Chanel design.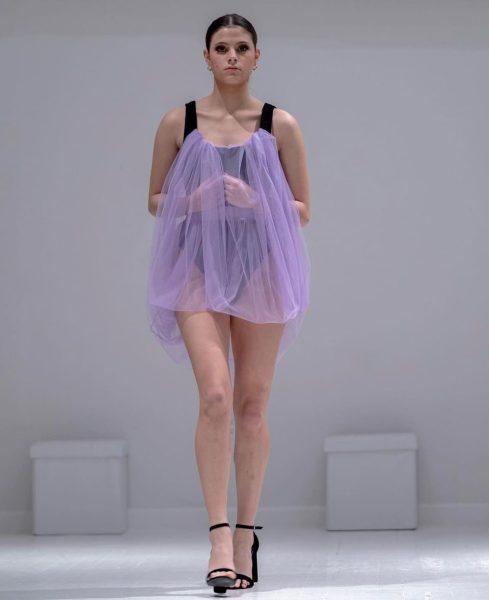 This unique design gives the vibe of a ballerina with its delicate lilac lace creating a dress-like appearance overtop a black bodysuit. The look is daring and pushes the limits.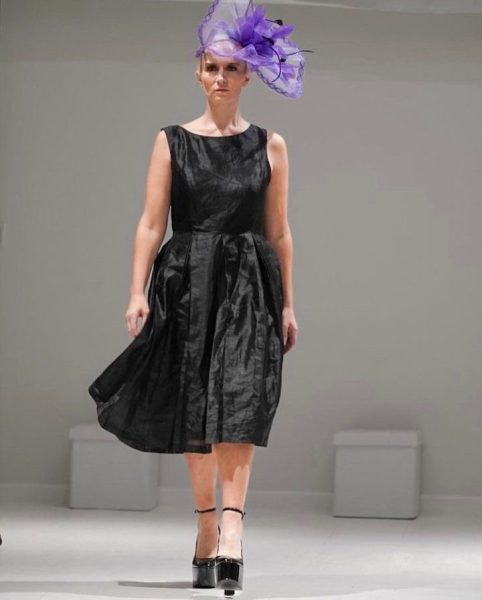 A classic black dress is timeless as showcased by the model rocking a knee-length basic black dress and accessorize to stand out with a purple headpiece. The top half of the dress almost mimics that of a tank top giving off an urbane vibe from the model wearing it.
Although Mercy's Fashion Club did not host any events for NYFW this September, there are plans in the works for February's NYFW for students to partake in. For students interested in joining the Fashion Club, meetings are up and running with a mix of online and in-person meetings both in the Dobbs Ferry and Manhattan campuses.