Jimmy Fallon's Tonight Show Takeover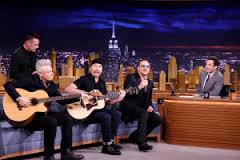 Jimmy Fallon finally took over his Tonight Show duties on Feb. 17 the first episode of the Tonight Show to be filmed in New York City in over 40 years as well as in the original studio.
Fallon introduced himself to viewers and then harkening back to the times of original Tonight Show host Steve Allen by incorporating his own signature style of blending skits and music with the classic talk show format. He introduced one new bit called "Tonight Show Superlatives" which highlighted what futures Olympic athletes' yearbooks may have predicted. He also brought his evolution series which featured him and first guest Will Smith showing the evolution of hip-hop dance.
Among the highlights of the show were Fallon's remarks about a bet made with an anonymous "buddy" about never being the host of the Tonight Show and how he was owed $100. From there numerous celebrities trouped out onto the stage to offer him the money from Robert DeNiro to Lady Gaga. The most notable celeb being Joan Rivers ,who was banned from the Tonight Show by Johnny Carson in the 1980s and has not been allowed back since, and the final celeb now late night rival Stephen Colbert, who paid his $100 in pennies, then took a selfie and finally exited with these words, "Welcome to 11:30, bitch."
Musical guest U2 stole the show first by performing their new single, "Invisible" from the roof of 30 Rock or the Top of the Rock. With the city bathed in the orange hue of dusk the band helped cement Fallon's rein at the NBC staple in a way that Conan O'Brien failed to do. The band then did a stripped down acoustic version of their Golden Globe winning song "Ordinary Love" at Fallon's behest. Fallon's in house band The Roots then continued an electrified version of the song while Fallon bounced around the audience like an excited puppy thanking people for coming to his first show.