Birdman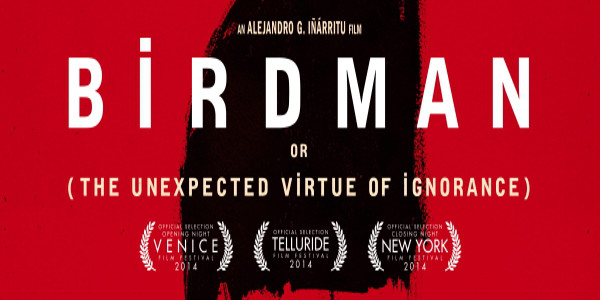 I've taken a step away from rock n roll this week, but not really because this movie rocks.
Before judging this seemingly familiar and mundane action movie by its allusive and ambiguous trailer, let me tell you that Birdman is one of the best films of the past five or so years. Birdman is a gasp of fresh air; its originality is addictive and compelling, striking a sign of hope for the film industry, and while the film may appear to be a farfetched action bore it is far from that. Despite brief moments of overdramatic chaos, the film more commonly mocks human emotions hidden deep with its character's psyches. Driven by dark humor, the film pokes fun at realistic encounters in a modern perspective.
The story revolves around Riggan Thomas (Michael Keaton), a struggling actor once praised for his role in a past superhero movie called Birdman. The similarities between Riggan and Michael Keaton are blatant, as they have both faded through time and been forgotten about. While Keaton is saving Riggan's career on screen, he has indefinitely revitalized his own in reality. In pursuit of redeeming his credibility, Riggan begins to star and direct a Broadway drama called What We Talk About When We Talk About Love, his interpretation of a short story written by Raymond Carver. Riggan's cast includes performances by Lesley (Naomi Watts) and Mike (Edward Norton) who both bring a certain electricity to the screen. Watts' supporting acting is typical and expected from an actor of her stature, while Norton adds a vigorous edge to keep the audience on their toes. Riggan's manager and loyal friend, Jake (Zach Galifianakis), brings additional comic relief to the story; while Riggan is stricken by the dissipating relationship he has with his daughter (Emma Stone) who also brings a surprisingly great performance.
The film begins with Riggan meditating, levitating—advising all viewers that their realistic expectations are useless. Throughout the film, Riggan is also seen moving things with his mind, and consistently battling the voice of Birdman in his head; making it apparent that he suffers from a multi-personality disorder or is perhaps insane, but is positively stuck in the past. Another scene shows Riggan transporting into his former ego, flying through the city, saving lives and resuming to his desired position of a hero. The film constantly challenges the audience to decipher what is real and what is in the mind of Riggan, which is what makes it original.
Aside from the great acting in this movie, the comedy and straight up relentless entertainment, the cinematography is a spectacle on its own. Director Alejandro González Iñárritu used many different creative tools that give this movie a much different look. The most obvious techniques Iñárritu used were his various continuous shots that seamlessly come together giving the appearance of one long shot that spans over a long period of time.
Birdman is a spectacle not to be missed. Whether it is the comeback story of Michael Keaton, the all-star cast in general or the cinematography, this film offers viewers much to gaze upon. The originality of this film has silenced the cries of critics begging for something new, and it gives viewers something to talk and think about after the show. Enjoy!