A Literal Death by Audio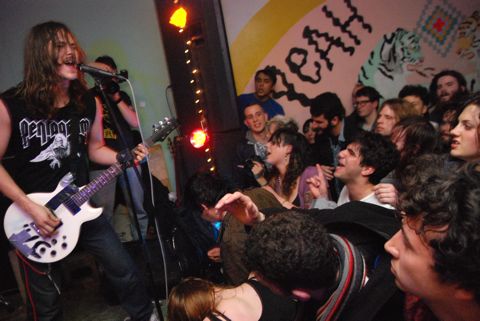 I remember the first time I walked into Death by Audio, I was 17 but my fake Maine ID said otherwise. Although my friends and I often wandered the streets in search of Rock N' Roll, stumbling upon Death by Audio was no coincidence. The Turbo Fruits—a ruthless party band from Nashville—were in town with Jeff the Brotherhood; who, at the time, were heirs to the underground music throne.
And we weren't going to miss it.
A line wrapped from the front door around the corner onto Kent Avenue. We followed the line with a clean pallet. Our mouths salivated as we were about to get our first taste of the Brooklyn music scene. The throngs of people were diverse – we passed punks with their mohawks and their nose-rings, Goths with their chain-rattling pants and yes, the contemporary hipsters with their skinny jeans and beaten dress shoes from their local thrift store. Despite everyone's physical differences, nobody seemed to care.
We were all there for the same reason and everyone belonged.
As we approached the line our hands trembled as we gave our fake IDs one last glance before the moment of truth. We stepped inside the doorway where we were greeted by some rocker chick covered in tattoos. We surrendered our IDs with a shortage of breath, the girl looked back at us and stamped our hands. Underage nirvana. We were in.
We followed the hallway that lead to a giant room where the stage was. Another doorway lead to the back room where smoke swirled the air and people mingled. Numerous car seats were scattered around the room for people to sit in, a makeshift bar was in the back as a "bartender" sold beers out of a 30 rack of Pabst Blue Ribbon. Graffiti and stickers covered the walls along with trippy murals that had been painted on. I felt at home.
As the night progressed, our ears were punctured by glaring guitar solos and our bodies quivered in raunchy drum beats. Infatuated, we gazed upon the stage in awe, thirsty for the glory of being semi-famous (at least in the underground scene). It wouldn't be the last time we were in Death by Audio.
We would return to Death by Audio several times, it seemed as if every band we ever liked played there. Each show was unique and the night was always unpredictable, which made it that more fun and tempting to go.
It wasn't long before we started booking shows with our own band, still using the fake Maine IDs. We often told bookers we were on tour, or that we made a long drive to play in New York—humoring ourselves. We played dive bars one after the other, trying to make a name for ourselves. It seemed as if we were on a monotonous cycle, playing mediocre shows, until one day we were offered a show at Death by Audio.
We were stunned; it was surreal to imagine playing on the same stage as so many of our favorite and inspiring bands played before us. For many bands, Death by Audio is a rite of passage, they don't book any band and we were proud to be considered "good." We took the stage that night and brought all the energy we had, hoping to leave an impression on the audience as powerful as the impression that was left on us. It turned out to be a very successful night.
I'm not the only one who has some sort of nostalgia for Death by Audio; it is an icon in the underground music scene in New York. Last week, hundreds of bands and music enthusiasts were stricken with the bad news that Death by Audio would be closing their doors for good. Even with so many new venues opening in Brooklyn and Manhattan, Death by Audio never lost its luster and importance to the music community.
Death by Audio will close its doors on Nov, 22. They will continue to host great shows until then. If you're a music lover, go there and soak it in the nostalgia before it is gone. Edan Wilber, one of the founders of Death by Audio said "We knew from the beginning that it wouldn't last forever," admitting the clubs imminent Death by audio.