Welcome to New York Phil Jackson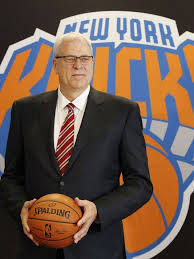 Hang on for a minute...we're trying to find some more stories you might like.

It seems like the closer to the end of the season the New York Knicks get the brighter the future is starting to look. Not only are the New York Knicks just one game behind the Atlanta Hawks for playoff rights, but the New York Knicks get arguably one of the all time greatest minds and hall of famed Phil Jackson to work in the Knicks front office.
Phil Jackson will be the President of Basketball Operations for the Knicks. Initially Phil was suppose to work in the front office of the Warriors if they would have moved to Seattle like they planed too. Good thing for the Knicks that plan fell through.
"How long do you think the overall process of making the Knicks the most competitive team in basketball will take?" Phil was asked. Phil replied by telling him there is not time date but basketball fans will start to notice subtle changes to the Knicks roster and wants to bring in another consistent scorer to go along with Melo assuming that he stays in New York.
For the first time in many, many, long years, it seems like the Knicks are going to take their time and build a team to play around Carmelo Anthony. New York always feels the need to make these ridiculous hit or miss trades every time they feel like the season did not go as planed. They never let a team build chemistry or let a player develop.
Before the addition of Phil Jackson I was fearing that the Knicks would trade rookie Tim Hardaway Jr. who is a stud as a rookie and is going to be one of the best shooting guards in the league with a little more development time. Now with some brains in the front office I think he will be the first New York product in a while.
Phil Jackson also said inn his welcome to New York press interview that he was 100% committed to trying to keep Carmelo Anthony on the Knicks.  "Carmelo is one of the best players in the league and believe it or not I believe that he can take his game to another level making him the best player in the league."
WOW! A huge amount of confidence shown from the hall of famer. I do agree with Phil to a certain extent. I believe with some more scoring help and better play calls he can get some easier buckets and with another scorer on his team it can open things up for him. He's the second leading scorer in the league but he is constantly being double teamed. Another scorer would increase his assist numbers as well.
But can Phil make him the best player in the league? I believe hands down he can become the best scorer in the league but to be better than a man named Lebron James is tough. Carmelo averages more points and rebounds than the king but Lebron is not only offensively dangerous, he is a force to be reckoned with on defense which Carmelo has shown improvement on but needs to improve a whole lot more to be better than Lebron.
This has to leave everybody with the question "Will Carmelo Anthony stay in New York?" I honestly did not think he was going anywhere to begin with. The reason being nobody can offer him as much money as the Knicks can and I can't see him going to play with another superstar like Derrick Rose or Kobe Bryant who are both very ball dominant.
Especially not that the Knicks have somebody who is just as committed to winning as he is. Phil was the perfect piece in solidifying and convincing Carmelo Anthony that there are big things to come in the Big Apple.