CarFit Helps Mature Drivers Avoid Crashes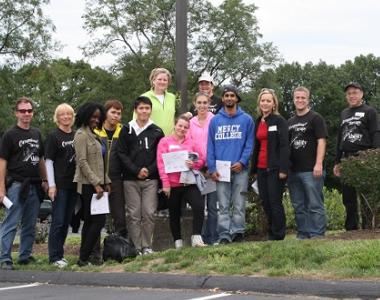 Research on age-related driving concerns has shown that at around the age of 65, drivers face an increased risk of being involved in a vehicle crash.
According to smartmotorist.com, there are three behavioral factors in particular that may contribute to these statistics: poor judgment in making left-hand turns; drifting within the traffic lane; and decreased ability to change behavior in response to an unexpected or rapidly changing situation.
Mercy College Occupational Therapy students hosted a CarFit event for elderly drivers at the Dobbs Ferry campus last month. The CarFit is an innovative national program designed to give a quick comprehensive check on how well senior citizen drivers and their vehicles work together.
"As we age, changes in our vision, strength, flexibility, range of motion, and even size and height may make us less comfortable and reduce our control behind the wheel," said Dr. Kathleen Golisz, the event coordinator.
Aging doesn't automatically mean that the elderly need to stop driving. However, to be a safe driver, it does mean that they have to pay close attention to any warning signs that age is interfering with their driving skills. By practicing safe driving many people can continue driving long into their senior years.
There were trained volunteer students at the CarFit event that assisted the mature drivers through a 12-point checklist. The volunteer students were carefully checking to see if the driver could reach the pedal with ease; know how to adjust the mirrors, and general awareness on the road.
"We made some minor adjustments to their mirrors or headsets," said Faith Williams, a Mercy student volunteer at the event.
While coordination, strength, and vision change as drivers get older, this can have a major impact on the ability to safely control a car, according to the occupational therapy students. For example, if a driver has a neck pain or stiffness, it can make it harder to look over his or her shoulder to change lanes. Common arthritis leg pain can make it difficult to move a foot from the gas to the brake pedal. It can also be difficult to keep track of road signs, signals, and markings.
"CarFit gives older adults the tools to help them stay on today's roads safely and to stay connected to their communities when they must limit or stop driving," said Golisz.
According to the Centers for Disease Control, in 2004 almost 3500 car occupants, 65 and older, were involved in fatal car accidents. In 2005, more than 177,000 seniors suffered serious injuries from car accidents. Older drivers cause 12 percent of all traffic fatalities and vehicle occupancy deaths annually. Also, senior drivers are responsible for 17 percent of all pedestrian deaths.
In order to lower these statistics, elderly drivers need to be tested more frequently for the safety of others. The CarFit event is one of many ways citizens can volunteer in their community to help assist their fellow senior citizens improve their driving abilities.
"The participants were very appreciative of the little things that we were able to show them that they might not have known. They didn't realize how easy the process could be," said Williams.
There were occupational therapists who discussed ways drivers can maintain and strengthen their driving skills with the audience. They also provided them with information about local community resources on exercise, nutrition, and other programs to help keep the senior citizens drivers safe on the roads.
As people age, it is crucial that they realize their driving abilities can change. The keys to driving safely are to recognize that changes can and will happen. David Johnson, a senior citizen from Yonkers, NY, recognized his imparity and decided to start taking public transportation.
"I'm over 70 and do not drive at all anymore. I made the decision some years back because of increasing mobility problems with my legs," said Johnson.
Leave a Comment