HIV/AIDS: Have We Lost Focus On Searching For The Cure?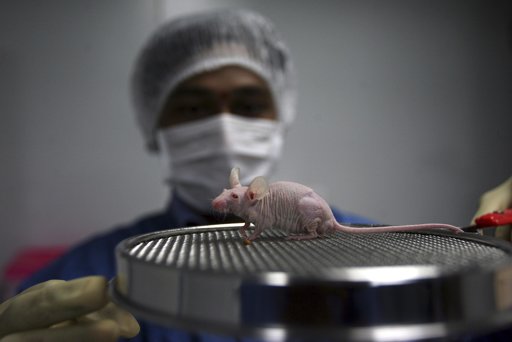 Gerald sat in the cluttered health department office awaiting the news. He could hear the muffled conversation of the counselor talking to someone outside the door about how she looked forward to trying out a new restaurant in the area for lunch. Her tone was cheerful, and there was even a giggle about something shared with the fading voice down the hall. Gerald thought that she must have good news because she seemed so joyous.
His tension eased.
The door opened.
The gleeful woman coming towards him was not the one he heard in the hall.
No, her face was somber, unemotional and focused as she walked in carrying a manila folder. She sat down at the desk directly across from Gerald without saying a word and opened the folder that contained his information.
"I saw a small red ribbon sticker that had been placed on the top sheet. My heart sank."
Gerald found out that February morning in 1996 that he tested positive for HIV. He was 22 years old.
"I was stunned but at the same time not surprised. I had not practiced safe sex all the time at that point"
Gerald said that after the public health care counselor told him the news, she immediately started asking for names and numbers of those that he had been involved with recently. She said that the information would be used to contact those people to tell them that someone they had engaged in sexual activity with someone who tested positive for a communicable disease, and that they should get tested.
The name…his name, would not be given and held in confidence.
"I gave her a name and a number just to get her off my back so I could leave. She seemed to demand that I give her something before I left. She was more preoccupied with that than concerned about counseling me about the devastating news I was just given."
Gerald gave her a name and a number. The woman asked her if that was all he could remember and he said yes. She gave him a few pamphlets containing information regarding HIV and advised him to see his physician. He left the building in a daze and sat in his car where he tried to collect his thoughts. His mother knew that he was going to be tested, so he called her and told her the news.
"She was at work, and thinking back now, I would have waited till later on to tell her, but my mother is a strong woman and would have wanted to know right away."
Gerald said his mother was supportive and asked if there was anything he needed. They talked only a couple minutes and decided that he would come by her house that evening. He went to work afterwards and finished out his day.
It has been 16 years now that Gerald has been living with HIV. He considers himself lucky that he had the medical care and support to deal with his status and has never been afflicted with any opportunistic infections (an illness or condition resulting from a compromised immune system). But he does admit, dating can be complicated for obvious reasons, along with the stigma associated with being HIV positive. Though he is open about his status when it comes to matters of intimate involvement or being supportive to others, for privacy reasons he asked that his last name be withheld.
In the years since Gerald has been diagnosed, medical advances and HIV prevention awareness have helped to lessen the fear around what is now often referred to a chronic condition. This has led to a general complacency regarding the disease with some.
Jeffrey Rindler is Managing Director, Programs, Services and Evaluations for the GMHC (Gay Men's Health Crisis) organization in New York City. He has been involved with the organization since 1993, when he started working there as a volunteer receptionist.  A native of Brooklyn, Rindler helped to run his family business growing up but when he saw how the AIDS health crisis was having such a devastating effect on the community, he had a desire to do something in response.
"I volunteered there because I wanted to help those that could not help themselves. My heart went out to them."
Rindler is not HIV positive, but his motivation and genuine compassion for those who were did not go unnoticed from the very start. He quickly moved up from being a volunteer and was offered a paid job within the organization, which would turn out to be the first of many.  In one of his early positions, he worked at what was called the theater desk where he managed distributing over $1 million in Broadway tickets. Its main purpose was to help those who were underprivileged have an outlet to do something socially to help with the stress of their health condition.
GHMC started out as an organization primarily to help gay men infected with HIV or who had AIDS, but today they offer community services to anyone.  Though the disease has many faces, Rindler responded to the posed question regarding those who seem to be especially at risk these days.
"Unfortunately, African-American women and young men of color are a group of concern right now."
However, Rindler is quick to point out that despite someone's age, gender, race or sexual preference, if he or she is sexually active, it is wise to always be aware of the potential threat HIV infection poses. He says that many people have a false sense of security because of advances in managing the disease.
"The biggest mistake people make is thinking that the HIV/AIDS crisis is over. We are now dealing with the mental illness some have associated with the impact of having the disease, and physical problems such as hypertension and toxicity from the medications."
When asked about how to educate those dealing with the potential of being exposed to HIV, Rindler responded with an answer quickly and decisively.
"Not living with HIV is the best way to fight the disease. It is 100 percent preventable so educate and protect yourself."
World AIDS Day is now recognized as the first of December. Because of this, information regarding the fight against the disease is released on and around that day more than any other time of year. Many studies, such as the one reported in Health Day News in February, gave documented research about some African sex-workers who appear to be resistant to contracting HIV.  As it stands now, scientist and researchers are yet to provide a reliable vaccine against the transmission or cure of the disease.
For information on HIV transmission, questions regarding vaccines or dealing with a diagnosis, visit the Department of Health and Human Serviceswebsite. ://www.cdc.gov/hiv/resources/qa/transmission.htm
Leave a Comment