Model UN Student Wins Top Delegate Honor
  When Andy Frame, senior majoring in International Relations and Diplomacy, joined the Model United Nations Team this semester, he was unaware of the impact his participation would have on the team.
Yet he walked away with the most prestigious honor any Mercy student has ever won at the conference.
Dr. Frederick Shiels, professor of Political Science and History, created the Model United Nations Team in 1986 and coached for 25 years, before passing the torch to Prof. Lana Obradovic of International Relations this year.
The team, a school sponsored organization, participates in simulations of the United Nations by "becoming" the United Nations delegation of a specific.
In past seasons, the teams have represented Botswana, Haiti, Jamaica, Lesotho, Namibia, Swaziland, Columbia, Cameroon, Honduras, Panama, El Salvador, Barbados, Portuguese Guinea, Latvia and Estonia. Each year, they represent a new country.
This month, at the National Model UN competition, the team represented both Bosnia and Herzegovina. Frame and fellow teammate Heba Hasan (a Fulbright Arabic teaching assistant), who were on the Security Council, were recognized as outstanding delegation.
"The Security Council only has 15 delegations and three teams on the council were recognized, one of them being us," said Frame. "But Mercy doesn't have a certificate to show for it because individual committees aren't awarded. You have to do well over a number of committees to get an official certificate. That's only going to happen when the school promotes an institution beyond the class to support it."
The fact that the Model UN team is based out of a class rather than an actual team is a problem that Frame openly voices.
As it stands, team membership is automatic to students who are enrolled in political science classes 372 and 373. Students majoring in political science, history and other subjects such as business and journalism, with good academic averages, are eligible to try out.
"As a class, we're limited to class time to organize everything, but if there was a larger institution, we'd have more time and the possibility to fundraise for the other conferences which take place throughout the year," said Frame. "There's a conference in Washington in October, one in Galapagos in January and another in Vienna at some other point in the year. We only go to the conference held in New York because we don't have to travel. If we had to travel, I don't know if Mercy would support it."
Although the team hasn't had the funding to travel to the other conferences, that hasn't stopped them from depicting the ability Mercy has.
Before being recognized at the National Model United Nations Conference, Frame was received another award in February when the team attended the Model UN Conference at Baruch College.
"The combination of my love for the subject, my experience with debate and a work history involving sales all came in handy," explained Frame. "I developed a decent idea and then sold it to my peers. I had no idea there was an award prior to the event and had no expectation of winning anything. Simply having the largest impact I could on the outcome of events."
Frame was able to pitch his idea and at the end of the conference won the Best Delegate Award.
Even though Frame has been recognized twice this year, he doesn't find the awards to be his more rewarding experience on the team.
"Really the best part is meeting all the people from around the world," he explained. "Being in a room with people from five or six different countries who all share dedication for what's happening. It's interesting to see what themes are coming from around the world. I challenge anyone at Mercy to think of a time at a school event that they were able to shake hands with half a dozen nationalities. I don't find any other instance at Mercy that you can accomplish that. That's just good fun."
Frame's time on the team, due to graduation, has quickly come to an end, but he hopes, more than anything, that the program progresses.
"It will definitely progress, it has to," said Frame. "The school started the International Relations major last fall and this summer they're running a summer camp for local high school students as a recruiting tool to get them to come to the school."
Frame explains to expand this program, the team must expand.
"You're using model UN to get them here, give them the opportunity to form a bond on the team, to get competitive, to get selective on whose on it and to grow like any other team. This is a great opportunity if the school really wants to push it. This program is a great way to make it happen."
Leave a Comment
About the Contributor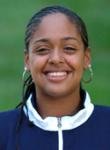 Jasmine Williams, Managing Editor
Jasmine Williams is a Senior majoring in Media Studies (Journalism) and minoring in Psychology. She is the Editor for the Impact and co-captain of Mercy's...