There are many responsibilities to owning any type of animal, especially a dog or a cat. They have to be pampered just like children.
For example, dogs need to be fed and walked throughout the day. Also, they need to be seen by a veterinarian at least once a year. Just obtaining an animal can be a significant expense on its own on top of the added expense of  keeping up on the pets essential hygiene.
For instance, Petco of Poughkeepsie, currently charges customers $49 per grooming session for a two year old German Sheppard. This is their basic service package which includes a shampoo, 15 minutes of brushing, cleaning of ears and a toe nail trim.
Many people think bathing their dog here and there is the only way to keep up on the animals hygiene.
However, its not that simple. Especially if the canine, or feline, has long hair. This requires professional grooming to be done every few months.
First, if an individual owns a short haired dog or cat, it's important for them to get bathed every few months. They don't necessarily need a hair cut. During this process, it's good to gently brush the animals hair coat to remove any loose hair and to help keep the hair coat healthy. It will also take care of their under coat, which is a thick layer of fur that protects them against the water and cold weather.
Not all breeds have an undercoat though. A groomer would be able to tell the client what type of brush to use on a given hair coat. Furthermore, if the animal has dry skin,  the groomer can use oatmeal shampoo and conditioner to relieve the skin, moisturize it, and help avoid any temporary irritation such as itching.
Dry skin can be caused from poor grooming. Especially for a dog or cat that is overweight because its hard for them to groom themselves. Many older animals have this problem since many of them develop arthritis as they get older. During the winter months, it's very common for animals to get dry skin.
Additionally, if the animal is being fed a poor diet and is not getting the nutrients it needs, then it's not uncommon for them to develop dry skin.
Dry skin can lead to dandruff.
Many animals suffer from dandruff just like some humans do. The skin can also get irritated from any flea infestations. In this case, the groomer will be able to give the animal a flea bath and possibly an oatmeal bath as well to relieve the skin from itching.
When it comes to an animal with a longer hair coat, professional grooming is a must. Dogs and cats that have long hair tend to get matted (have knots). Brushing needs to be done on a daily basis in the household. When it the time comes to bring the pet to the groomers, they can give the pet a bath and a haircut, trim the nails, and clean the ears.
Shay Roda is a groomer that currently works at Dutchess County Animal Hospital and owns a shop named "Flawless Paws Pet Grooming" located in Wawayanda, New York. She has been in the field for ten years and has been grooming all breeds of dogs and cats.
"It's important to get your animal groomed all year long," Roda says.
Many individuals think the only months to groom an animal is during the spring and summer months since the weather is warmer. This is false. Hair does not stop growing.
"I have seen so many pets come in after going all winter long without getting groomed. By the time they finally come in for grooming, at the beginning of spring, they are matted to the skin," said Roda.
If the animal is severely matted, sometimes the animal will need to be sedated for grooming since it can be very painful. A lot of times, the groomer will have to shave all of the hair off in situations like this. Sedation can be done at an animal hospital and it's a plus if an individual can find a groomer that works in an animal hospital so that if any issues arise, then the veterinarian can be there to help. Many times, matting of the hair coat can cause some major skin irritations.
"Due to the heavy matting, irritations and sores can develop on the skin which cant be seen through the mats," explained Roda.
Another important part of grooming is nail trimming. This can be done in the house hold, at the groomers, or even at a veterinary hospital. Many people don't feel comfortable trimming their dogs nails. In that case, a veterinarian would be more then happy to help. Usually it will cost a small fee for a professional to trim the nails. When a dog, or cat, is brought in for grooming, the nail trimming is usually included in with the price of the grooming. When the nails get too long, it makes it very uncomfortable for the animal.
According to Roda, "It should be done often so that dogs and cats don't have trouble walking."
With Halloween coming up some pet owners like to to dress up their furry friends.  There are groomers that offer dying hair for dogs using all sorts of colors.
The hair dye that these groomers use is non toxic for animals.
Grooming the animal often will save the client money in the long run. If its not done often it will put a strain on the owner financially and on the animal physically. This is one of the things that will keep anyone's animal living a long and happy life.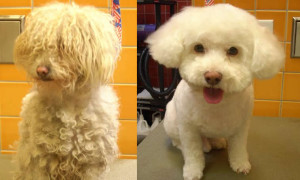 Before and after grooming photo.
Grooming tips provided by Shay Roda of Flawless Paws Pet Grooming located in Wawayanda, New York. For information on finding a groomer, check out the website from The Humane Society Of The United States below.
http://www.humanesociety.org/animals/resources/tips/choosing_a_groomer.html