It's that time of year again. Halloween has just past and candy is plentiful.
Trick or treating with the kids, dressing up the kids and pets in costumes, and taking safety precautions by looking through a child's candy bucket. While looking through the candy bag, make sure certain precautions are adhered to for any individuals that own a canine.
Chocolate is very dangerous for our furry friends.
Especially if they consume a large amount. The toxic chemical in chocolate that is poisonous to dogs is called Theobromine. Theobromine is found in all different types of chocolates, including dark chocolate, milk chocolate, and powdered chocolate.
Dark chocolate is the most toxic out of all of them because it contains more Theobromine.
White chocolate is toxic as well but its not as toxic as the other three listed above. The reason why is because it contains a very low amount of Theobromine.
Canines that accidentally eat chocolate can develop some major health issues. It all depends on the size of the animal and the amount of chocolate that was consumed. The amount of chocolate that affects a smaller dog might not affect a larger dog due to its size and weight. This goes with other food toxicities as well.
Even though every dog is different, all of them have the same toxicity.
There are several symptoms to look out for when a canine is having a reaction from eating chocolate. The more time that goes by without veterinary attention, the worse it can get. Some symptoms include:
-Rapid heart rate
-Lethargy
-Vomiting
-Diarrhea
-Excessive panting
-Increase Urination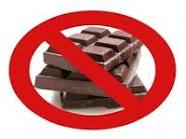 When nothing is done about the issue, the animal can experience seizures, hyperthermia (high temperature), coma, and/or death. Older dogs can have a more serious reaction as well, especially if they have other health issues. The more chocolate that is consumed, the more serious it is.
Now, if a dog is showing any of these symptoms, it's important to bring the pet to the animal hospital immediately. If a local animal hospital is closed, then an emergency clinic can be contacted. Most of the emergency clinics are opened 24/7. Emergency clinics are usually more expensive compared to the local animal hospitals. Symptoms start to persist within the first few hours after the chocolate was consumed.
The sooner the dog is brought in, the better.
Veterinarians would give the canine a physical exam, perform blood work, and possibly pump the stomach. In a situation like this, veterinarians encourage vomiting so that the chocolate gets out of the system. Questions will also be asked by a veterinarian about the amount of chocolate that was possibly consumed by the animal and the type of chocolate it was. These answers will give the veterinarian a better idea of what he/she will need to do for the dog. In some severe cases, the animal may have to be hospitalized and be monitored on intravenous fluids.
Sara Oberly, a client at Dutchess County Animal Hospital, had to bring her Mini Pincher, Crush, to the emergency clinic since it was late at night. Crush ate a whole Hershey's dark chocolate candy bar and started to show symptoms within the first hour.
"At first he was fine. I just noticed that the wrappers were on the floor but that's about it," Oberly implied. She realized that the smart choice to make was to call the emergency clinic since it was late at night.
"The veterinarian told me to watch out for any signs and to bring him in if anything got worse," said Oberly.
Within the hour, everything went for a turn for the worst.
"He started to act mopey and then I felt his heart beating really fast. That's when I knew that I had to bring him in. They gave him fluids and a medication to counteract with the chocolate. The vet told me that if I did not bring him in when I did, he would have been dead by the next morning," explained Oberly.
Crush did turn out to be fine after he received treatment.
If you have a poisioning emergency, the ASPCA Animal Control Poison Control Center  has a 24 hour hotline that can be contacted at 1.888.426.4435. There is a fee of $60 per case. You will need to have information such as the poison your pet was exposed to and a complete physical descrpition that includes items such as age, weight, breed and gender of your pet.
Also, contact your veterinarian for further questions/concerns or visit The Humane Society Of The United States web site bellow.
http://www.humanesociety.org/animals/resources/tips/common_household_dangers_pets.html.