Rockaway Residents Lend and Receive Support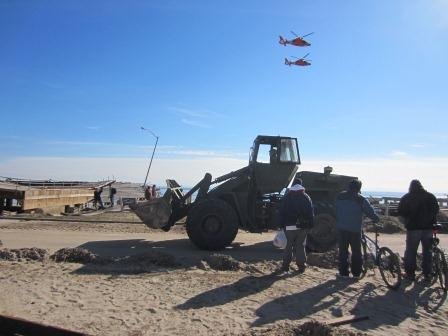 "We have room for three, going to Brooklyn." Three young women jumped at the offer, and climbed into the back seat.
Two men had pulled up to the bus stop, rolled down the window of their beige SUV and made this offer to a growing number of people who had been waiting for an MTA bus for more than an hour. Two busses had already passed, one so full that only a few passengers squeezed their way on, and even then, the back door barely closed. The second one was so overcrowded it didn't even stop. It was that time of day. Everyone who had arrived that morning to work, volunteer, or comb through their flood-damaged homes were trying to get off the Peninsula.
The bus stop was located in the heart of Far Rockaway, Queens, which had been devastated eight days earlier by Hurricane Sandy. As I waited for a bus that no one was sure was coming, I finally pinpointed a déjà vu sort of feeling that had been tapping at my subconscious all day, as I absorbed Sandy's devastation.
Throughout the day, strangers were checking in with each other the same way that people might do in the aftermath of a car accident, making sure no one was injured.
"Are you OK?" they asked each other. "Are you hungry? Are you cold?"
These expressions of concern had rippled through the Rockaways all day, evidence that New York had dropped its pretenses and gone into survival mode. Like disasters tend to, Hurricane Sandy had leveled the playing field. If small crises bring neighbors closer together, then a whopper like Sandy seemed to have brought the community, even the whole city of New York City, together.
I had headed into the Rockaways that morning with a reporter's sense of curiosity, weary of the barrage of media images, needing to see for myself what was going on. Since the floods rendered subway passage into the Rockaways impossible, the city bus was crowded and exuded an excitable, restless atmosphere as everyone talked about their hurricane. Two middle-aged women next to me wondered to each other if they'd have to pay rent for the time their apartments were uninhabitable. A man in the seat behind interrupted them, commanding the attention of everyone around him with his deep, soothing voice.
"Listen up. Everyone make sure they fill out their FEMA form. You might have to jump through hoops to get relief money, but FEMA has to help."
He leaned forward and joined the discussion with the two women, their trio of heads forming a circle, giving them contact information for FEMA.
My seatmate was a twenty-something man named Dominick. He started talking to no one in particular about his current residence, an evacuation shelter in midtown Manhattan, and in a moment he had his own circle of passengers listening to him. The shelter was OK, he said, but things were disorganized. At first, there were no shower facilities, so he moved to another shelter, which was crowded but comfortable enough. He was headed home for the first time after the storm to see if anything could be salvaged, but he didn't seem hopeful.
"Have you guys been here yet since the hurricane? Wait, just wait. You are not going to believe your own eyes."
In Breezy Point, a neighborhood located at the far western end of the Rockaway peninsula, he had watched his neighbors escape or be rescued from their burning homes, some of them jumping from their fire escapes and then wading towards safety through chest-high waters, past floating cars and whatever other debris the flood accumulated in its destructive path. In the end, his building did not catch fire, but he was unsure of what he would find today.
Dominic told his story in a tough, New Yorker kind of way, but when the bus pulled up to its last stop, his face fell. It was his workplace – a bagel shop. The roof had partially caved in. Its doors were wide open, and people inside with mouths and noses obscured by white dust masks could be seen shoveling debris out the door and onto a garbage mound on the curb.
"Oh, man. Oh, wow."
Unlike the bus ride, through which Dominic had talked the entire length of, he now seemed to be stuck on these same words, muttering them over and over as he made his way off the bus and disappeared into the bagel shop.
The center of town was a 15-minute walk from the bus stop, taking me past dizzying rows of burned buildings, destroyed homes, and car after car, coated with sand and parked askew, their windows dripping water from the inside. The parking lot of one apartment complexes resembled the aftermath of a demolition derby. The flood waters had picked up the cars and then, when the water receded, they ended up in numerous disturbing positions: on their sides, flipped on their heads, one or sometimes two on top of another.
People everywhere were cleaning and gutting their homes and businesses, as debris containing dressers, computers, microwaves, and toys grew sky high on sidewalks.
A tall, heavy-set man with silver hair, wearing jeans and a flannel shirt stood in front of a fire-ravaged storefront, sipping a cup of coffee.
"There's hot food across the street," he called out to me, waving towards a white-tent makeshift relief center located across the street.
"Make sure you get something. Don't go hungry, now."
A parking lot in the center of town had been transformed into a relief center, its backdrop the shattered Rockaway boardwalk. Hurricane Sandy's floods had left so much sand behind that is seemed to coat even the air, leading many people to wear dust masks as they handed out or loaded up on relief supplies.
Long cardboard tables overflowed with canned goods and clothing. When a woman pushing a baby stroller asked for diapers, she was directed across the lot to a heaping mound of hygienic products. The Red Cross truck that circled the square every few minutes pierced the air as a woman's voice shouted through a bullhorn, inviting people to come and get a free, hot meal.
One of the longest lines of people waiting on relief supplies was at a computer station made up of a rectangle of laptops perched on a table, powered by a humming, nearby generator.
A non-profit group called Harlem RBI was the force behind the roughshod Internet café.
"It's important for people to be able to get online and check in with people they care about. It's a step towards normalcy," said volunteer coordinator Tracey Goldner.
If the flurry of activity in the center of town was a lot to take in, a few blocks away, the street just in front of the destroyed boardwalk was positively overwhelming. Military Humvees rode up and down the street, as camouflage clad troops shouted to each other over the commotion, or directed traffic to nearby, safer streets.
As I rotated in a slow circle, my eyes trying to convince my brain of the level of devastation, I noticed for the first time the spectacular blue of the sky that day, making the piles of blackened rubble surrounding the area appear even blacker. A man on crutches ambled up to me and struck up a friendly conversation, assuring me that his injury was not Sandy related.
"Have you ever seen anything like this?" he asked. His name was John Ippolito. He was 51-years-old and a lifelong resident of The Rockaways.
"I was alive for Hurricane Donna, but this is so much worse," he said, referencing the 1960 storm that is considered the ninth most costly in damage in U.S. history in terms of adjusted wealth.
Hurricane Sandy is projected to have caused nearly $65 billion dollars worth of damage, slotting it fifth in adjusted dollars and second in actual dollars.
Ippolito pointed to where the boardwalk used to be and described how new concession stands were being built for the upcoming summer season. He didn't think anyone would try to rebuild them.
"This neighborhood is done. There's no coming back from this."
Because Ippolito lives on the fourth floor, he and his girlfriend didn't heed the evacuation warnings. They cooked all the perishable food in their apartment and then, when the storm came, they watched a wall of water make its way inland, falling just short of their building. They lost heat and electricity, and shared the food they had made with their neighbors for three days.
"Now we're living on sandwiches and canned goods. Yesterday, we went to Applebee's." They had taken the bus to Queens Center Mall, to get away for a day and to remember what normal life looked like. They shopped a little and ate.
"We were astounded that life was going on as usual, so close to all this." As he made a full sweeping gesture with one of his crutches, another man walked over and joined our conversation.
"God Bless. Is everyone here OK?" He was Vincent Gittens, an 11-year resident of the Rockaways. His house had escaped flood damage, but he shook his head slowly back and forth as he told us about the six cars he had just seen piled on top of each other a few blocks away. He had kind eyes that reflected genuine sincerity, and he expressed concern about the elderly in the neighborhood.
"There could be older people in their homes here who can't reach out. Some old folks can't get down all the stairs if their elevators are out."
Ippolito echoed his concern. While he was pleased by the current volunteer effort so far, he worried that the only way to know about it was by word of mouth.
"I've seen volunteers going door to door, checking on people, but the fear is that they'll miss someone. Maybe an elderly person can't answer their door and no one knows they're there."
As Ippolito and Gittens talked about mutual neighbors and businesses, two Coast Guard helicopters flew down the shoreline just in front of us. Their orange color appeared even brighter against the clear, blue sky and they were so low that the pilots were visible. Their fly-by veered the topic in another direction.
"You don't want to be out at night here. You can't see your hand in front of your face. Most people here are good, but some people around here don't act out of love," warned Gittens.
He was referring to the looting that was happening in different neighborhoods as soon as the sun went down, which had prompted a 6 p.m. curfew for residents.
Ippolito was disgusted that some residents would turn on each other.
"It feels like we're under martial law here because only the police and military can be out at night. You know what's scary? When it's pitch black here and a helicopter flies by and shines a spotlight into your living room window."
While he admitted it was a surreal situation, he was also grateful for the protection. He then pointed to a ship in the distance and estimated it to be about five miles out.
"See that? It's a warship. We're totally vulnerable to enemy attack right now."
So, who needs the most help here? I asked both men the same question, and Ippolito was quick to respond.
"The Rockaways need help. We need heat. We need electricity."
Both men thought FEMA could have been more present throughout the experience. Ippolito was disappointed in their initial response.
"On the day of the hurricane, FEMA wasn't here at all. They should have had megaphones and been evacuating people in danger zones. Then, after the hurricane, no one came for two days."
Gitten wanted immediate action. "What they need here now is a gas truck for residents so people can gas up and get out." After he went on his way, wishing us peace and good health, I talked a few minutes more with Ippolito, and then we said goodbye, too.
As I turned to make my way to the bus stop, wondering how difficult it might be to get off the Peninsula, I thought about how even the playing field had become.  I have visited developing countries in the past, where the disparity between rich and poor, if it even exists, is not nearly as gaping as it is in America. In poorer countries, no one has much of anything, and so they readily offer everything they have. Here in the Rockaways, where it seemed everyone had lost something, they generously offered each other their concern and sympathy, and a willingness to hear another's story.
The residents I spoke to didn't rail against the city or FEMA for what should have been done better, but showed a sense of acceptance at the situation, and a determination to find solutions.
"It is what it is," Ippolito had repeated. "Either people will rebuild, or they'll move away."
At the bus stop, the bus finally came, in the end. Many passengers had boxes or suitcases at their feet, perhaps heading back to their shelter with whatever they had salvaged from their homes. The mood was noticeably more somber, but a young man sprung up and offered me his seat, and we stared quietly out the window as we made our way back to life as usual.
View Comments (1)
About the Contributor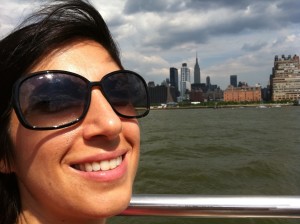 Michele DeBella, Impact Staff
Michele DeBella is a journalism major who loves to discover the interesting stories in people around the world. After more than ten years of living a nomadic...