H.E.L.P.
A religious organization named H.E.L.P., which stands for His Everlasting Love Prevails, has been an outlet for students on campus to enhance their relationship with God.
Founded in 2010 by students Freedom Weekes, Jairus McNeil, and Jasmine Lee, the first Bible Study was held in Freedom's dorm room on Oct. 6. As inspiring as his name, Freedom has worked ever since to build this ministry into a strong and positive atmosphere – and that it is. You can catch members of the ministry in the Lecture Hall for Friday Night Bible Study or at the Tabernacle of Prayer heavily worshipping with shouts of praise, stomps of agreement and claps of encouragement.
H.E.L.P.'s main focus is to share the love of Christ with everyone on campus no matter race, gender, or age. Since its beginning, it has served as an escape for those dealing with college frustrations and religious apprehension. It continues to be a positive inspiration for young people and is recognized for its good music, friendly people, joyous fellowship and outstanding services.
It's also loud and enthusiastic, filled with singing, dancing and excitement.
"It isn't like any other traditional church," says Freedom. "It's more like a Friday night party."
Services are often similar to their Bible Study routine. Prayer comes first to set the mood and get those who need a moment with God to meditate. Following is the praise and worship session, where songs are sung and energy is exercised. This is always a captivating moment to join because of the level of excitement. Afterwards, a meet and greet is created, allowing those who don't know each other to become acquainted. Offering, which is a collection of money, ensues followed by the preached word. The service ends in prayer.
"We see H.E.L.P. Ministries as a sort of safety zone for students, and I think they feel the same," Freedom explains. "Many students have attended at least one Bible Study or service."
From a small dorm room to a wide ranged lecture hall, the ministry has come a very long way. Its journey was not an easy one. Freedom explains about how he primarily faced constant animosity and it seemed as if the ministry would never prosper.
"The school was not initially supportive of such a group. It was very difficult to find a room and we moved around a lot. We were viewed as just another committee or club, but we are more than that. We were a ministry."
Freedom offers advice on those who are interested in building a ministry.
"Always remember to do the will of God, keep compassion for other people and don't start one for personal gain. You'd be surprised how many people try to make themselves look good while doing work for the Lord. Also, pray and fast."
Praying can be any form of meditation in reverence to God. Many people believe one must be on his or her knees looking up towards heaven to converse with the Almighty. Not the case, says Freedom.
One thing H.E.L.P. allows one to do is to express oneself in a manner that is best approachable. To speak with God can be interpreted as silence, mentally transferring thoughts, through praise and worship, or sometimes unexpectedly speaking in tongue (a foreign language). Fasting consists of going a period of time without eating or giving up something one usually enjoys or find necessary to God. It is a symbol of appreciation and sacrifice for all that he has done. Those who participate in one usually return with a sense of pride and accomplishment in being able to commit to something so profound in worship, achieving a status of sacred responsibility.
An adamant and recurrent member of H.E.L.P. has also witnessed its dramatic changes. Najja Beaulieu, an optimistic student who provides advice to peers and advocate for Christ says H.E.L.P. changed her direction of life.
"Freshman year gets old," she comments. "I found myself getting into more trouble and I was becoming overwhelmed. H.E.L.P. has allowed me to help other people, find purpose and re-direct my steps. It's different than a sports team or drama club, it's unique. It's like a whole new culture."
Najja admits feeling uncomfortable at first but was accepted and encouraged to continue attending services.
"Everyone was so open and nice to me. It sparked a fire and helped to believe in God for a greater purpose. H.E.L.P. also inspired me to reacquaint myself with an old talent: singing."
Najja has performed solo pieces, duets and participated in H.E.L.P.'s choir and school talent shows with her melodic voice. Upon first joining, she ran into life threatening issues where she explains that "the impossible was made possible."
"Being active for about two months in H.E.L.P. Ministries, I wanted to continue and stay to participate over the summer. But my parents weren't supportive at the time and I had no job which meant no income or money for food or residency. When the end of the semester arrived, I just prayed and stayed put, giving it all to God. Luckily, it all worked out and I was soon able to stay in a safe environment where I would be able to assist H.E.L.P. Ministries. Two years later, relationships were built and now we're like a family!"
Najja has proved that when prayers go up, blessings come down. She continues to assist in Bible Study classes and H.E.L.P.'s main services entitled, "The Impact" where the praise for God raises roofs off the church ceilings and students receive revelations.
H.E.L.P. plans to expand its location to New Jersey and other East Coast areas where students in other states are preaching the gospel as well. Merchandise of t-shirts and soon to come hoodies is being sold, bearing the H.E.L.P. emblem across its front. As another semester winds down and a new one begins, H.E.L.P. will certainly be a ministry who provides emotional security and religious assistance literally helping others who are uncertain of their future and their place with God. Rest assured, His Everlasting Love Prevails.
Leave a Comment
About the Contributor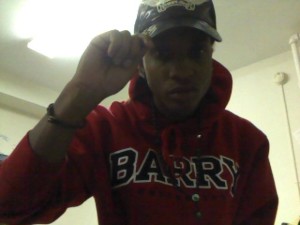 Barry Paige, Impact Staff




My name is Barry Paige, an english education senior intersted in the arts. The President of the Poetry Club on campus and a veteran of the step...