Local Guide Dog School Seeks Volunteers to Train Puppies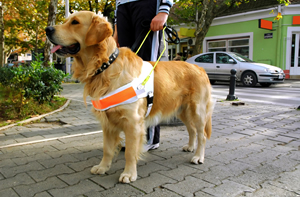 Guiding Eyes for the Blind, a guide dog school in Westchester, is looking for people to volunteer and actually train a seeing eye dog.
This school was formed in 1956 and founded by Donald Z. Kauth and is one of eleven accredited schools in the U.S for training guide dogs. Its 10-acre headquarters, training center and veterinary clinic is located in Yorktown. Guiding Eyes also operates a canine development center in Patterson and a training site in White Plains.
The programs offered are designed for blind and visually impaired students and also students with additional developmental or physical challenges, for example deafness and or seizure disorders. The dogs and staff are specifically selected and receive extra training to enable them to assist the students. 95 percent of the school's seeing eye dogs are Lab Retrievers, while the other five percent is German Sheppard.
Guiding Eyes has over 1,300 volunteers commit their time and talents to the program. They state that "each volunteer is essential to the organization's goals."
There is a push being made towards an increased demand for guide dogs as America's population continues to age therefore, volunteers are always welcomed. "Blindness statistics are growing, so we're expecting the demand for guide dogs to grow in accordance," said Michelle Brier, Guiding Eyes director of communications and marketing.
Volunteers are required to take in an 8-week old puppy and raise them for 14 to 16 months and create a permanent home for them.
They are also required to take the dog to weekly training classes, and work on the dog's obedience, social skills, and other traits to help prepare them for their career of assisting the visually impaired. Walking the dog 3 miles a day is also a requirement for the volunteer program. Vet care for the dog is completely covered by Guiding Eyes.
When asked if she would be interested, Mercy College sophomore Nicole stated, "I honestly think this is a great opportunity, that regular people like us can train dogs that will help the blind, that amazes me. I would totally be interested, it would just be difficult to get close to the dog and have to give it back after a year or so…but it's for a good cause, and that would make it all worthwhile."
How to Get Involved
To learn about Guiding Eyes, call 866-GEB-LABS. Those interested in the volunteer program should contact the regional manager, Nicole Guite; her e-mail address is [email protected]. To reserve a spot as a volunteer at the next pre-placement class, call 845-230-6406.
View Comments (1)
About the Contributor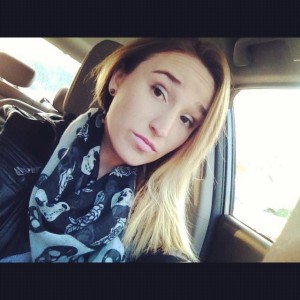 Jessica Brown, Impact Staff
Jessica Brown is a Mercy sophomore majoring in Journalism. With writing, photography, children and animals as her passion, Jessica has done her own personal...