Mercy Gets Serious About Parking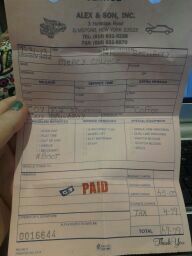 Tickets are being issued on the Dobbs Ferry campus that carry fines that can chime in to the sum of $69 or higher along with the chance of having your vehicle booted by a contracted private company.
In an effort to maintain order with parking conditions on the Mercy College Dobbs Ferry campus, the school has taken aggressive steps to alleviate what is viewed by many as a solution that adds stress to campus college life.
Students and staff have been sent advance warning at the beginning of the semester regarding the requirement to have all vehicles parked on the Dobbs Ferry campus to be registered at the Office of Student Services according to Cesar Robles, Manager of Security and Safety.
"We sent out email notices to all students and faculty numerous times at the start of the semester prior to enforcing the policies regarding parking on campus already outlined in the student handbook," Robles said.
On page 23 of the Student Handbook, the details regarding parking on campus for students both commuting and residential along with visiting guest procedures are outlined. However, there are no specific procedures outlining consequences for not obeying policy for either students or faculty.
Complicating the already tight parking situation was the closure of the White Plains campus, a lot of those students have been moved to Dobbs Ferry, so proper parking has become even more of a complicated managing issue.
The now aggressively enforced policy regarding parking procedures has particularly impacted resident students who own vehicles.
Keri Watson, homeland security sophomore major, had additional concerns regarding parking on campus. Watson is a campus resident and owns a vehicle and is also a member of the lacrosse team.
Since Wilson is a resident student, she and the other students must park in what is designated the "R" lot. It is at the further most western portion of the campus near the Hudson. It is a fair walk to the dorms, and at night can be a bit unnerving to walk from where she has to park to the dorm, Wilson said.
"I recently was told that I could call the security office and get shuttled from my car to the dorm and they will just pick me up. I guess that is cool, but I have not seen anything written officially."
Additionally, Wilson recently had her vehicle booted because she parked her car near the tennis court bubble and not in the "R" lot because she is a resident student.
" I was panicked when I saw my car," Wilson said. "We had practice and I was running late, so I parked my car up by the field. When I returned, it was booted along with a notice that was stuck to my window with some type of super glue backing that was extremely difficult to remove. I had to call a number and pay $70 to have the boot removed.
Wilson takes full responsibility for not parking in the right spot according to school policy, but thinks that the policy is a bit excessive.
"We pay more as resident students than commuters to attend Mercy College. It's just not fair that this policy has the most impact on us because the campus is where we live," Wilson voiced.
A suggested fix to the problem by Watson would be to have specific hours during the week that dorm residents have to park down in the R-lot, such as high class attendance hours. She feels that on the weekends, particularly the evenings, there is no need to have the restriction.
Watson is not the only resident student who has issues with the how the school is handling the parking situation.
Nicole Kline, a 19 year old sophomore dorm resident, echoed some of the same feelings as Watson.
"I just think that we pay so much money to come here – why should we have to pay for irrelevant things such as a ticket on my car?" said Kline. "They send us emails as a warning, which isn't fair either, because not everyone checks email constantly."
Kline finds fault with the school because there aren't any signs posted saying that dorm residents can't park anywhere else but the R-lot. She eventually received a boot on her car along with a ticket for $69.79 for it to be removed.
Like Watson, Kline also feels walking to and from the R-lot is dangerous and brought up her concern to security personnel.
"Security (individuals she spoke to) agrees with me when I mentioned that I should not walk down to the R-lot during the night if I need my car," Kline said.
There is nothing written in the student handbook regarding any policy or how to request escorted transportation to and from the R-lot for students as of now.
Additionally, when asked if there has been a marked increase in tickets being issued from the start of the fall 2012/spring 2013 semester thus far, Robles stated, "We have not seen any notable increase in tickets being issued."
Leave a Comment