Pope Resigns, Catholics Want to See Change
Pope Benedict XVI resigned this past month, an action that has not been done in nearly 600 years.
On Feb. 28, Pope Benedict stepped down from office. Many Catholics and media outlets around the world wondered why this historical event was happening. News about the Pope's age and health issues were ideas, but also the ongoing church scandals during Pope Benedict's religious career.
Dr. Jude Aguwa, professor of religion and humanities, stated that while there may be less than five Pope resignations prior to this event, the most recent was under different circumstances than in the past.
"Benedict's resignation is the only one apparently with little pressure. Papal resignation from now on is a possibility for future Popes, and I think quite in accord with the sentiments of the present age."
On March 13, Cardinal Jorge Bergoglio emerged from the conclave as Pope Francis I.
Pew Research Center constructed many polls that focused on what Catholics across the nation would like to see happen with the church, with the new Pope, and  how they observed the former Pope's credibility.
One poll asked Catholics what they want to see done with the church, with the response being right down the middle..Half of U.S. Catholics say the next pope should "move the church in new directions,"  while the other half say the new pope should "maintain the traditional positions of the church."
Aguwa thinks that while the act of resignation is extremely rare, it may actually connect the people to the Vatican.
"Popes will justify the resignation for a variety of reasons. I think it brings the church institution closer to the human reality than when left out there in the coldness of the divine milieu, when the Pope had to strive and struggle to govern even when devoid of the human capacity to do so."
In a list with many topics Catholics would like to see happen, the topics that received the most attention were: becoming more modern, 19 percent; getting tougher with abuse (notably sexual abuse), 15 percent; and allowing priests to marry and be more open to people (notably same sex marriage), 14 percent.
The study said 60 percent of Catholics would like to see the next Pope originate from a developing country such as Asia, South America or South Africa. 15 percent of Catholics would not want the next Pope to be from a developing country.
According to the poll, Catholics favored the Pope who reigned between the years 1987 to 1996. Pope John Paull II received 93 percent favorability during his later years as Pope. In 2005, Pope Benedict was favored 67 percent and in 2013, 74 percent.
According to the study, nearly two-thirds (63 percent) of U.S. Catholics in February of 2013 thought Pope Benedict did a poor or bad job addressing sex abuse and sex scandals. This is compared to April of 2008 when there were 40 percent of U.S. Catholics who thought the same.
Aguwa said that it is hard to measure the consequences of the resignation yet, and it may takes years until the figure of the new pope will reveal a better environment to socially, theologically, canonically, and ecclesiastically appraise the full extent and implications of Benedict's resignation.
Students also chimed in on why they thought the Pope resigned.
Anthonio Worrell, a senior studying Psychology said, "I think he was told to step down. He did not know the power and responsibilities that come with being the Pope. I remember Pope John Paul II more than Pope Benedict XVI."
Kelvin Jerez and Ashley Pantaleon, sophomores studying Computer Science, said, "I think he resigned because of old age."
According to ABC News' 'US Cardinals Seek Answers on Vatican Dysfunction,' Cardinals want to talk to Vatican managers about allegations of corruption in the Catholic Church. They wanted to complete this before they elected the next pope. The evidence, a scandal over leaked papal documents. This was one of the most unpredictable papal elections in recent times.
However, Pope Benedict is not the only religious leader who has stepped down from office. U.K.'s Cardinal Keith O'Brien of Scotland has also resigned after allegations of "inappropriate behavior," according to the Archbishop of Edinburgh and St. Andrews. According to CBS News, the only allegations toward Cardinal O'Brien's inappropriate behavior was a line in the statement in which O'Brien said: "For any good I have been able to do, I thank God. For any failures, I apologize to all whom I have offended." The news of Cardinal O'Brien resigning became public days before he would have taken part in the conclave to elect the next pontiff.
In 1979, Theresa Kane, an Associate Professor of Behavioral Science at Mercy College, was the only woman invited to greet Pope John Paul II during his visit to America. This caused a shift in mentality for Catholic women.
It is unclear if certain popes resigned or were pressured to step down. Only five had done so with certainty, while others may have been forced. Officially, the last time a pope resigned  was Pope Gregory X11 in 1415.
Leave a Comment
About the Contributor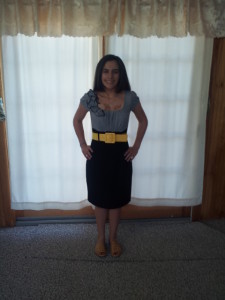 Molly Stazzone, Impact Staff
Molly Stazzone is a transfer student at Mercy College. Molly is a senior studying Journalism and Communications. She has interned at Westchester Magazine...