Crowdfund Your Life

We live in an era when people who dream big can sometimes bypass the traditional suffering artist phase. Writers are finding success publishing their own books, and reality shows are creating opportunities for talented young people to leap past years of scraping by in small, seedy venues and heading straight to Hollywood.
Now, thanks to the success of crowdfunding websites where people feature projects they would like to raise money for, anyone with a good idea and a dream can ask the world for help making it come true.
Wade Acuff, an artist and digital modeler from Mississippi, is currently trying to raise funds on Kickstarter for his short film titled "Bloom." The original screenplay won a grant that was sufficient for him to get started in pre-production. After that, he and his crew planned to do things by the book as much as possible.
"That means actually hiring experienced crew and talent, which is often overlooked in most short films, especially local ones. These key hires would absorb most of our funding, but we knew it would pay off with excellent results," said Acuff.
Acuff subsequently lost his job and thus his source of income for funding the remainder of the film's production. He eventually decided to go the crowdfunding route, where he feels confident that their goal will be reached.
"If we can promote the project and get enough interested people involved, I do feel we will reach our goal."
Curt Peters, of San Francisco, has managed to get enough people interested in his project that he has more than doubled his financial target of $7,500. He invented a product called the Chill Puck, which is a molded ice pack that can attach to the bottom of a beverage, to keep drinks colder for longer.
Peters has been surprised by the speed and success of his fundraising, which he partly attributes to the low cost of the donations. For $5, donators will actually receive a Chill Puck and a Chill Band, which holds the ice pack in place, and which can be customized with favorite sports colors and logos.
"People have also been buying the 10 packs and the more expensive custom packs.  Also, everyone loves cold drinks so it's a no-brainer."
But Peters' tenacity in spreading the word should not be overlooked.
"We sent custom made Chill Pucks to 11 of the biggest guys gear blogs, and none of them posted us."
After that, he emailed every can related product company possible, when one of them finally ran a piece on Chill Puck.
"That was really big for us because it got the ball rolling, and gave us a presence. Then the Kickstarter community dives in when they see you on the popular list."
Peters, who works in corporate finance, said he is always coming up with ideas.
"Most of them are laugh-out-loud terrible, which my family and friends will attest to, but as they say, it only takes one," he said.
Having prior success doesn't hurt either, in building the public's faith in a project. Acuff seems to have reached the ultimate success, with work as a digital animator on "Lord of the Rings" listed on his resume. That will perhaps motivate other like-minded artists to help donate.
"Most of the funding so far has come from our film community, but I have been pleasantly surprised by the few backers that have come across the project on their own. Hopefully, they've chosen it based on initial work that we've already put into the film."
Only a fraction of Acuff's $14,000 goal has been met so far, and if it's not fulfilled by his deadline of May 27, no money will change hands. This is where other crowdfunding sites differ from Kickstarter.
Indiegogo, another popular fundraising platform, allows people to keep whatever funds they raise, but charges a higher fee if the ultimate goal isn't met.
Another key difference of Indiegogo lies in the campaigns that people can raise money for. Where Kickstarter is only open to creative types, Indiegogo features people as diverse as an artist with a degenerative eye disease raising money to pay for corneal surgery, to a couple who needs financial help getting to Brazil to do missionary work.
Sharae Rogers, a junior in the fashion design program at the University of North Texas, is trying to come up with enough money to support herself during a month-long internship in New York City this summer. While her campaign may come in under her $4,000 goal, she feels sure that whatever money is raised will be enough to cover her essentials.
She credits Indiegogo, as well as her community, who has been spreading the news about her project, with helping her achieve her goals.
"I think that having someone else brag about you makes other people see you that way as well. If I went around and just told people that I'm a good student, I'd lose all merit and no one would really believe me."
And even if she doesn't completely reach her goal, crowdfunding is definitely something she would choose to do again.
"Sometimes when you have big and focused dreams, it's scary to share them because you never know how people will react. Will they laugh in your face? But this campaign has shown me that people want to believe in you as long as you're confident and truly invested in your dreams."
Leave a Comment
About the Contributor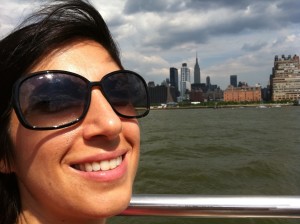 Michele DeBella, Impact Staff
Michele DeBella is a journalism major who loves to discover the interesting stories in people around the world. After more than ten years of living a nomadic...