ISO Welcomes International Students To Mercy
International Students Orientation(ISO) was held on Sept. 1 and Sept. 2 for Mercy Colege.
Nearly 125 international students from Austria, Britain, South Korea, Switzerland and Turkey participated in ISO. The program of first day was for enhancing thier knowledge of American culture and creating mutual friendshipships between the group.
All students introduced themselves and got to know each other. Makeda King, the Director of International Students, reported academic information and advised desirable college experiences for the students to participate in during the semester. Games were then played to create bonding opportunities.
As for the first impression of the international students, many were ready for the journey ahead.
"All of the international students are excited and open to new experiences, cultures and people. They are truly grateful for the experience and take advantage of all of the resources and activities that Mercy has to offer," stated King.
The first day was for adjusting school life. And then, the program of the second day made students have a precious memory in New York. They traveled to Manhattan and visited the Empire State Building. They were very excited at all things that they saw and could have an unforgettable memory of America.
Some international students' first impressions of Dobbs Ferry campus was naïve, since they were expecting a city atmosphere.
"When I arrived at Dobbs Ferry campus, deer romped on the green grass. The campus was natural and had purity," stated Nessi Kuwal, an international student from Austria.
Now, International students are enjoying their new campus life at Mercy College. They participated in diverse programs such as visiting Yankees Stadium, The American Museum of Natural History. Moreover, they are no longer afraid to join club activities that they are interested in.
"I joined a lot of clubs and it helps me to make many friends here and it is fun," stated Young Hun Kim, an international student from South Korea.
"My advice for international students while they are here at Mercy would be to get involved. There are so many clubs, activities, and events that happen on and off-campus. These are the events that will make your time in college memorable and enriching," stated King.
Most of international students usually go travel to Manhattan on weekend because it takes only 40 minutes from Mercy College by train.
"Whenever I take a train from Mercy college to Manhattan, I am so happy because I can see the beautiful landscape," stated Jeong Mi Moon, another international student from South Korea.
In terms of their school life in regard to their classmates, some international studens blend in easily while others need time to assimilate.
"Some classmates were very kind and sociable, but other classmates hardly know each other and behaved individually. Perhaps, it depends on the class," stated Alba Duque, an international student from Spain.
Meanwhile, there were some suggestions that they wish. A number of the international students have wanted to take part in casual meetings, a party, to make many friends and interact with students, who have diverse background rather a formal meeting.
"As it is important for the international students at Mercy to assimilate into the Mercy community and meet domestic students, creating programming and activities after the initial orientation for international students is something that we would like to improve" stated King.
Many international students are curious about Mercy College's long term plan for international students.
"My long-term plan for international students is to increase opportunities for on-campus employment and internship opportunities. There are many regulations for F-1 international students regarding if and how they can work.  I would love to enhance our opportunities for work for the international student community," stated King.
Leave a Comment
About the Contributors
Heejoong Chung, Impact Staff
HEEJOONG is an exchange student from Yonsei Univ, in South Korea. He majors in Business Administration and he is highly interested in sports and business....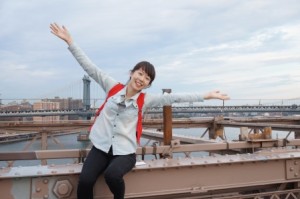 Jung Hyun-Jung, Impact Staff
"Jenny" Hyun-Jung is an exchange student from Yonsei Univ. in South Korea. She majors in Korean Language and Literature and she is highly interested in...