Devin's Race to Brazil
Mercy College student Devin Marrero is making his way to the 2016 Paralympic Games in Brazil.
The Devin Marrero sitting before his friends as he laughs among them and enjoys his lunch isn't the same person he was a year ago.
Marrero has been training and swimming his way for a spot with the U.S Paralympic Team in the 2016 Paralympics Games in Brazil.
The Paralympics Games is a major international multi-sport event involving athletes with intellectual and physical disabilities, amputations, blindness and cerebral palsy.
As he jokes around with his friends, it seems as if Marrero, now a sophomore, doesn't have a care in the world. Yet training, keeping up with schoolwork and managing to go to class every day is not an easy task.
"I swim four to five days a week. Sometimes, I even train twice a day," Marrero nonchalantly says.
The communication disorder major at Mercy was born with cerebral palsy, a condition marked by impaired muscle coordination. With the help of his adaptive physical education teacher and the unconditional love of his parents, Marrero started training and becoming stronger.
Since he began swimming and competing at the age of 13, he has won over 20 medals in Special Olympic events such as swimming, hockey and shot put. The Special Olympics is the largest sports organization for children and adults with disabilities, providing year-round training to athletes in 170 countries.
Since starting his first semester of college in the fall of 2012, he stopped competing to focus on school. His talent was noticed again when The Impact printed Marrero's story in the February 2012 issue. Kerry Lee, an avid reader, helped Devin start training and swimming again.
"She got me a free membership with the New York Sports Club in Dobbs Ferry. She wanted to do everything in her power to get me to where I am today. I really appreciate that," Marrero stated appreciatively.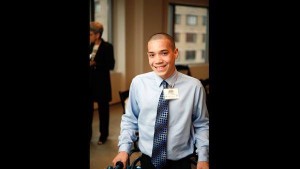 His membership at the NYSC helped him begin his training for the long road ahead. With the help of his new coach, Sara Borell, Marrero is ready to take on the many swim meets that lie ahead of him.
Since he started swimming and training again. The Yonkers native has been getting a lot of publicity. The Mercy College sophomore has been recently interviewed by the Daily Voice, the Journal News, and is awaiting to be interviewed by News 12 Westchester. People have also contacted him to speak to individuals and other swim teams with disabilities.
"A lot of people have contacted me through my Facebook page. I'm not really phased by all this publicity. I honestly don't mind it," grins Marrero.
All of his training has led to swim meets around the United States. On Oct. 19 and Oct. 20, Marrero recorded his official times in Augusta, Georgia to qualify for a spot in the U.S Paralympic Team. He came in first place in three out of the four events. It was one of his first big meets to get him to the 2016 Paralympic Games in Brazil.
"When I'm in the water, I feel unstoppable. It doesn't feel like I'm disabled."
His next swim meet will be in Richmond, Virginia, where he hopes he will lower his swimming time. If he does well in that meet, he will move on to another swim meet in Miami, Florida in March.
With all this training and swimming, it's hard to balance school, physical therapy and a social life. His main focus is on his schoolwork, as Marrero wants to become a speech therapist.
"Even though my goal is to get to Brazil, my main focus is my schoolwork."
While Marrero keeps backstroking his way to his dreams, he has a massive support group to keep him grounded and cheer him on. His "Mercy family," a term he calls his close friends from college, are just a few of the people who have got his back.
"I am ecstatic that he is going for his dream. You can accomplish anything with a sense of passion, and Devin has definitely got passion," states Pierangelie Rivera-Lopez, a close friend of Marrero's and speech pathology major at Mercy College.
Marrero is extremely grateful for everyone who has been cheering him on and supporting him on his dreams. He couldn't have asked for a better group of people to help him get to where he is today.
"I am so thankful for all of my family and friends for their amazing support on this journey," states Marrero.
Since becoming such an influential person in his community, Marrero only has one thing to say to those who may think that reaching their dream is inevitable, just because they are a little different.
"Dream big and never give up on that dream. Strive for success!"
Follow Marrero as he swims for the gold: https://www.facebook.com/devinswims4gold
You can also help Marrero by helping him fundraise for his upcoming swim meets here: https://fundrazr.com/campaigns/bdZJc?psid=4a24f74ed4ee4994a5d001cece46dfa8&fb_ref=share__92Dtp6
Leave a Comment
About the Contributor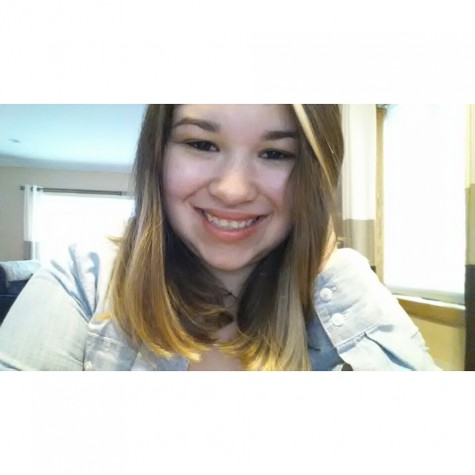 Maria Elena Perez, Managing Editor
I'm a senior at Mercy College majoring in journalism, and have been writing for The Impact since my sophomore year. Currently, I am the Managing editor...