Lighter than Air: The New iPad
Apple released their latest Mac software OSX Mavericks on Oct. 23,  along with the anticipated release of a brand new iPad. 
Tim Cook stepped out on the Cupertino stage and as per usual, gave the crowd a number of "mind blowing, revolutionary" updates on sales and figures.
Firstly, iPad. Accumulatively Apple has sold over 170 million units since the first iPad came out in April 2010, and even more incredibly, iPad now has an 81 percent tablet usage share, which not only means more people are buying iPads, it means that people are using them.
"This is just the beginning of iPad," said, Cook with a grin on his face as he moved on to talk about the recent launch of iOS7. In the first five days of the launch, 200 million devices were updated to the latest version of iOS, making it the fastest software update ever, and now a month after it's launch, a total of 67 percent of all Apple mobile devices are running iOS7.
"At Apple, we love to build computers that people just love to use," said Craig Federighi, the Senior VP for software engineering.
One of the best technological advances is that Apple has found a way to increase battery life of your own Mac with just a few lines of code, rather than shipping out new hardware. It works by only allowing the things that need CPU power to use it, or as Federighi put it "With OS X Mavericks, your Mac works even smarter. Energy-saving technologies help you get more out of your battery, and performance-boosting technology brings you more speed and responsiveness. It's power wielded wisely."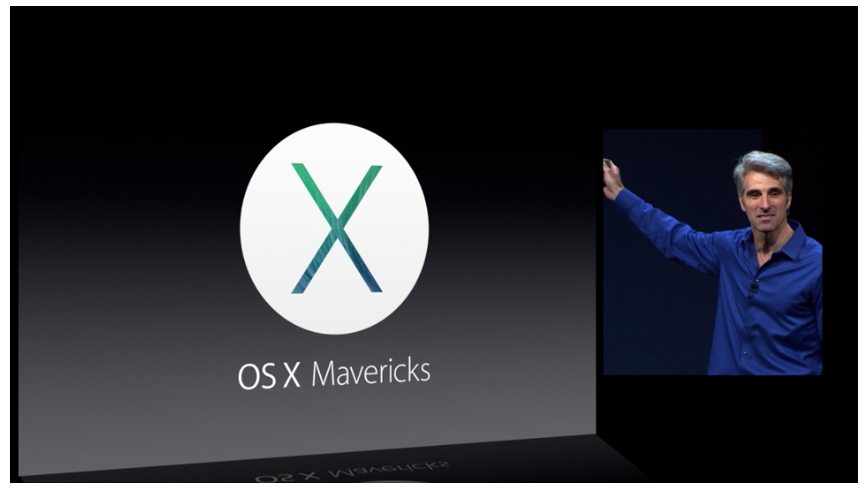 Maps and iBooks are now integrated into the systems, and with iCloud, they are automatically linked to any Apple device you own. For instance, if someone emails you to arrange a meeting, Mavericks will work it into your calendar, showing you the time it will take to get there from wherever you are before that meeting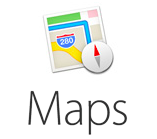 (Apple now tracks data and can anticipate where you will be at any given point by noting where you normally are at that point in the day). It can also use the integrated maps app to push directions to your iPhone and have them show up on your lock screen as soon as you begin your route to the meeting.
Mavericks has also added tags to documents which means you can now categorise all of your documents to be able to find them much faster and more efficiently than ever before. Notifications has also been updated – you can now reply to an email or iMessage straight from the notification itself rather than having to stop what you are doing and going to the relevant app. Website can also send notifications as well, for example you can can the latest scores or even eBay updates if you have an item ending soon. The best part, however, is that unlike every other company that creates software for a profit, Apple is going to offer the update for free because they want to "revolutionise pricing, because free is good "
Apple has also updated all of their own home-grown applications, iWork and iLife have all received a facelift and brand new technology on the inside too. GarageBand has been given a completely new look but retains

that great user friendly approach. iPhoto and iMovie have also been worked on aesthetically, but the technology has mainly stayed the same. However all of these apps are now iCloud integrated but also desktop grade speed and graphics will be rendered into the newest version of iPad and iPhone.
The biggest change has come to Apple's document writing app Pages. Everything has been rewritten and comes with an entirely new user interface and full file compatibility, so you never have to convert documents from Microsoft Word to Pages ever again. A new format panel only shows you exactly what you need, depending on what you are doing with the document and now you can collaborate online with someone on the same document at the same time even if they don't have a Mac, they just log on through iCloud beta online and go from there.
Of course with the topic of the evening being "free," iLife and iWork will come for free with the purchase of any new Mac or IOS device, but they will also be available to update on your current devices.
The big talking point of the event of course was the speculation of a new iPad.
The new model was announced by Phil Schiller. It's called the iPad Air. It's 2o percent thinner at just 7.5 millimeters, and 28 percent lighter, weighing less than half a kilo. The Retina display sits inside thinner bezels, so all you see is your content. It also comes with an incredible amount of power inside the sleek enclosure. The all new A7 chip from the iPhone 5S brings 64bit desktop class architecture.  It doubles the speed of  graphics, CPU processing, 3D rendering and wifi connection, which now comes with extra antennas for even greater performance. It hosts an improved 5MP iSight camera with 1080p HD Video recording and even maintains it's 10 hour battery life.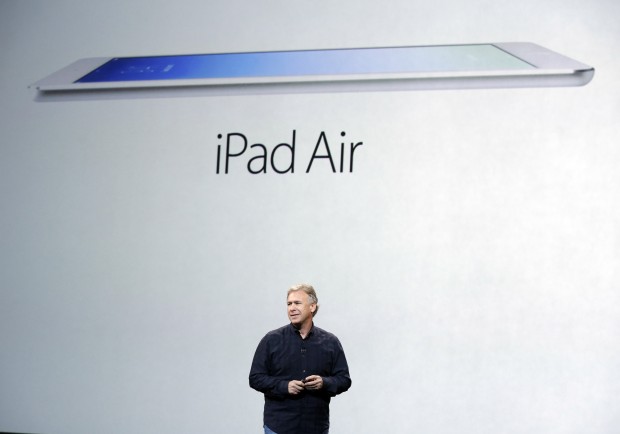 The iPad Air comes as expected in 16, 32, 64 & 128GB wifi or 4G versions and will ship in a "Silver and White" or "Black and Space Grey" colour.
Apple also announced an updated iPad mini with a Retina display. This version is aesthetically the same, but comes with the A7 Chip which gives it the ability to run 4x faster CPU, 8x faster graphics and also to maintain it's 10 hour battery life.
The iPad Air starts at $499 and will be available on Nov. 1 and the iPad Mini with Retina display starts at $399 and will begin shipping in late November.
Leave a Comment
About the Contributor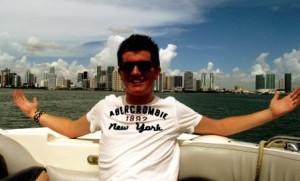 Samuel Neve, Editor-at-large
Sam Neve is junior international student from Great Britain studying Journalism. He has an eclectic taste in both music and sports and enjoys going to...