Being A Mother In College Doesn't Mean Education Isn't Possible
Being a mother is a beautiful experience. As women, we get the chance to not only bond with our child before they are born, but we also get to protect them until it is time for them to come into the world. Aside from it being very rewarding, being a mother is also a lot of work. The first few months are the hardest. The long, sleepless nights and constant care for a newborn can be extremely tiring.
However, there are some women that do all of that and still manage to go to school. As hard as it sounds, it is possible. Tiara Brown, a junior, had a baby four months ago. Brown, 24, was a full-time student and worked throughout her entire pregnancy and never missed a day of class or an assignment.
"I hated being pregnant and in school. Not only was I pregnant and going to school, but I was also working. It was stressful at times, but I knew it had to be done," said Brown.
She gave birth in June and was registered for the new semester in September. Aside from dealing with being pregnant while in school, Brown now had to deal with being a mother to a newborn.
"It doesn't bother me because I am so used to multi-tasking. The key is to set a routine which is what I do to make sure my day is not that hectic. I enjoy being a mother as well as going to school. I admit it is hard, but I know it'll be worth it in the end," said Brown.
Being pregnant can be very uncomfortable, she said. The weight gain and mood swings can force anyone to want to stay at home all day. However, for others, they choose to be strong and continue to accomplish their goals.
Nayarit Sosa, also a junior, is four months pregnant. Sosa, 22, goes to school full-time and works at the bookstore at Mercy College. Although she's still early in her pregnancy, it has already affected her schooling.
"I've already had to take off a few days from class and work because of my appointments. I recently had an emergency ultrasound because they felt my numbers were too high for the baby. The good thing is my boss and teachers were lenient, especially since one of my teachers is pregnant as well," said Sosa.
She already registered for next semester, but is only taking one class because she is due in April. She wants to be well-equipped for when the baby comes and doesn't want an overload of absences and incomplete homework to affect her GPA, she adds.
From 2008 to 2011, the number of new mothers with less than a high school diploma declined 17 percent, and the number with only a high school diploma went down to 15 percent. By contrast, the number of new mothers with some college education fell by six percent, and the number with a bachelor's degree or more fell by just 1 percent, according to a new Pew Research Center analysis of U.S. Census Bureau data.
Thsese numbers show that mothers are not being deterred from chasing their goals and continuing their education. For other women, they became mothers earlier than expected, and not only managed to get through high school with a baby, but also, continued their education and went on to college.
Priscilla Payano, a Mercy College senior, was just 16 and a sophomore in high school when she got pregnant. At that age, it is possible for any teenager to fall behind in their studies however, she was motiviated to work hard and not fall behind.
"Becoming pregnant at such a young age did not really affect my education. I just needed to put more time in my work and focus a lot more. I barely had any time to study during the day so I would have to stay up until 3 a.m. and study," she said.
Payano, 22, started college when her daughter was two years-old. Some people might think she had it easy because her daughter was older when she started college, but having a child and being a mother takes a lot of time and effort, she reminds. Also, because she went into college having a child, she wasn't able to hang out with her friends as much because her job as a mother came first.
"I believe I did miss out on the college experience after having my daughter. My dream was always to go away and have a chance to study abroad in Paris. but since I had my daughter so young I had to limit myself. I still wish I was able to experience the college life and dorming, but having my daughter has pushed me towards the right path in my college experience," she said.
"I believe if I would've went away for college I would have been partying and having all sorts of distractions, but now that I have my daughter, I am more focused."
Leave a Comment
About the Contributor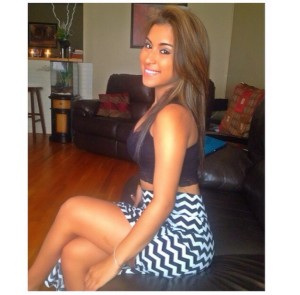 Kayla Rivera, Impact Staff
Kayla Rivera is a 20 year-old college senior. She is a Media Studies major in hopes of being a successful news reporter. She is an overachiever and will...