A 'Wicked' Night Out On Broadway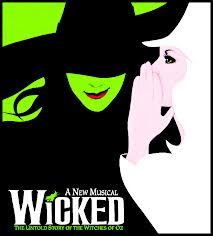 The PACT program gives Mercy students so many opportunities to get off of campus and with very little cost. From a night out at a Yankee game, N.Y. Jets game or just a nice night on Broadway, students have an opportunity to do something they may have never done before. There have been students who go to their first NFL game or their first Broadway show because of PACT.
On Feb. 4, PACT began selling tickets for the Broadway show Wicked. Rumors were that the show sold out in the first day. Tickets were only $20! There aren't many opportunities where someone could go to a Broadway show for such a low price. With the show being as popular as it is, many of the women on campus and even some of the men jumped up for the opportunity to see the show.
Penny Telesford, a senior, said Wicked was beautiful and emotional. This was her first time seeing Wicked on Broadway but it has been on her bucket list for a while, and she said she was supposed to go with her best friend, but she ended up seeing it without her. Telesford said that as long as they both saw it, it would be okay. The only other Broadway show she saw was "Spider Man" so this was a great experience for her.
"I had a lot of emotional moments, and I am proud to admit that," Telesford said.
If she had the chance to go again, she said she would. Tickets are affordable and it's always a good time. Its not only shows that she has seen that she would go to again, but in general to a Broadway show, she would go just to get to experience everything.
Wicked offers an alternative perspective of the The Wizard of Oz. The production is based on the 1995 Gregory Maguire novel, Wicked: The Life and Times Of The Wicked Witch of the West.  The story takes place before Dorothy ever shows up in Land of Oz and dissects the complicated relationship between Elphaba (Wicked Witch Of the West) before had a fall from grace with her best friend Glinda (the Good Witch Of the North.)
Kiersten Ettinger, a sophomore, decided to go to Wicked because it was on what she calls her 'Broadway Bucket List' (a list of shows that she wants to see before they close). She knows the words to every song from listening to the original soundtrack, watching all the videos she could find about the play and even reading the articles that she could find. She said it was finally her chance to see the show she had been learning about for so long.
Ettinger was emotional right along with Telesford. Finally seeing a show she had been waiting years to see got the best of her. The emotions were so strong. There was also a deep connection between her and the music.
"My favorite part? Somewhere between when the curtain opened and the curtain closed. Picking a favorite part is extremely hard," she said. "It is almost like picking a favorite childhood thing because I really did enjoy every part."
Alissa Finazzo, a freshman, said since she was sixteen, she had always wanted to see Wicked. With Wicked being her first show, she picked a great show to start with. Finazzo favorite part of the show was one of the main characters. She explained how she could relate to Glinda so much.
"It's like we clicked," She said. "I would sit there and nudge Steph, saying 'That's me! That's me!"
She had seen the Christmas Spectacular over ten times but said this show wasn't anything like that. Broadway and The Christmas Spectacular are almost two different worlds. Finazzo says depending on the show, she would definitely go to Broadway again.
Ettinger is trying to see some of the original cast members in concert and on shows because this show means so much to her. Telesford and Finazzo are planning a trip into the city to see if they can get the autographs from the cast.
These three girls were able to cross a show off of their bucket lists. Their dreams were able to come true. All of this happened because they could afford it. Broadway shows are getting so expensive now and PACT gave these three girls along with the rest of Mercy students who attended, the chance to go and experience something that not every person can experience.