MSA Club Is Keeping The Peace At Mercy College
There's a very warm and welcoming feeling when you first enter the Muslim Student Association meeting, tucked away in the corners of the Mercy College Library.
The club, which began the fall semester of 2013, is making strides at Mercy College. Made up of a diverse group of people, these students have a thirst for knowledge about Islam and its teachings, as well as the Muslim culture.
They have one main goal: to spread knowledge and positivity about Islam.
Islam is the religion of most Muslims, which is a monotheistic faith regarded as revealed through Muhammad as the Prophet of Allah.
"Our religion is supposed to spread peace to this world. All the people that come to our meetings are interested in learning about it from our perspective," explained Easmin Begum, health science major and founder of the MSA club.
Starting a club wasn't easy. Begum, who transferred from a university in Connecticut, was suprised to find that there wasn't a MSA club when she arrived at Mercy. Begum's passion for learning about her religion and culture is the heart of the club, and the reason why it began.
"Starting a club from scratch was hard. No one understood what I wanted to do or how to go about starting it. I didn't give up, because I knew how much a club like this was needed at Mercy College."
Begum, with Norehan Aly, President of the MSA club and psychology major at Mercy, along with a dedicated executive board and 25 other students, meet every Wednesday. They not only discuss the Islamic religion, they also answer questions anyone might have about the religion or the Muslim culture.
"We all have the same mindset when it comes to this. If our parents were to teach us all of this, sometimes we might find what they say imposing. This is all voluntary. I think we're all just a good influence on each other," stated Asma Shabir, English major and PR director for MSA.
The close-knit group feels their meetings are a safe haven to ask questions and explore what the Muslim culture and the Islamic religion really means to them.
"Islam is about humanity, not discrimination," stated Shabir.
According to MSA National, students who participate in the club meetings are "uniting a forum for Muslim students from diverse backgrounds for decades."
"I look forward to coming to these meetings because it's a safe environment where you can express yourself, and I feel like we all make sure everyone feels welcome," Shabir explained.
Clearing the misconceptions and stereotypes that have surrounded their culture and religion for many years is one of the many goals MSA is trying to accomplish. According to a several students, many Muslim Americans  have found it is difficult to be a Muslim in the United States.
"Many people are quick to label. A lot of people believe all Muslims are terrorists, and I even remember someone asking me why all Muslims are terrorists," explained Hagar Saddiek, the advisor of the club and teaching assistant at Mercy College.
Saddiek, who came from Egypt six months ago, has experienced a lot of backlash when she first came to the United States. The transition wasn't easy, but being a part of MSA has made that transition a lot easier.
"I was once invited to teach a theology class at Mercy College to speak about Islam. The students had learned from the professor all the stereotypes about Islam and not the true religion behind it. I had to clarify everything. It was very unprofessional," Saddiek remembers.
Even though she has heard many insulting comments the past six months she has been in the United States, Saddiek doesn't let them bother her and finds comfort, as well as strength by being a part of the club.
"It's great to be a part of such a wonderful group of people. I don't feel alone," Saddiek said.
Since the Sept. 11 attacks, 55 percent of Muslims agree that it is more difficult to be a Muslim, due to stereotypes and misconceptions, according to a Pew Research Center Survey.
Not many of the students experienced any type of stereotyping until they entered college for the first time.
"I lived in Kashmir, Pakistan for 18 years and before I came here, I had no idea we were being labeled as terrorists and all other kinds of stereotypes just for being Muslim. It's shocking," explained Shabir.
Despite the stereotypes, this club only continues to grow. The strength of the club has only grown, and through those misconceptions, many of the members have learned to stick up for themselves.
"I'm not really stereotyped outside of school, but when I promote the club inside school and someone says something ignorant, I will always get up to say something. It's not like I'm walking around with a bomb in my bag. Instead of constantly making judgments, everyone should find a way to learn about Islam," explained Aly.
The club not only focuses on the teachings of Islam, but also tries to talk about other religions and religious beliefs, such as Judaism and Christianity. According to pbs.org, Judaism, Christianity and Islam were all born in the Middle East and are "inextricably linked to one another."
"We try to talk about other religions too because Judaism, Islam and Christianity all tie together. That is another one of our intentions; to not only talk about Islam, but to embrace and appreciate all other religions too," Aly stated.
For the next few months, the club is planning on taking a trip to New York City to experience Muslim culture and the Islamic religion. The group also plans on having a festival in the Dobbs Ferry Campus in May where students will be able to experience the Muslim culture first hand through food, music, and a lot of other fun activities.
Through their events, they hope more people will find an interest in the Islamic faith and the Muslim culture and will join the club in their quest to spread positivity and knowledge.
"It's nice to take an hour out of the day and learn something new. Everyone who is interested is welcome, so just come! Or, you can always join our Facebook page," said Aly.
The MSA club meets every Wednesday at 3 in the back of the library. Keep up on updates through their Facebook page:
Leave a Comment
About the Contributor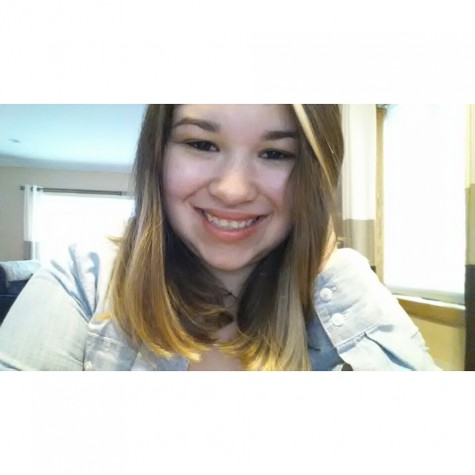 Maria Elena Perez, Managing Editor
I'm a senior at Mercy College majoring in journalism, and have been writing for The Impact since my sophomore year. Currently, I am the Managing editor...