Boston: A Year Later and Stronger Than Ever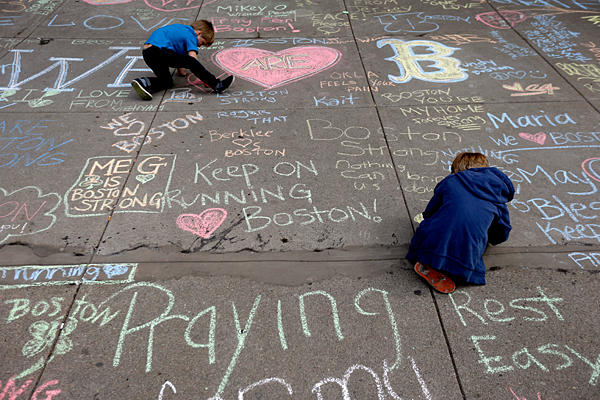 On April 15, 2013, a double bombing occurred at the Boston marathon with two explosions about 12 seconds apart from each other leaving three dead and 264 injured.  Absolute pandemonium ensued while a massive manhunt unlike any other was underway to find the bombers.
After the homemade bombs had gone off near the finish line on Boylston Street, two brothers killed an MIT security officer and carjacked an SUV in an effort to escape the city.
Immediately after the blasts, law enforcement wasted no time in having the surrounding areas of the city put on lock down, asking civilians to stay at home. Public transportation and most businesses were shut down, leaving the normally bustling city like an urban ghostland.
The older of the radical Chechen brothers was killed during a shootout with police and run over by his brother. The younger of the two was captured under the tarp of a dry docked boat in the backyard of the neighborhood of Watertown, not far from where the homemade pressure cooker bombs went off. He awaits trial with the threat of execution if convicted.
Such a public event where people gather on the city streets by the masses to watch the best runners from around the world in a peaceful city like Boston was the perfect target for the Tsarnaev brothers to make an attack and attempt a get away.
With reports of gunfire among officials first arriving on the scene, along with the mayhem and mass confusion right after the bombs went off, ambulances and EMTs were advised to hold back at the risk of their accidentally being shot while tending to the injured. However, there were no reports of casualties due to friendly fire.
According to Reuters.com, there was a study conducted of about 100 officials who took part in the manhunt and exposed a few flaws in the communications between law enforcement on local, state and federal levels. Based on the situation at had and given the chaos it caused, a lot worse could have happened.
Tamara Konig, a long time resident of Boston and a registered runner in last years marathon was about two and a half miles from the finish line when the blasts occurred. "My friend had jumped in the race with me to help push me the last few miles when her brother in New York called her, telling us to stay away from the finish line. He had seen it on the news before we knew anything."
Not knowing what else to do, Tamara and her friends headed straight to their homes and stayed there until the "shelter in place" or lockdown was lifted.
This year was be a testament as to how well prepared marathon officials and police are for any event that may happen. They are ready for anything this year with a whole set of rules put in place that may seem a little excessive to some, but for everyone involved, better safe than sorry.
The Boston Athletic Association had issued a baggage policy along with a gear check for this years participants. This means no bags were allowed at certain points of the course, clear bags containing a change of clothes will be allowed for runners.
Not strollers.  No suitcases or rolling bags. No coolers, glass containers or cans. Any container that holds more than 1 liter of liquid is not permitted. No handbags or backpacks that are larger than 12" x 12" x 6". No signs or banners larger than 11" x 17." No blankets or sleeping bags. No costumes are allowed either, meaning no face masks or bulky outfits that cover the body. More importantly, unregistered runners are prohibited from entering the race.
These unregistered runners, also known as "bandits," are usually family and friends of participants who jump in to pump up the runners during tougher areas of the course. For the safety of the runners as well as the spectators this will not be allowed and the rule will be strictly enforced. There are over 36,000 participants in this years race and unless you have a registered number on the front and back of your shirt, you will be escorted out.
Spectators should expect a heavy presence of uniformed as well as plain clothed police officers throughout the marathon route. Anyone carrying a large backpack or wearing a large coat may be subject to search.  Close to 4,000 officers will serve and protect on April 21of this year, more than double that of last year.
A more serious approach to security does not seem to daunt the crowds that will attend. Indeed the Boston Athletic Association is expecting a record-breaking attendance from the city to rally and prove that they are very much so "Boston Strong."
The marathon itself is a historically unforgiving race that pushes the human body to its limits. People participate in order to prove to themselves that they can accomplish this great feat of 26.2 miles. Many choose to raise money for cancer research or raise funds for other important causes. The marathon is more than a competition of the best runners from around the world, it is a symbol of unity and strength amongst the human race.
Some say it is the few who ruin it for the many, which is true. If not for the two extremist Tsarnev brothers attack than we would not have to undergo such tedious and inconvenient tasks for a public event that is meant to unify and support our peers. It is the fact that we stand as a people and cooperate with the law and marathon official who only have the public's safety as their number one priority.
It is events like this that we live through and learn from, especially from the law enforcements' point of view. Tragedies such as this and 9/11 hit us hard, but it is how we bounce back is what counts. To come back stronger than ever instead of cowering from the evil in our society is what makes us better than the attacker: it makes us unified. It makes us American.
Leave a Comment
About the Contributor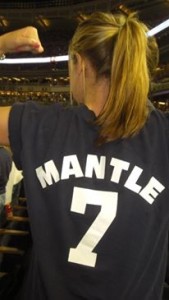 Katie O'Connor, Impact Staff
So here's Katie.

She's a professional student.

A freelance babysitter.

A retired lifeguard.

Full-time New Yorker.

She loves the Mick.

If...