Students Speak Up about Sexual Violence at Adelphi's Event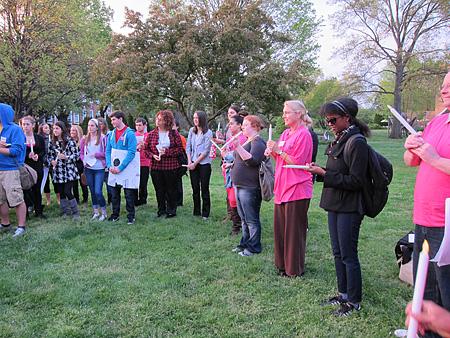 Mercy College's students will be attending the third annual "Take Back the Night" event at Adelphi University.
The goal for this event is to end sexual violence and spread awareness to all college students across the nation. Ana Zinko, the Assistant Director of Center of Student Involvement said, "Take Back the Night is an international event college campuses take part in. I believe the earliest year the event was started was 1976. At Adelphi University this is our 3 year."
A study in 2013 from the World Health Organization found that, "On average 30 percent of women who have been in a relationship reported that they have experienced some form of physical or sexual violence by their partner."
The event is free for the public and college students. Organizations such as, Planned Parenthood have set-up donation booths for the public's interest in past events. At the end there is a march across the campus. The sponsors for the event include—Peer Educators, The Gender Studies, Resident Student Association, and the Criminal Justice Club.
According to Adelphi U's website under events, this year participants are invited to take part in a "slut walk" during the walk. Every year there is a guest speaker who informs and helps students who have been victims of sexual violations. This year's speaker is Wagatwe Wanjuki, an activist and blogger for women's rights.
A couple of students from Mercy College will be attending the event on April 24. One student, Deja Walkers, a junior at Mercy said, "I found out about Take Back the Night from my resident director, and started to do research. I found it very interesting, and I wanted to take part in the event." Walker is a Resident Assistant RA at Mercy College. On April 24, she and three resident students will head over to Adelphi U.
Zinko adds that she has been a part of Take Back the Night for years. "I started my part at SUNY Maritime's event, and now I am the Assistant Director at Adelphi U. At last year's event 375 people attended. We are looking forward to more people this year."
The event will take place in the Performing Arts Center at 6 p.m.