A Real Life Story: Surviving Loss and Homophobia
"Losing a loved one is devastating enough, but to then be rendered legally insignificant only makes the pain worse," writes LGBT activist Shane Bitney Crone in his viral Youtube video "It Could Happen To You" when discussing his boyfriend Tom Bridegroom, who died in a tragic accident the previous year.
It was the video that sparked a new fight in the human rights movement. Within 48 hours the video had reached over a million views, and Shane was flooded with positive messages of love, support, and encouragement. It also caught the attention of director Linda Bloodworth-Thomason, who decided a ten minute video didn't do enough justice for a story this important.
Crone visited Mercy College last month to discuss this life, his documentary, and more importantly, an issue that he and millions of others are still battling in court rooms and in the minds of public perception.
Together, Crone and Bloodworth-Thomason launched a Kickstarter campaign to raise money to make a film that would touch the hearts of millions and strengthen the world's stand on marriage equality. Within a month and over six thousand contributors, they were able to raise almost $400,000, becoming the highest amount of money raised for a documentary in 2012.
'Bridegroom', named after Crone's late boyfriend, premiered at the Tribeca Film Festival (TFF) on April 23, 2013. Since then, it has won several awards including Tribeca's Audience Award for best documentary and a GLAAD Media Award for outstanding documentary.
After touring film festivals across the world for a year to present his film and send positive messages, Crone started visiting schools.
He says, "I just felt like maybe this is an opportunity to reach so many young people like me that are struggling or just to help people understand what it is people have been fighting for," which was why on April 10, Crone's next stop was Mercy College.
The Escape Hate event was hosted by Mercy College seniors Trevor Williams and Michael Masiello in the Rotunda. "I wanted students and the community to hear and see first hand how discrimination can harm an individual and his life," Williams says about why he scheduled the event. "I think it's important to raise concern for the issues that a younger generation is going through and issues that an older generation must learn to accept"
Crone spoke to the student audience and presented his film for them to watch. The documentary tells the story of Shane and Tom, their six year relationship, and the tragedy that changed his life forever and started a revolution.
It begins with a background of Shane's life. Growing up in Kalispell, Montana, being different wasn't easy. His journey all started with a movie. While Shane watched Philadelphia, he noticed he had something in common with Tom Hanks' character, Andrew Beckett. They both liked men. The character's death from AIDS made Crone believe his sexuality would eventually kill him too.
This fear lead to the development of lung crushing anxiety and denial of self that sent Shane down a long path of emotional distress.
When finally coming to terms with his sexuality and gaining the bravery to open up to a close male friend, he was met with cruelty, isolation, and endless torment.
Too often we hear on the news stories of gay teens taking their lives because of the bullying and loneliness that often follows homophobia. There was a point in Crone's life where he was almost one of those headlines.
Alone with a gun in his lap, he juggled between life and death and what each option had to offer him. Thinking of his family and the pain it would cause him, Crone decided death wasn't worth the consequences.
But it wasn't just his family that kept him strong. It was hope. When recalling that dark moment, he explained, "on some level I must have believed that somehow, someday, there [was] going to be someone out there who's going to love me for me."
The truth in that statement can be defined by fate or destiny, for not too long after graduating high school and moving to California, he met Tom, the man who would change his life forever.
Tom Bridegroom grew up in Knox, Indiana where being homosexual was not something one could easily admit to being. With parents who wanted the absolute best for him, Tom attended Indiana's prestigious military boarding school, Culver Academy, where he was top of his class. With his charisma, contagious smile, and kind soul, Tom was liked by many.
After graduating Culver cum laude, he went to Vassar College in New York. From there, he made his way to California where he was involved in the media industry, the same field Shane had been working in.
Thanks to a set up from mutual friends, Crone and Bridegoom met at a bowling alley, and quickly grew close. It wasn't long before a friendship became something more, and a love for the books was beginning to form.
"It did not take long for me to really feel so comfortable with Tom that I could tell him anything. I trusted him with my life," he says in the film. "It was incredible to finally experience that feeling of love."
But love is something people most often find should be shared with the world. When it came time to telling his family, Crone was fortunate enough to receive all positive and loving responses.
It seemed like there wasn't much to worry about, and if Crone's family could be accepting, then surely the Bridegrooms could be too. After all, they're family.
On Christmas when Tom flew down to Indiana to visit his family, he admitted to his mother that he was gay. Instead of the loving, open arms Crone had received when coming out, Bridegroom was met with chaos.
Martha Bridegroom told her son that his feelings were sinful, and that she wished he had come out to her sooner so she could have taken him to get medical help.
Norman Bridegroom was described by Tom's friend Sasha as very stern. "The idea of manhood and masculinity and presenting yourself in a certain way was important to him. I think he wanted to have Tom basically play that role."
Therefore, being gay and loving another man meant he wasn't playing that role.
Both of Tom's parents were unyielding, and blamed Crone for making their son gay. They attacked their son and threatened him with weapons, begging him to change his mind.
But even the most stubborn of hearts can be persuaded, and Tom's mother made her way to California to mend her relationship with her son and meet the man he loved. For years, it seemed that she was genuinely happy for her son and his boyfriend's relationship.
As time continued, the couple's love thrived and their dreams became reality. Together, they traveled the world visiting four of the Seven Wonders of the World. They started a business, shared a home, raised a dog named Justin Bobby, and made a promise to get married once it was legal in the state of California.
CNN reports that on June 26, 2013 the Supreme Court ruled against California's Proposition 8 and voted that same-sex couples have a constitutional right to be married. Two days later, marriage licenses were allowed to same-sex couples.
Unfortunately, Tom Bridegroom would not be able to keep his promise of forever and always to Shane.
It was a Saturday on May 7, 2011. Bridegroom and his friend Alex had been doing a photo shoot on the roof of her apartment building, as they had done many times before. After a few pictures, he had taken a few steps back and fell four stories off the roof. He died hours later in the hospital.
The pain didn't end there.
Bridegroom's mother came to take her son's body back home to Indiana, even though his home was with Crone in California. She insisted how much she wanted Shane and his family to be at the funeral, but her actions proved otherwise.
Days of silence passed, and he never heard from Martha Bridegroom again. On his way to Indiana for Tom's services, he received a phone call from a relative saying he was not welcome at the funeral, and an attack was planned if he showed up.
At the service there was no mention of Shane or anything of Tom's life after Indiana.
Tom's Facebook was deactivated after an abundance of comments asking about Shane.
He was erased from Tom's life completely.
Hate would not stop him from celebrating his life with his soul mate. He had his own memorial service, honoring the Tom that his family tried so hard to hide.
Bridegroom is not just a tragic love story, but also a warning on lack of preparation for the worst-case scenario.
"I wanted to honor Tom as well as educate people and show them what happens if you don't legally prepare for the unexpected," he says.
As a young couple in a committed relationship of almost six years, they hadn't thought to write out wills just in case they would need them in an event like this.
Government records would label Crone and Bridegroom as roommates because they lived together. He was legally insignificant in the events that occurred after his partner's death. He didn't have the right to get information to contact the Bridegroom family or information about his partner's death.
Even almost four years after Tom's passing, Shane faces legal issues that could have been taken care of if they had been married. "I still have the same place that Tom and I bought together. Six or eight months ago there was a letter from the IRS addressed to Tom, and I opened it. I discovered there's a lien on our home because his taxes weren't filed, but I can't legally file his taxes," he says. "It's just one more thing that had we thought about would have saved a lot of headaches and heartache."
Tragedies occur every day in life, and some people have a hard time moving on after loss. But Shane took an awful experience as an opportunity for change and enlightenment.
Gabe Harvey, a sophomore, attended the event and was moved by what he experienced at the Escape Hate event. "I hope this documentary can one day help persuade people to change their minds about the world we live in. Maybe one day this documentary will have the power that we all hope it will and convince people to change their minds on legalizing same sex marriage."
Marriage equality is something that could have changed Crone's life and the lives of thousands of others who have been in similar unfair situations.
But change is happening, and it is coming sooner than we think.
"On April 28 the Supreme Court is going to hear four cases on the issue of marriage equality," Crone explained to the audience. "I believe they're going to rule in favor of marriage equality for the entire country, so that's exciting."
But Shane made sure to emphasize the fact that this is just the beginning of the battle.
"It's really cool to see how fast things have changed, but I have also found that a lot of people feel like marriage equality is the finish line. Even with marriage equality you can still be fired in many states for being gay, and you can be denied housing; in a lot of states conversion therapy is still legal. I think [marriage equality] is important to embrace and celebrate, but at the same time be mindful of the fact that there's still a lot of work to do."
For those dealing with hate and loss, Shane spoke to Mercy students about the importance of strength. "You hear the expression 'it gets better'. It's not as simple as that sounds, I found. But those moments when you're like it's never [going to] get better, I'm proud to say they have and that they can. You just have to surround yourself with people who love you and support you."
Leave a Comment
About the Contributor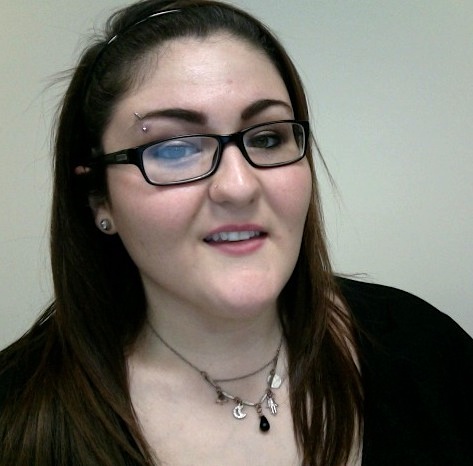 Jackie Miranda, Opinions Editor
Jaclyn Miranda is a senior with a psychology major and a love for writing. She is a volunteer for The Impact newspaper with the hopes of successfully building...