Mercy's First Fresh Check Day
Mercy College held its first annual Fresh Check Day on Sept. 24 in Dobbs Ferry. The event was hosted by the Wellness Programs and the Division of Student Affairs in efforts to check in with college students regarding celebrating life and suicide prevention.
Fresh Check Day is the staple program of The Jordan Porco Foundation, also known as JPF. It works with colleges to plan and fund Fresh Check Day in order to bring awareness to mental health and the resources available. The events include interactive expo booths, free food, entertainment, and prizes.
It was not only Mercy's first annual Fresh Check Day but the first one to be held in New York. Originally, Fresh Check Day started in Connecticut. Liz McOsker, the Program Coordinator of the Jordan Porco Foundation, is responsible for bringing Fresh Check Day to different campuses around the country. Mercy contacted her and showed interest in having the event come to Dobbs Ferry.
"We actually started a year ago. Jose Barzola who's a Wellness Coordinator, he contacted us and was interested. We got the ball rolling and now we have a perfect day for it," said McOsker.
And what a perfect day it was. With the light, approachable feel the event had, it was the right setting to tackle pressing issues. According to suicide.org, suicide is the second leading cause of death for college students. The number one cause of suicide for college students is untreated depression.
Suicide and depression are issues that are facing college students daily. Having Fresh Check Day at Mercy provided a comfortable atmosphere to receive information and have fun at the same time. Alyssa Prete, a licensed Mental Health counselor at the Dobbs Ferry campus, agrees that having an open dialogue between students and faculty is crucial.
"It's very important to raise awareness. It's unfortunate because it's a topic that we should be talking about a lot but it's something that is sort of taboo. The ultimate goal is to reduce that stigma and provide resources because it's too common of an issue for college students and they need to know that there's help for them," said Prete.
With these discoveries, the question is why? The reasons why someone may decide to end his or her life are endless, but there are factors that can make a difference.
Diet, exercise, and mental health were three key topics represented at the tables that were displayed. Each table provided interactive activities and led to students discussing thoughts with peers and faculty members. The event started with students being given a sheet that had the numbers of all eight tables they could visit. The goal was to visit five of the eight tables, and students would receive a stamp for stopping by. Before the event was over, students turned in their stamped sheets to be entered in a raffle for a chance to win prizes.
The booth "Elephant in the Room" was dedicated to having students release their biggest insecurities or fears that they wouldn't reveal to anyone. The anonymous revelations were posted for students to realize that they all deal with similar issues. Issues ranging from anxiety, stress, inability to make new friends, and discrimination were discussed. Once students revealed their inner fears, they could take a picture with "Ellie the Elephant."
The food that students eat can affect how they feel and how they deal with stress. Ann Parkin, the Food for Life instructor, provided pamphlets on how to live as a vegetarian and samples of green smoothies for everyone to try. The ingredients included blended bananas, kale, spinach, pineapple, and mango. She discussed the benefits of becoming a vegetarian, which included being in a better mood. According to a study published in the British Journal of Health Psychology, the consumption of more fruits and vegetables made participants happier, calmer, and more energetic.
Winslow Sewell, junior psychology major, expressed that he eliminated meat from his diet, practically overnight and started juicing.
"I decided to put some meaning to the whole situation. I started to juice everything. It's great, my energy is really good. I went cold turkey. One day I was eating fried chicken and the next day I was eating kale," Sewell said.
The booth "Look for the Good" encouraged students to focus on gratitude and write down what they were grateful for. Doing this would promote positivity and lead to better mental health. Students took pictures with their gratitude boards and posted the photos on social media using the hashtags #LookfortheGood and #MercyCollegeFreshCheckDay.
Matt Kilcullen Jr., Director of Athletics, focused on how important it is to stay active during the day. Exercising does not have to be intense, and students can play sports with friends or walk around campus. Simply throwing a ball back and forth from one friend to another, while increasing the distance, can work the mind and body.
There was a booth dedicated to the LGBTQ community. LGBTQ stands for lesbian, gay, bi-sexual, transgender, and queer. Their motto is "Be Yourself" and the community encourages all involved to love themselves and not feel like that they have to pretend to be anyone else. The interactive activity was to design a white T-shirt using paint. Students were able to express themselves freely and have their creations to wear around campus.
Junior Psychology major, Richie Pozo, said that he enjoyed making shirts at the booth and loved the activity chosen.
"A lot of students tend to feel like they have to be someone else to impress other people.Their activity is perfect because art is the best activity to express oneself," Pozo said.
Before students could give in their stamped sheets for the raffle, they had to stop by the Nine Out of Ten booth. This organization focuses on helping students who might be suicidal and reassuring them that they are not alone. Nine Out of Ten's statement is, "One in ten college students contemplates suicide, so that leaves NINE out of TEN to reach out and help someONE."
Posted on the table was a sign that read, "I pledge to be one of the nine."
Students had the opportunity to sign their names and pledge to be one of the nine people who would not only help someone who might be suicidal but to provide the necessary resources if they are unable to.
Individual and couples counseling are offered for all Mercy students. There is no additional costs for the services. For more information about counseling services available at Mercy, head over to the Mercy website under Student Affairs and click Counseling Services.
Leave a Comment
About the Contributor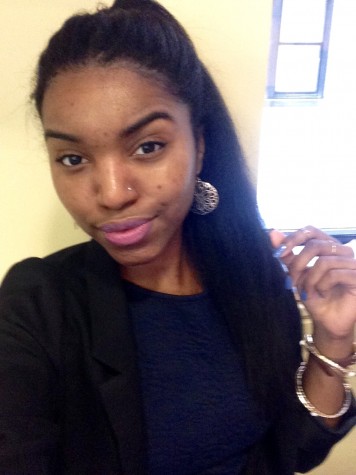 Shantal Marshall, Associate Managing Editor
Shantal Marshall is from Brooklyn, New York and majors in journalism at Mercy College. Her hobbies include reading O magazine, listening to music, and...