New Members Celebrate NSCS Induction Ceremony
The NSCS Chapter at Mercy College held its annual New Member Induction Ceremony this month in the Rotunda.
The National Society of Collegiate Scholars, or NSCS, is an organization that dates back to 1994. The founder and CEO, Steve Loflin, wanted to create a society that not only acknowledges the accomplishments of college students but engages them through leadership, service, and scholarship opportunities.
For the past 21 years, NSCS has grown to be one of the nation's largest honor societies for students. The honor society has numerous chapters in over 330 universities, and a network of over one million members. Senior vet/tech major Christina Jeffrey, who serves as the chapter's president, explains what NSCS is to her, and who is qualified to be a part of it.
"It is for students with a 3.4 GPA or higher, who are sophomores and juniors. They are invited based on their grades, and once they are members, they are always members. The students are invited to many opportunities, as well as study abroad opportunities and scholarships."
She also explained how the organization offers community service, but there are people who are afraid to get involved because they are doing it alone or do not know much about it.
"It gives you a wider range of doing community service. But some people are hesitant to get involved in community service because they are doing it by themselves, or they do not know how to go about it. NSCS is more of a well-rounded way to get involved in community service and also obtain free money for school."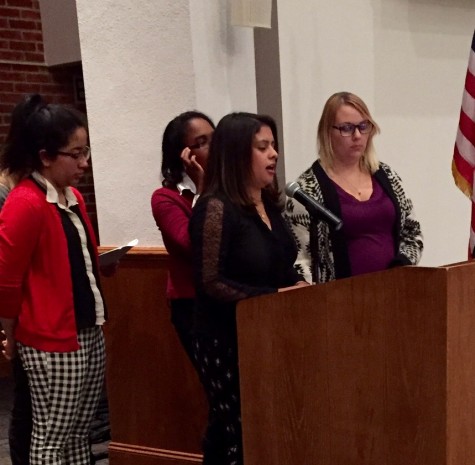 Senior psychology major Stephanie Rodriguez, who serves as the chapter's vice president of Public Relations and Recruitment, mentions that she sees NSCS as a way to meet and interact with new people.
"It is a great way to meet other people. I met Christina and Valerie at ScholarCon. I thought it was great, making new friendships. They are experiences that you get for a lifetime."
During the ceremony, ScholarCon was briefly mentioned. ScholarCon is a three day convention where different members and office board will be able to meet new people and observe seminars. Junior vet/tech major Valerie Ordonez talks about her experience at ScholarCon.
"Not only do you get to meet people outside of your campus, you also get to meet people in your campus. I also met other students from nearby states. The speakers are not typical speakers, they do not bore you to death. They motivate you, and they made you want to do more than just being a member of NSCS. The overall experience was fun, but it was also informative."
Rodriguez also felt like ScholarCon helped her get involved with NSCS even more, and it motivated her to be a part of the chapter at Mercy.
"I feel that ScholarCon really helped me to get involved, and open my view to what NSCS really does for you, and the many opportunities it is giving us. Getting involved was not a bad idea. That really motivated me to be a part of my chapter."
One inductee, sophomore psychology and criminal justice major, Morgan Lloyd, thinks it is great to be recognized academically, and she is hoping that being a part of NSCS will bring her internship opportunities.
"It's a good feeling to get recognized for doing well academically. I hope that it helps me to get internships, or get me to learn about internships."
Another inductee, sophomore exercise science major, David Lunsford Barlow, is really proud to be a part of NSCS, and how all have worked hard to get to the positions where they are.
"I am really proud of being a part of an organization where all the students share the same thing. We all worked really hard to get where we are right now."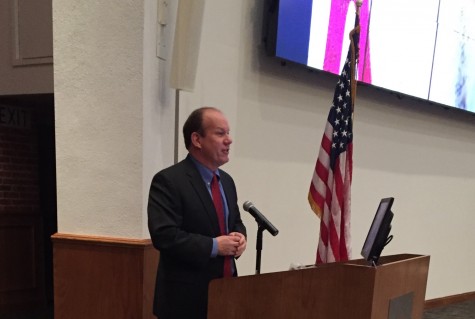 The keynote speaker of the night, Daniel Papes, came to Mercy to give some encouraging advice to the inductees. Papes is the executive vice president responsible for the North American region at Unify, a $2 billion company that is a leader in the United Communications industry.
One of the points in his speech the way being an effective leader can make the people who work for you even better individuals.
"If you are an effective leader, of other people, you are a role model. The better leader you are, the better your people will be."
One important piece of advice was to choose a career that makes you happy, something that you could do for a long time. He also mentions if you know what you want to achieve in your career – "go for it."
"Choose a profession that you love. But make sure that you are right. Find out as early as you can what you want to do. If you decide you want to achieve something in your career, and you know what that is, put everything you have behind it."
Junior criminal justice and behavioral science major Stephanie Cope, who serves as secretary for the chapter, would like to meet the members and share some experiences.
"I would really like to meet our members, maybe share our experiences. It would be nice to share advice, our classes we take, and bond over our awesome professors."
Overall, Ordonez just wants to educate the students on what NSCS is and create a closer bond with the other members.
"We just want to be able to educate them on what NSCS is, create closer friendships, and be able to be more involved on campus. We want to give them the opportunity to let them know that there are activities going on campus, and we are one of those chapters that would like to increase our population by creating these events."
Leave a Comment
About the Contributor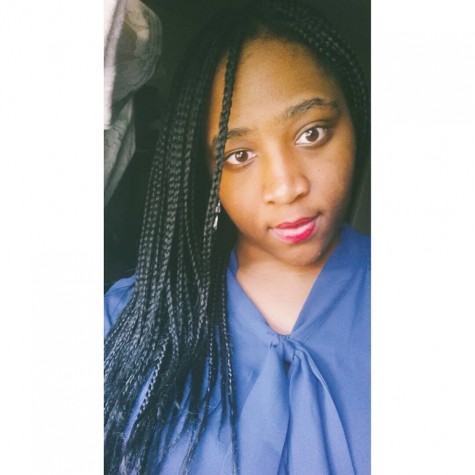 Naomi Osuji, Managing Editor
Hello world. I'm a senior majoring in radio and television production. I'm a little bit of a weirdo, but hey, who isn't? Born and raised in Jersey,...