Beauty and the Breasts At NY Cancer Walk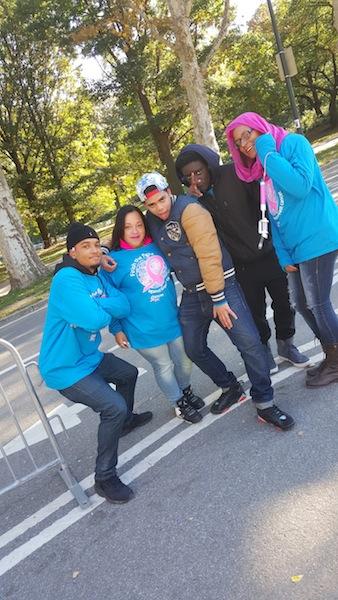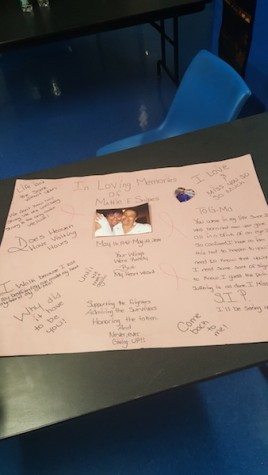 On Oct. 18, Central Park hosted its annual Breast Cancer Walk.
Everyone was dressed in pink for the event. Men and women alike, who were breast cancer survivors, made the five mile walk.
Before one started the walk, there were many booths that one could visit. The first booth provided information on breast cancer, followed by a ribbon booth, where one could write on a ribbon for whoever the person was running for, whether it was for themselves or for someone else. There were many people who made more than one ribbon. They put one on the ribbon wall and walked with one. They handed out beaded necklaces to people.
Runner Ashlynn Carmichael said, "I'm happy to be doing this event."
"I'm walking for my mother," said Jarrell Robinson. His mother had Stage 2 when they found it. There were a lot of people there to support the event. People who just wanted to walk just to do so.
"It's a good cause to walk for," said Ashley Lopez.
She was one of the few people who weren't walking for anyone, just for the cause.
"If I had someone to walk for I would definitely do so because it's showing them I support them," said added Maia Walton. "So I'm just here to walk."
While walking there were groups of people in between the barriers that were lined along the walking path. These were the people that cheered as runners walked or jogged. They would thank the walkers and tell them how close they were.
While walking the path there is a line marker to tell you how many miles you have walked so far. You can stop at any time. It was all about pacing yourself. There were also people who were giving out healthy snacks and water throughout the walk.
Unique Thomas was there walking for her grandmother. Her grandmother passed away May of last year. "She fought as long as she could," she says. Her grandmother was her guardian, so to her it was like losing a parent.
Throughout the walk, one could see people with sashes, posters, custom made shirts and sweaters. Clinton High School's cheerleaders were also there doing the walk. They helped put people in a better spirit during the walk.
Although the temperature was freezing that didn't stop people from coming out to walk. There were over 1,000 people at the event. That doesn't even include the people who ran the booths.
While walking I met a breast cancer survivor. Her name was Michelle Watson. She was from the Bronx. She had moved there at the age of 25 from South Carolina. A beautiful woman in her late sixties. The most beautiful aspect about her was her personality. She wasn't mean or grouchy. She was very willing to speak once I walked up to her.
"I have been battling this for a while. It was either beat the cancer or let the cancer beat me," she said. She was accompanied by her son Robert Watson. She walked around with a smile on her face as well as a sash that read "Survivor". Watson watched her mother go through the same battle when she was younger. She knew she had to be cautious and get checked out frequently.
"My mother is my hero," said her son. He was present with her as she walked and held her hand every step of the way. They walked a slow pace letting people pass them by. You could tell he really enjoyed his mother's company.
"I try to spend as much time with her as I can," he says. You never know when your loved one will no longer be here. You have to give them the time and cherish every moment you have with them.
Watson was greeted by every person she passed or who passed her. They would look at her lovingly as if they've known her all of their lives. She was an inspiration to those on the walk. During our talk people would often jump in and say "Keep up the good work" or speak words of inspiration to her.
By the time we reached the end of the walk, she sat on the bench nearby.
"People often think that things will kill them and do not think to ask what they can do to treat it," she said. Watson got checked out at each of her appointments. She made sure every time she went to the doctor she asked to have a mammogram.
"They missed it the first time" Robert said.
They waited to hear from the doctor and that was when she was informed that she indeed needed to come back so that they could have another look.
"I was beyond nervous but I knew that if I had faith and put it in God's hands anything was possible," said Watson.
She was told that she indeed had breast cancer and that they needed to act fast. They caught it early so they were able to remove it before it got out of hand.
"I'm thankful to be here because it could have been so much worse," said Watson. Walking to booths that they had at the end of the walk, one could see the ribbons people made to tie to the fence for their friends or loved ones. Watson walked over and made one for herself. And she let it go. Her action was questioned by her onlookers.
"I let it go because I am free. I'm a survivor."
Leave a Comment