4th Annual Recruit Westchester Proves Successful For Mercy Students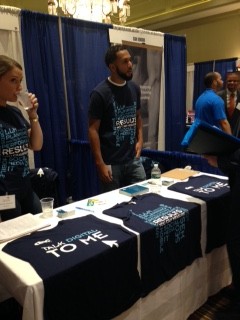 Mercy College invited all students looking for job and internship opportunities to Recruit Westchester, a career fair sponsored by The Journal News out of Rye Brook on Oct. 9.
The event turnout was considered a success with hundreds of students in attendance. Employers from all over Westchester County came to the event seeking young intelligent individuals who were eager to obtain employment upon graduation.
There were over 1,500 job and internship opportunities available for students around the area to apply to. Mercy was not the only school that participated in the event. There were many others that part
icipated such as Berkeley College, The College of New Rochelle, The College of Westchester, Fordham University, Iona College, LIU Hudson, Manhattanville College, Monroe College, New York Medical College, Pace University, Purchase College, Sarah Lawrence College, St. Thomas Aquinas College, and Westchester Community College and more.
The career service team at Mercy College marketed this event to students with numerous posters and flyers in the hallways, in the PACT and Student Service offices, on different bulletin boards all around campus, and in the residential locations. Information about the event was also posted on Facebook, and on the school website. Emails were sent out to all undergraduate and graduate students who attend Mercy College.
Along with all of the advertising of the event, career services provided students with many different tools to help them prepare for the event. There were career fair preparation sessions at the Dobbs Ferry, Bronx and Manhattan campuses that addressed topics such as resume building, dress for success, and how to work a career fair. PACT and Career Service counselors also took the time to individually meet with their students who were attending this event to help better prepare them as well. In addition to that, a short video on 'How to Prepare for a Career Fair' was also emailed to all of the students.
Career Services believe that this annual event is so important for students to attend because many students who have attended have walked away with connections that have led to job offers upon graduation.
"It is important to network and start building professional connections. Participating in a career fair is a perfect way to do that," said Career Services member Jill Hart.
"Employers love to be able to meet candidates in person, and students get great hands-on experience introducing and selling themselves.  It is easier to make a connection in person than just submitting an application on line. And it's a great professional development experience."
Recruit Westchester is an interview in itself. It gives students the opportunity to express themselves and leave an impression to give the recruiter a reason to remember them. 
Royce Yimbo, a junior health science major, was among the hundreds of students who were in attendance. "I'm trying to get my feet wet in the healthcare world," said Yimbo when The Impact asked why she had attended the career fair. "I'm also here to develop my interpersonal skills that way I can go into graduate school and they will see that I am qualified because of all of the experience I have gotten.
She then added, "Unfortunately having a good GPA and being involved in extracurricular activities isn't enough now a days."
For preparation, she updated her resume with PACT mentor Sarah Shepard. They printed a list of employees to review to Yimbo's liking.
Many of the students from Mercy who attended the career fair took full advantage of the help career services and PACT offered. Several students met with mentors as well as attended preparation events like the LinkedIn event held on campus, which was coordinated to help students work on their online presence.
At this event, the recruiters were interested in the skills that the students had and were able to bring to their company as well as their personalities. 
Mercy College's Career Service team put a lot of hard work into this event and they are so very excited from the turn out. "We would love to see even more Mercy College students take advantage of the internship, job and networking opportunities available through this event next year," said Hart.
DAC Group, an advertising agency located in Purchase New York was among the several employers in attendance looking to recruit fresh talent. The agency, which focuses on bringing consumers and businesses together, works with national brands but specializes on the local level. They enhance their clients online presence with SEM, SEO, Social Media, Local Listings Management and Display Advertising.
An HR representative from the company stated that they look for smart, driven people with flair. 
"We feel like we can take any bright student who has a good personality and teach them everything they need to know about the job."
DAC Group, like many other of the employers in attendance see the importance of companies attending career fairs like Recruit Westchester. "It's been really great we've been able to meet a ton of people who seem really interested in what we do so we are here to recruit and bring new fun young faces into the job market."
Leave a Comment
About the Contributor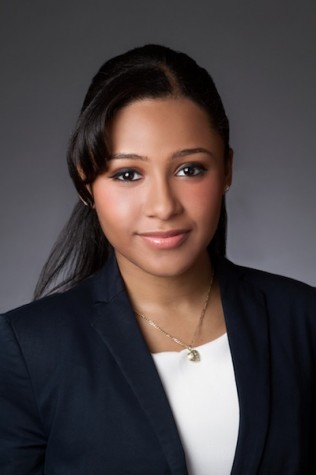 Tiffany Cordero, Impact Staff
Tiffany is a Marketing Major and a Journalism minor at Mercy. She has been a ballet student for many years. She loves any sport you can bet on. She hates...