Students Help Community By Giving Blood
Sometimes giving the gift of blood feels faceless, but not for one Mercy College student, who donated this month to honor her sister's battle with cancer.
Junior Lena Dimataris, a general accounting major, jumped at the opportunity to participate in the annual Mercy College Blood Drive on Feb. 4 the Rotunda, like many others.
"I'll be making my sister proud by giving the gift of life."
Dimataris donates blood religiously every eight weeks. Her sister Melisa, at the age of 19, developed leukemia, a cancer of the bone marrow that prevent the normal manufacture of red and white blood cells and platelets, resulting in anemia, increased susceptibility to infection, and impaired blood.
Melisa would receive blood transfusions treatments every Tuesday multiple times, depending on her blood count. A blood transfusion is the transfer of blood or blood products from one person (donor) into another person's bloodstream (recipient). Dimataris helped out her single father run the household. She had to become a mother to her two other siblings when Melisa became sick. Melisa had won the battle with cancer but unfortunately enough that battle was short lived with a remission in 2011. Dimataris admits that Melisa never let her sickness bring her down.
"She never let cancer define her."
Dimataris will always remember her sister's bright out look on life, especially after making a Harlem Shake video (a internet meme in the form of a video in which a group of people perform a comedy sketch accompanied by a short excerpt from the song "Harlem Shake") in the hospital. 2013 was a year that will haunt Dimataris for the rest of her life. Melisa had received a stem cell transplant and after 10 days, she had fallen sick and fell into a coma. Ninety days after her transplant, she passed away due to complications. Melisa Dimataris lost the war to cancer that year but not in vain. Dimataris was scared to donate blood the first time, but remembers how many times her sister had gotten pricked and found the courage to donate blood.
"Donating blood is a piece of sweet apple pie compared to the bitter taste of cancer."
She remembers all the kids in the pediatrics department and it givers her courage to come back to donate. Dimataris believes that blood can help people like her sister and many others. The gift of life also happens to be New York Blood Centers slogan.
The energy in the Mercy Halls Rotunda was festive, loving and caring. There was a very positive atmosphere coming from the students. There are several reasons to donate blood, mainly because blood is perishable. The supplies of it need to be regularly replenished. The New York Blood Center offers a safe way for people to save lives. New York Blood Center ships to local hospitals so people know that their blood is going to help people in their own backyard, so to speak. People choose to give blood because it is a simple way to make a huge difference in the lives of others.
The students who donated this year understand the vale of giving back to the community. And giving back is exactly what Westchester County needs. Donating blood has many perks. It is not only a thoughtful act but it also gives students opportunity for a scholarship, while receiving tasty treats. If the right precautions aren't taken before, while and after giving blood, it can be dangerous. At the Rotunda, there where many tables of fluids for donors to consume before and after the process took place. Donors are told to drink a lot of fluids like juice and eat food to build up the body's metabolism after blood is drawn. People can donate in interval for regular whole blood. It takes the body eight weeks to rebuild the blood, or 56 days, between donations. For two unit red cells, one must wait 16 weeks or 112 days. Platelet donors can give every 16 days.
Mercy College Student Worker Life was presented the opportunity to partner up with New York Blood Center to create a Scholarship Blood Drive. The Scholarship Assistance Program recognizes excellence in blood drive participation and encourages students to donate blood throughout their lives. A donation of $20 per unit of blood collected at participating schools is made and the Scholarship Assistance Program then awards scholarships to graduating students from those participating schools. Scholarships received from the Scholarship Assistance Program can be used at almost any type of post-secondary institute.
Sarah Fant, Health Science Junior helped host this event on campus.
"The goal for Mercy this year is to get at least 50 donations."
Fant also has her reasons for working this event that hit close to home. Her grandfather had received many transfusions through out his life. She went on to say, "Just because we don't need it doesn't mean others don't."
Several students donated blood that evening including Zhane Parker, Media Studies Music Tech sophomore, who said, "It feels good to help." Jacklen Garsia, Vet Tech freshman, said, "It's a pretty cool experience."
Senior Jim Patterson, International Relations, enjoys the free food and knows he's doing something good for people and many others.
New York Blood Centers has over 50 years of service to the New York community.
Shaddai, a phlebotomist for New York Blood Center, loves her job. She has been working for this company for ten years. She donates plasma every seven days. She explained that the blood is first put into ice coolers then tested and shipped out to local hospitals. Blood banks collect, test, and store blood. They carefully screen all donated blood for possible infectious agents, such as viruses, which could make people sick. She says "There is always a demand for more blood."
Getting a blood type that doesn't work with a person's own blood type will make that person very sick. That's why blood banks are very careful when they test the blood. All blood types are expected for donation. However, the O blood types are universal donors. Type O negative blood is safe for just about everyone and type O negative blood is used for emergencies in which there are no time to test a person's blood type. O positive blood types can safely be receive blood from all types of blood. If a person has Rh-negative blood, they should only receive Rh-negative blood. Rh-negative blood is used for emergencies when there is not time to test a person's Rh type.
This year, there were some students like Katelyn Mastin, a sophomore nursing major who felt dizzy while donating, and Caira Joseph, Vet Tech sophomore who afterwards felt hot and dizzy because she couldn't eat the snacks due to her  then pasted out because she couldn't partake in the free snakes do to her gluten allergy. Despite their issues both students however still said they would try to donate again because of the idea behind it.
Donating Blood may not be for everyone, do to complications or religious reasons. But the principle for donating is easy to understand. People doing anything they can to help others. After all, everyone bleeds red.
Leave a Comment
About the Contributor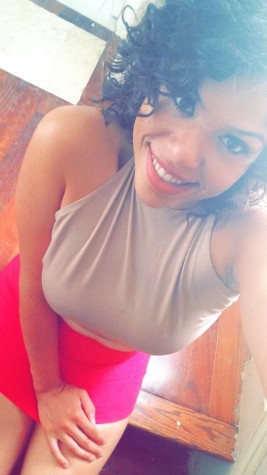 Kimberly Franco, Staff Writer

Official records will say I am Kimberly Franco, others may know me as Kiki Facts!

I am a Media Studies, TV/Radio Production major at Mercy College....