Career Services Urges Students To Use Internship Spotlight
When students get to college, they pick their majors, and hope to make a career out of the major out of their passion.
Mercy has a section on our school website called "Career Mavericks." This is where students go to look for jobs (full-time and part-time), as well as internships.  Many of the students that attend Mercy don't know anything about Career Services.  Career services teach students career readiness. They prepare students in many different ways. Students can learn how to make a resume and update it as well as a cover letter. Students also learn interview skills. It is important for students to be able to get an internship in their field.
For those that don't know how to, or feel unprepared, Career Mavericks can fix all anxieties.
Mercy also has federal work study. This is a job where students work both semesters through their financial aid package they receive. Mercy also takes its students to the Career Fair that takes place in Westchester. The career fair gives students a chance to use their networking skills by meeting with employers. They get to go on a interview and give out their resumes to employers. This gives students the chance to possibly find jobs in their field as well as internships.
There is also a luncheon every semester called Lunch with a Leader. This luncheon gives students who are chosen a chance to meet with leaders of industry. Lunch with a Leader helps students practice correct business luncheon etiquette. The luncheon also gives the students the chance to speak with leaders as well as hear their stories about how they got to where they are today.
Mercy also has an Internship Spotlight. This is a section on the school's website that gives those who have an internship the chance to tell about it. The students answer a few questions that tell about their internship. They are asked the basics such as where the internship is located and what they do there. The great part about Internship Spotlight is it gives other students ideas on where they could go to try and get an internship of their own.
Jeffrey Poulos makes sure he helps students ask the right questions to get a better understanding of their internships.  He explained the purpose of what the Spotlight is all about.
"The Internship Spotlight series showcases experiences that students have at companies that are on any level," he said.
This includes different employers as well as what they look for in an intern. Most times it is more than a student's GPA.
"This year we've been trying to go into classrooms and tell them about resources that we have in career services," says Poulos. Each of the campuses has an expert about Career Mavericks.
The Bronx Campus has Marguerite Busetti, who can guide students through the process, giving a step by step walk through of what students need to do once you have gotten into Career Mavericks.  After a resume is uploaded, it is then looked over by one of the many professionals they have to make sure it is correct. Once a resume is approved, students can get into Career Mavericks and begin applying for jobs and internships.
When students see other student's Spotlights, it shows them options that they have in their field. They get to see what others have done as far as internships, and see if they are possibly interested in doing the same.  Students get the opportunity to put their best foot forward.  Some students actually get call backs when they get an internship that other Mercy students have worked at.
At least with students seeing the Spotlight they can have an idea of where they can possible go to get a job.  "Seeing them in the spot helps notice that more than one student have interned at the same place," says Poulos.
This also gives them other options being that although students have the same major they don't necessarily intern at the same place.  "Certain places tend to like Mercy Students," said Poulos.  "This is good because it helps students network."
Leave a Comment
About the Writer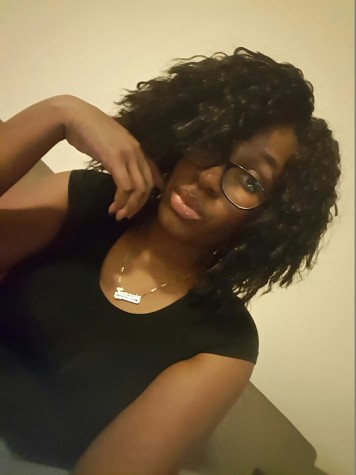 Tanasia Patterson, Staff Writer
Tanasia Patterson is from the Bronx. She attends Mercy College as a journalism major. Her hobbies are reading, dancing, and singing. She is planning to...