Students Register To Vote Over Ice Cream Floats
Ice cream floats and registering to vote go hand and hand, don't they? It sure was a hit on April 14 when the Dobbs Ferry, Manhattan, and Bronx campuses hosted a Float and Vote event, in order to have students register to vote.
Students enjoyed an ice cream float after filling out voter registration forms. This is the first step in preparing to vote in the primaries and upcoming election in the fall. Once students filled out the forms, they were mailed out for processing.
Freshman criminal justice major, Shania Constantine, will be voting for the first time in November and registering to vote was significant to her.
"It felt good to finally be able to register. It's important because as (living in a democracy) I should be able to choose who I want to be president and who will have my best interests at heart," Constantine said.
Election season is well underway. While the November election is not for another six months, the primaries have started. On the day when students completed their voter registration forms, it was past the deadline to participate in the New York primaries. Even though students missed the deadline, they have more than enough time to get registered for the general election.
Caroline Goldschein, Manhattan PACT mentor for the School of Social and Behavioral Sciences, was the brains behind the Float and Vote event. As an undergraduate student, Goldschein had a similar event at her college, but the idea wasn't sparked until one evening in the office.
"Last year on Election Day, I was having a small scale event with some students. I asked if they were registered to vote, or if they knew where their polling places were, and they weren't all aware. When I was working on the spring calendar with the director and coordinator of Student Life, I thought about including a voter registration event," Goldschein said.
Yelayny Placencia, sophomore liberal arts major, couldn't wait to register to vote.
"I think it's our responsibility as college students to vote. By voting, we're exercising the right to choose who we think should lead and impact our nation for the better," Placencia said.
Although many Mercy students attended the event to register to vote, in recent years, there has been a decrease in the number of young people who vote.
According to the U.S. Census Bureau, young adult voters between the ages of 18 through 24 have voted at lower rates compared to all other age groups in every Presidential election since 1962.
So what is holding young voters back from making it to the polls?
Some millennials tend not to register or vote because they believe their vote doesn't matter.
Sophomore finance major Wylbur Cruz believes young voters should exercise their right to vote.
"I think that many individuals around the world think the same way, so it is those voices who are not heard. If you don't vote for your own interest, then who will?" Cruz asks.
According to The Economist, another reason why young voters tend to not vote because they move from place to place.
"People who have not settled down are not much affected by political decisions," The Economist states.
Despite all the reasons that many hinder young people from voting, Placencia thinks that it's a great right Americans have and should take advantage of.
"They should register to vote because their vote does matter and eventually will affect our future generation,"Placencia said. "We should feel privileged for having the right to vote when many other countries are running under dictatorships."
Some students may not exercise their right to vote because they are away at school during the election. However, they can still participate by filling out an absentee ballot. An absentee ballot is a vote cast by someone who is unable to attend an official polling station. To request an absentee ballot be sent to one's address, a person must fill out an absentee ballot request application, according to registertovote.org.
The soda and ice cream float was invented in either 1872 or 1874, as many take claim for the discovery. It was an instant success, and rose to massive popularity in the 1950s and 1960s. For many students at the event, mixing ice cream and soda never seemed to cross their minds, but now they might have it more often.
"I was a little skeptical about drinking ice cream and orange soda together. It's sounds crazy, but I definitely enjoyed it!" Placencia said.
In addition to receiving voter registration forms and ice cream floats, students also picked up a small brochure with information about voting and its significance. A pocket size book about the United States Constitution was given to students entitled, The U.S. Constitution And Fascinating Facts About It.
Students who did not register to vote can pick up a registration form from the PACT office. They will pay to have the forms shipped to be processed. Or students can go to the Department of Motor Vehicles, dmv.ny.gov, to complete an electronic voter registration.
Goldschein loves the way many students registered to vote during the event. She offers words of advice to all young voters who helped her when she was voting for the first time.
"Educate yourself on the candidates and form your own decision about what party you lean towards and which candidate identifies and aligns with your values the most."

Leave a Comment
About the Contributor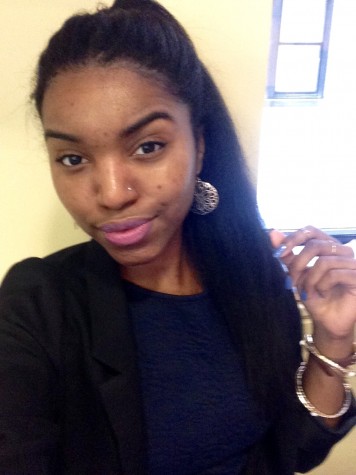 Shantal Marshall, Associate Managing Editor
Shantal Marshall is from Brooklyn, New York and majors in journalism at Mercy College. Her hobbies include reading O magazine, listening to music, and...