Major Key, High C
Mercy Launches A Cappella Club
Is the pitch actually perfect?
Having sat through all of the auditions, I can validate that at Mercy College… it actually is. Yes, A cappella can be about clever group names with some pretty great singers, but at Mercy it will be a close-knit group that has beautiful harmony – enough to give you the goose bumps.
Music Technology majors Max Haubrich and Kristin Millard participated in music groups earlier in their education but had never run their own organized group. Millard has a background in classical wind instruments.
"I was in marching band, wind ensemble, pep band and every other band-oriented group. Music ensembles was my life for four years and even after that." When she saw there wasn't a music group besides the community choir, she thought, why not change that?
Haubrich was in every singing group, except his school's a cappella group. He tried out two or three times and was always cut.
"I decided I can do this myself, I really don't need anybody telling me I can or can't do it, so I decided one day to run this idea by my friend Kristin," said Haubrich.
When their paths crossed at Mercy, they decided to form an a cappella group in the Spring 2016 semester. There was a school choir present at that time, but President Max Haubrich said they wanted to "create a different avenue for students" that was a slight variation from the choir group. At first they didn't know if Mercy was an environment that would foster a group like this, but they seemed to flourish.
"We weren't sure this was going to work in this community and this climate, but we still wanted to take that chance to try it out anyway," said Haubrich.
Haubrich and Millard both agree that it has been a great way to unite students with different majors and backgrounds, giving them an outlet to sing that isn't as formal or overbearing.
According to junior Music Technology major, this year's Vice President and vet from last year's group, Tiernan Cranny, there were only three MTEC majors in the group and fantastic diversity of majors. Looks like Haubrich and Millard are succeeding in that area.
In the first semester, 30 people auditioned and 15 were allowed a spot in the group. As time went on, a few active members dropped off from the group.
This semester, two days of auditions were held on Sept. 26 and 27, with a great turnout. The audition process consisted of testing vocal ranges, matching pitches, testing the ability to copy a melody, following a canon, harmonizing a chord with the other candidates, and finally performing a solo piece. Practices will be every Monday night from 6:30 to 9:30 p.m.
Prof. Paul Steinman, head of the Music Industry and Technology program, is the group's adviser and is excited to see his students explore the long time college tradition of a cappella.
"I believe that extra-curricular musical activities such as this a cappella group should be viewed as an essential part of student life. I am especially impressed by the initiative of the students on this project, and I plan to provide additional funding or visits by a professional vocal coach for guidance."
He will be a great resource to the group.
"I will assist them as needed with exploring possible repertoire and provide refinements to their "self-developed" vocal arrangements at their request. If they decide that they also want instrumental accompaniment or to record, I will assist in those capacities as well. "
Haubrich emphasized that this year will be a lot different from last year.
"This year we want to refocus and work on legitimizing the image of the group and getting our name out there. We are only looking for passionate committed individuals."
Freshman Vet Tech major Dana Meade found out via the Mercy Class of 2020 page on Facebook that there would be an a cappella group. Although she has never been in an a cappella group before, she has participated in drama club and school musicals and simply stated that she "just wants to sing and participate in school performances."
There was even a beat boxer who came to try out. Junior Music Technology major Garrett Smith has been beat boxing since he was 13 and claims its "something I do for fun, and just know." He was also a tenor in choir.
I mean, what is an a cappella team without some rhythm behind those natural voices?
Haubrich and Millard mutually agree that there are two important requirements they were looking for in candidates. The first is that they are mechanically sound singers who can match pitch and follow tempo. The second is a passion for music. If the participants are intrinsically interested in music, it will make for a great year full of active participation from all members.
Last semester was a huge trial phase, and a great learning process. This year they will be focusing on community performances, events at Mercy, and shaping ideally ten to fifteen committed individuals for the next year.
"Our big goal would be a huge performance at the end of the semester in December. Or even going Christmas caroling to give back to the community," said Haubrich.
They have even talked about going to nursing homes and doing some outreach as a group.
Millard is more interested in "solidifying and teaching people more, so we have more skills in order to show people what we can do."
They are hoping this partnership will give birth to a great group of talented, young individuals. Look out Barden Bellas. A new group has arrived. Stop them in the hallway for some audio enjoyment. But don't let the smell of your weird affect their vocal chords.
Leave a Comment
About the Contributor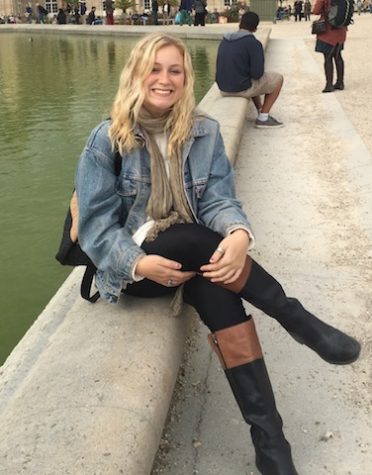 Abigail Smith, Staff Writer
Abigail may be a Public Accounting major at Mercy College but she's not your average accountant. Abigail enjoys meditating, journaling and reading in her...