History Club and English Majors Council Team Up For Rock The Vote BBQ
Rock the Vote was an event presented by the History Club and the English Majors Council on Sept. 22 to help students register to vote and learn the importance of voting.
At the event, there were registration papers and games, along with myths and facts about voting. The clubs also handed out pocket Constitutions along with buttons and other booklets of information. They were hoping the event brings together students and staff along with helping them get involved with the system.
The president of the History Club, Briana Snyder-Harper, said, "The voting is on our (the millennials) shoulders. There are enough of us out there that we can sway the vote."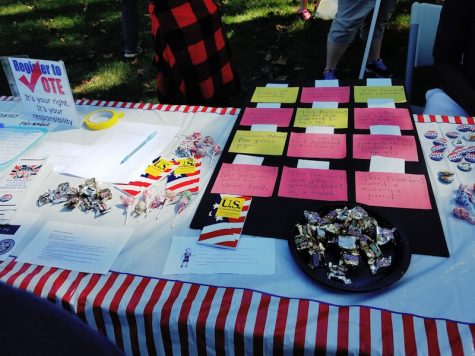 She and her team were talking to everyone who walked by to try to explain to them the importance of this election. The History Club has information on both sides of the election. They were providing students on reasons why each could be considered good choices. Members said they are staying neutral at the event unless someone asks directly about that side; then they will inform them on pros and cons for that side. The club's goal is just to get them to vote.
Snyder-Harper  said "Every vote counts. If you don't vote, your vote can go for the opposite of who you actually wanted to win. It's your right to vote and many people don't have that right in other countries, so we want you to exercise your right. The vote is progressive."
Bianca Keesler, Chair of the English Majors Council, said, "We're looking at the Constitution and Preamble, what it meant then when it was written and what it means now. What are the interpretations of it now?"
Her hopes are to get people discussing what those interpretations are. The EMC was neutral as well for the event. They cared about bringing awareness to the students. She also said "Even if you feel your vote doesn't count, it might actually make a difference. The past couple of elections have been close, so really every vote does count."
The event continued to exceed everyone's expectations. More people than not were already registered to vote. Josh Denton, Vice President of the History Club, said, "I've found out that a lot of young people don't feel the need to vote." He said it is predicted that only 20 percent of millennials actually vote. If they all voted, they would be the ones carrying the vote and actually choosing the winner themselves.
Students don't realize that registering to vote is more than the Presidential election, the club says. Voting also takes place locally for taxes and other small elections like county and state representatives. The event Rock the Vote was trying to provide this information to people along with debunking the myths about what happens to someone who registers. History professor, Dr. Maureen Macleod, says the club is just beginning to help cover the election.
"When it comes closer to the election around mid-late October we plan to hold a mock election with the 100 classes."
Most mock elections are the real predictions and Mercy College hopes to bring that alive.
Freshman Crytsall Luna registered at the event.  "This election is hectic. I don't know who to vote for. There's no right answer. This will be my first time voting. I feel this election is more than politics. There is nothing traditional about it."
When one registers to vote, he or she also has the opportunity to make an important decision that could control more than 50 lives. You have the power to save lives by enrolling as an organ, eye, and tissue donor in the NYS Donate Life Registry by filling out and mailing the form. These forms are normally attached to the registration form for voting or as a separate document next to the voting form. The clubs were also hoping people realized the importance of signing up to donate.
A lot of students were worried about this election because of the main two candidates, Hillary Clinton and Donald Trump.  They are trying to understand where each side is coming from, but it is becoming difficult to first time voters. At the event, students were registering to vote along with snacking on the free food that was provided. Most people said they don't like either of the candidates but they want to vote because they are starting to realize what the importance of the outcome of this election will be.
Bobby Norton, freshman, said "I don't have any idea who the right answer is to vote for. But realistically, I'm a registered Republican just like my family and I'll probably vote that way. Both candidates have downfalls."
In contrast, Junior Nicoll Baez says "I think I'm leaning more to the Democratic side. My entire family are immigrants and the way Trump is handling immigration makes him seem ignorant. I think he could handle it plenty of other ways. If he just handled it more correctly I'd feel a little better about him and maybe even change how I feel about him. I think it's important to vote. This election is make it or break it. We all need to vote."
Also attending his event was the League of Women Voters. Maria M. Brewester from the LWV is also part of the United Nations Association. "It's really important for new citizens to vote. I am a registered Democrat and I plan on voting for Hillary in the race. It's crucial for millennials to get out there. It's most important for college kids to get out and vote; it's their duty as citizens. I think this is a great event and I have found that most people are actually already registered."
The event Rock the Vote had a great turn out, the club feels. The event taught college students the six reasons why college students should vote.
1. It is our right. 2. These are our issues. 3. It is our future. 4. It is our voice. 5. We sway the vote. 6. We have a vision.
For more information, please visit www.rockthevote.com/getinformed/elections/. Also, if you aren't registered yet, you can visit the DMV's website, to create an account with your license to register online.
Leave a Comment
About the Contributor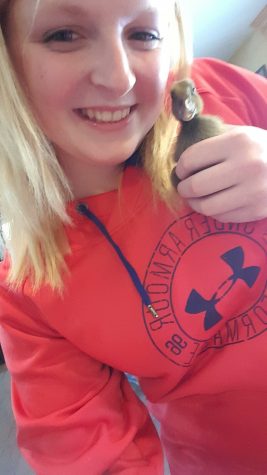 Amanda Depew, Staff Reporter
Amanda Depew is a Radio/TV Production major at Mercy College. Her hobbies include working all the time along with eating all the time. She has many jobs...