International Students Share Input on Presidential Election
This year's Presidential election hasn't failed to make headlines throughout the world. Now that the final debates are over, it's time for the U.S. citizens to express their opinions one last time before casting their final vote in November. Despite their inability to vote, international students at Mercy College are expressing their opinions on the presidential election.
Many of them stood up in Hudson Hall watching the debates, and some have watched it on their laptops while finishing their homework.
These students may not have the right to cast their ballots, but they have the right to give their input on what they have been exposed to in American politics. Words to describe this election are: entertaining, surprising, absurd and funny
Konstantinos Tielman, a communications major, states that Americans don't know how to run a debate. There's always an interruption, and no one ever answers the question. It is no different from Greek politics.
"It's a joke. I'm used to it because Greece politics is the same."
Tielman also says that the presidential election back at home will affect him. Greece and the United States have a strong diplomatic bond and both are friendly allies.
Jenny Cha, a South Korean student, has been watching the debates with regard about international trade and defense.
"Korea has many parties and they worked on a political campaign very actively. It's interesting how many U.S. citizens are able to ask questions and share their ideas in front of their potential president."
Petter Wilhelmsen, a business administration major, describes it as interesting but yet entertaining.
Wilhelmsen has been keeping up with the current politics during his first semester studies at Mercy College. He even keeps up with the politics back at home in Norway, where it's run with less shouting from candidates who respect one an other.
"It's not between two people but between five people with a basic question and answer, without any interruption from anybody."
"I like politics and enjoy the platforms that they display. American politics never stops surprising me with the candidates' remarks towards each other. From being accused of being a liar to calling a former President out because of sex abuse."
Thousands of international students travel to get their education here in the U.S. A survey by FPP Edu Media showed that 60 percent of them would be less likely to choose to return to the U.S. to study if Donald Trump were to be elected president of the country.
Wihelmsen laughs at the survey, saying that he will continue to study if either party wins.
"I understand why people would agree to that. Personally, I would stay if either Clinton or Trump wins. Neither of them will affect me to come back to study or even vacation in the U.S."
Maari Watanbe, a first year student from Japan studying International Relations and Diplomacy, begs to differ with Wihelmsen.
"Yes, I agree with that. Actually when I left Japan, I told the same thing to my friends: if Trump were elected, I would come back as soon as possible. That's because I think I don't want to be in that kind of country where half of its citizens agree with his terrible ideas."
Watanbe states that Trump is "a terrible man," and if he ended up in the Oval Office the American economy would also be negatively affected. She would not contribute to America. She would not contribute to the American economy or pay consumption tax because it would go into Trump's pockets.
Wihelmsen says he favors into the Democratic side but if he were given the right to vote, he would vote for the third party, Jill Stein.
"She represents the politician closest to Norway and has a similar platform as Bernie Sanders."
When Sanders announced his run for presidency, Wheelsmen began to root for him. He has discussed Sanders' beliefs and has been encouraging others to vote for him on social media.
Now it's the opposite. Whenever he sees his eyes run into a post about Clinton and Trump, he would instantly bash them out on Facebook and Twitter.
Tielman would vote for Clinton because Trump has only bragged about his business side and has not proven he has a political side. He says the third parties voice wasn't heard at all.
"The media is to blame. They did not cover and expose the political beliefs enough. This whole election is a never ending ping pong match with just two players."
Watanbe says she would vote for Hillary because she supports the Democratic Party and is for liberal ideas. She is not a big fan of the Republican Party but understands those who do support it.
"I guess they have an educated patriotic spirit, so it's natural that they think their country is the best and that they support the Republican's policies. But I think most of what they say is selfish. They will do anything that benefits America even though it might cause problems to other countries or people."
Cha says that students should be more concerned with the politics and how it will affect their living. The only way to change the world is by voting.
Tielman responds that those who don't vote by saying they don't fully understand the power of their vote. If one doesn't keep up with current politics, just like the world, politics will continue with or without you, says Tielman.
Wilhelmsen is saddened how many Americans have the privilege to vote but are not going to vote. Although he encourages everyone to vote, he understands the views of those who don't want to vote.
"I totally understand why many wouldn't want to vote because neither candidates is perfectly fit to take over the White House and decide the future of America for the next four years."
She too understands their feelings on not voting and not showing any concern this election, but Watanbe urges everyone to vote.
"I think those who have a right to vote should go vote. So what they should do first is not only protect their own opinion or identity, but protect their country and vote, specifically for Hillary. Of course this is an opinion from a Japanese student's point of view."
Leave a Comment
About the Contributor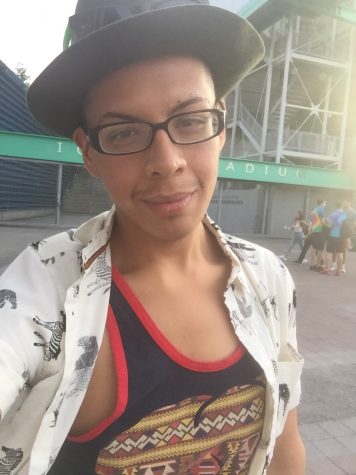 Christian Arriaga-Flores, Staff Reporter
Christian Arriaga-Flores is a Radio/Television Production major at Mercy College born and raised from Newburgh, NY. He likes to chat about anything from...