Taking Strides Against Breast Cancer
We shuffled around through 19,000 participants, desperately searching for someone special. The color pink was everywhere – pink tutus, sparkly pink bows sitting on top of every little girl's high ponytail, bright pink wigs, pink breast cancer ribbons painted on people's faces, shades of pink pompoms, and striped white and pink stockings.
You couldn't tell anyone apart. It was like playing "Where's Waldo," the breast cancer version.
Chloe and I continued searching through the mob with our camera equipment strapped to our shoulders and backs at the Taking Strides Against Breast Cancer event at Manhattanville College, which was attended by several of the Mercy College community. For as many people as I bumped into with the tripod hanging off my shoulder, I will always believe I ran into one lady for a reason.
"Woah, that's quite the contraption you've got there," Lisa Pilenza said to me after the tripod hit her in her rib.
I turned around to apologize and introduce myself.
Standing right behind Lisa was a lady in a wheelchair decked out in everything pink. Except unlike everyone else, she stuck out from the crowd. There were so many distinctive qualities about her, like the twenty breast cancer stickers and curly pink ribbons wrapped around her wheelchair, or her multi-colored hair she knitted, but that's not what my eyes were first drawn to.
It was her smile.
Streaming from ear to ear, it was like a firefly in the dead of night, lit up as far as the eye could see.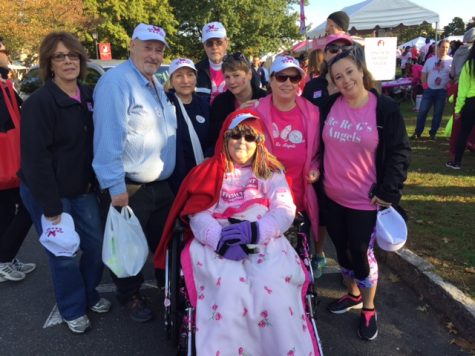 "This is my husband's sister, Marie Gramble," Lisa said to me as she gracefully touched the lady sitting in the wheelchair.
"People call me Re Re," Marie pipes in, still smiling.
It didn't take much more than a smile from me to get her talking. It was as if she yearned to connect with as many people as she could. Surrounding her were countless family members wearing pink and white shirts and hats that had a butterfly on them, with the words: "Re Re G's Angels."
"I was a teacher in my previous life, and my students couldn't pronounce my name, so they called me 'Re Re' instead."
The Monarch butterfly has been her sign of strength and hope since she was first diagnosed with breast cancer 30 years ago. She was on a walk with her best friend, telling her about her developing breast cancer and suddenly, a monarch landed on her shoulder.
"From then on, Monarchs have always been my power and peace. They are my hope, a sign that God is there."
As Re Re told me this story, Lisa began tearing up.
"We started doing this walk in 2007 here in Westchester," Lisa voices as she wipes the tears from her eyes.
When Re Re was first diagnosed, she participated in the Making Strides of Westchester 5k with her family and close loved ones. The breast cancer stickers all over her wheelchair were from that first 5k.
"She stuck those stickers all over her chair and then started sticking them on people as they passed by her. And of course, she had that same smile on her face."
Lisa looks at Re Re, and then back at me, as if to make sure I acknowledged the smile she was referring to.
This 5k is the one event Re Re looks forward to every year. It's like Christmas day for her, because she gets to wear a new hat on her head. In 2009, she wore a striped pink and white hat. In 2012, she wore a warrior's hat with yellow braids. This year, it was a knitted hat with built in hair.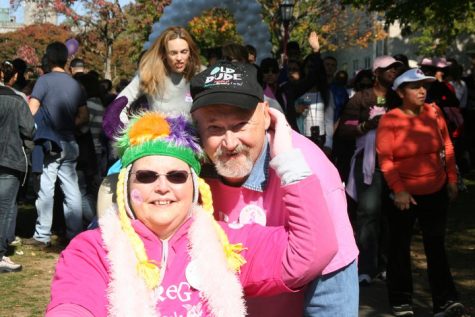 "I did my hair today," Re Re proudly announces, emitting a quick laugh.
As I ran my fingers through the colorful hair, I could see that underneath the hat, she had no real hair of her own. I started to put the pieces together. It was a warm day out, the sun was beaming down, but she was wearing layers of clothes. She had a sweatshirt on, a jacket overtop, a white baseball cap on top of her woven hair, gloves and a blanket over her legs.
I knew the answer but had to ask anyway. Her immune system is still being attacked along with her metabolism. She is still fighting cancer.
"There have been some years where Re Re was too sick to attend this walk, but that never stopped us. We always show for her," Lisa tells me.
Ten years after Re Re was first diagnosed with breast cancer, she was told the cancer had moved to her lungs. Soon after that, it moved to her brain.
Then she stopped being able to walk.
"You don't have much longer to live," the doctors would tell her.
"Watch me," she would simply say back.
"Watch me live."
***
Making Strides Against Breast Cancer walks is the largest network of breast cancer awareness events in the nation, uniting communities with a shared determination to help free the world from breast cancer. Walking participants raise funds that enable the American Cancer Society to fund innovative research, provide free information and support to anyone touched by breast cancer, and help people reduce their breast cancer risk or find it early when it's most treatable.
According to the Making Strides Against Breast Cancer's website, since 1993, more than 12 million walkers across the United States have raised more than $750 million to help fight breast cancer through Making Strides events. In 2015 alone, 1.4 million walkers across the country raised more than $60 million to help finish the fight against breast cancer.
Information from Breastcancer.org, a non-profit organization dedicated to providing information and community to those touched by this disease, states one in eight U.S. women (about 12 percent) will develop invasive breast cancer over the course of her lifetime. In 2016, an estimated 246,660 new cases of invasive breast cancer are expected to be diagnosed in women in the U.S., along with 61,000 new cases of non-invasive breast cancer. For women in the U.S., breast cancer death rates are second highest form of cancer, with lung cancer being the first.
The American Cancer Society says it is "Doing the most in every community to help women with cancer today and working tirelessly to find cures to end the disease tomorrow. Since Making Strides began 20 years ago, breast cancer death rates have declined 32 percent."
Research from the breast cancer non-profit organization also states that though death rates have been decreasing since 1989, nearly 40,450 women in the U.S. are expected to die in 2016 from breast cancer. Most cancer occurs in middle and older aged women. But although rare, younger women can also get breast cancer. Fewer than 5 percent of breast cancers occur in women under age 40. Women under 50 have experienced larger decreases which are thought to be the result of treatment advances, earlier detection through screening, and increased awareness.
This year, there have been more than 2.8 million women with a history of breast cancer in the U.S., particularly with women who are currently being treated or with those who have finished treatment.
A woman's risk of breast cancer nearly doubles if she has a first-degree relative (mother, daughter, sister) who has been diagnosed with breast cancer, and fewer than 15 percent of women who get breast cancer have a family member diagnosed with it. With significant amounts of research and testing, it has been found that around 85 percent of breast cancer patients are in women who have absolutely no family history of breast cancer. These occur due to genetic mutations that happen as a result of the aging process, rather than inherited mutations.
***
Valerie Chermele, a current breast cancer survivor, congregates around her family waiting for the 5k to begin. They have lawn chairs set up as they sit around enjoying each other's company.
Their hot pink shirts resembled sports jerseys.
The front of everyone's shirt was imprinted, "Team G & V STRONG," while the backs had their own distinct position.
Valerie's said, "Survivor," while Danielle Chermele's said, "Caregiver."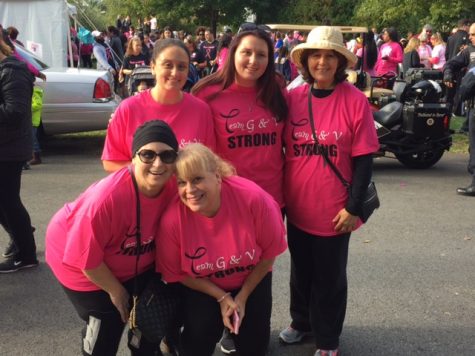 Their team was made up of 20 people, though they were currently missing a few members because some of them had already moved towards the starting line.
Valerie's best friend's daughter, Gina, was one of the few that had already moved towards the starting line.
"The first time I found out I had breast cancer, it was tough to hear. But the second time around, I got it with a side of kidney," Valerie jokingly says.
She seemed so lighthearted about the word cancer, as if it were just another commonplace word in her vocabulary.
But I guess, unlike so many of us, it is just another routine word to her.
As Valerie introduced me to the loved ones around her, a bee flew in her face. She screamed and swatted it away.
"A little cancer don't scare us. The bee does."
I laughed.
She is carefree and her humor is heroic. She lives life filled with more laughs than tears. It was inspirational.
Don't mind the black scarf covering the little bit of hair that was either growing in or falling out. Her smile, just like Re Re, was the center of attention.
***
Her hot pink wig looked like Cindy Lou Who's hair from The Grinch on top of her head. She had big round pink sunglasses, a pageant sash across her chest that said, "Survivor," pink and black cheetah leggings, a lace tutu, and furry leg warmers.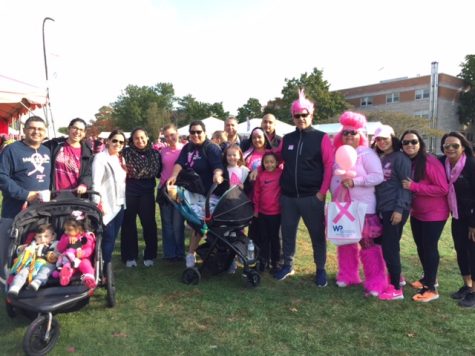 She was like a celebrity; everyone was crowded around her asking to take their picture with her.
Her husband supported her look fully because he too, was wearing a hot pink wig: a Mohawk.
Jenny and her husband gather with 50 family members not only to walk for Jenny, but also for her mother.
Jenny Franco is a three-year post breast cancer survivor but has been doing the Making Strides Against Breast Cancer 5k for thirteen years because her mom, Marie Pelaz, suffered from breast cancer for thirteen years.
I pushed through the flock of people, like a little kid impatiently trying to get to the front of line. I was their number one fan.
"During chemo and surgery, with the help of God, she made it through and has the same upbeat spirit," Jenny's husband tells me.
Unfortunately, Jenny's mother didn't. She lost her life on Nov. 18, 1993 at age 46.
Many of the family members were wearing navy blue shirts that had Marie's picture on the back of their shirt.
All of Jenny's family members agreed, "she is the happiest and most outgoing person they know."
Jenny knows that life is precious and every moment counts. She is lucky to currently be cancer free, unlike many others standing in the crow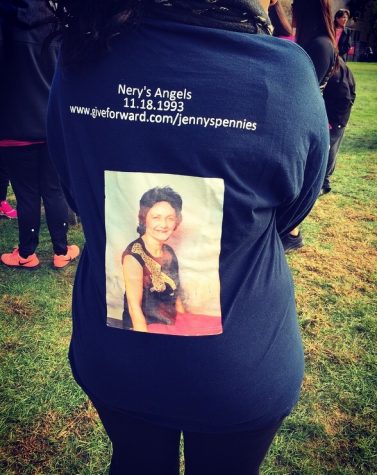 d around her, and makes sure she does everything possible to ensure it doesn't come back.
"I go to pain management every month and the oncologist every month for a checkup because you never know if it could come back," she tells me. "I have to be safe rather than sorry, for me and for my family."
***
These three ladies have two things in common: cancer and their focus on living their life to the fullest through each and every moment.
I didn't ask much about their past because I know that the last conversation any of them wanted to have was about the horror of the ordeals they have gone through.
Re Re knows what it means to truly live life to the fullest as she wheels herself through the 5k. This walk is a representation of her life: overcoming each hill, rocky road, and windy turn, with of course, nothing but a smile on her face.
"It is what it is, but I'll make it what it will be."
Leave a Comment
About the Contributor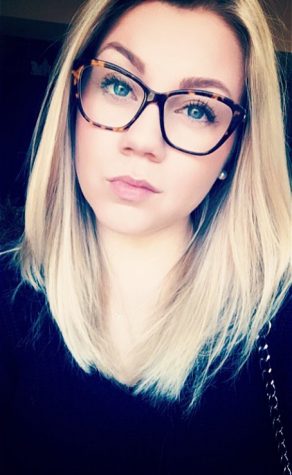 Laine Griffin, Associate Editor
Laine Griffin is from the one and only Washington D.C. and is a journalism major at Mercy College. Her hobbies range from playing sports, bartending, spending...