Protesting Election Outcome
The polls were in. The decision was final. Yet the voices kept chanting Not My President!
On Nov. 8, Donald J. Trump was elected President of the United States of America. Voters who voted for Donald Trump were obviously excited for him to transition into the White House. Others that voted for the Democratic or independent parties were disappointed.
Protests started the day after the election in cities like New York. Protests started from Union Square to Trump Tower, which is located on 57th Street and Fifth Avenue, and from the Trump International Hotel, which is located on Columbus Circle to Trump Tower. Protesters started a social media frenzy which started a trend, #NotMyPresident, and many others were saying the Presidential Election is rigged.
When walking in front of Trump Tower, there were police officers, barricades and shouting protesters. Tension was everywhere.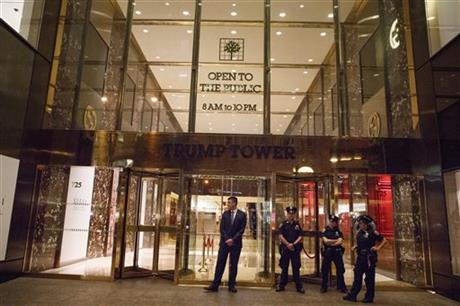 But to me, it seemed like a normal day in New York City because there is usually something happening on Fifth Avenue or in Manhattan in general.
Trump Tower has a big large in front reading "Open to the Public." I could not help but laugh at the sign because to me it contradicted the police officers standing in front of the tower, watching who was walking into the building.
It was easy to sympathize with the many protesters who believed Hillary Clinton should have been elected president. They were united in their disdain for the election of a man who led one of the most controversial campaigns in U.S. history.There were banners for Clinton and Bernie. Signs quoting Trump's outlandish statements. They chants were deafening and often in unison.
Popular Vote! Popular Vote!
Dump Trump!
Silence Is Violence!
Pay Your Taxes!
Love Not Hate!
Not My President!
Maybe most importantly – Show Me What Democracy Looks Like (This Is What Democracy Looks Like!)
Stefany Camacho, 20, who lives in Brooklyn, was one of these protesters. She voted for Hillary and was appalled at the results. "I felt scared when I first heard that he was elected. I was scared for my family and the outcome what can happen four years.
Many people just like Stefany feared for their families because they have a fear that his government may start banging on family's doors to deport them back to their home country. Stefany, an American citizen, would be left behind all alone in that case.
"I fear of losing friends and family especially my grandmother, if he does stick with his word and tries to deport families," she says.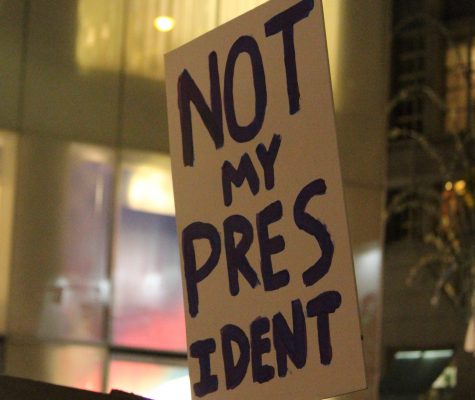 There were many bystanders who were walking or driving past Trump Tower just to give him the finger or say a harsh word. As a protester myself, I felt comfortable being around people who also felt the same. I did not feel like an outsider. She felt the same way.
Stefany says, "I was able to chant Not My President around ones who were on the same page as me."
The chanting grew louder and more in unison as the crowd worked together.
We Reject The President Elect!
Refugees Are Welcome!
Not My President!
"Taking a part in the chanting was a way to relieve some of the anger that I had built up towards finding out that Americans voted Trump into the White House," she says.
As Stefany and I continued to protest along with others, the anger melted away and turned into a unity of brothers and sisters who believed they were protesting for the common good.
She says, "I will continue to question why Americans voted for Donald Trump, but, I suppose that I will have to live with it."
Due to protesting, stores that are located below Trump Tower, Tiffany & Co along with Gucci which are both located on 57th Street, have been closed as early as 7 p.m. In a New York Times article, 'How Fifth Avenue Is Coping,' it says, "[Tiffany & Co.] The company has been in frequent communication with the New York Police Department and the Secret Service regarding safety and security, and decided to cancel two events in the immediate aftermath of the election: one celebrating its capsule collection with Eddie Borgo on Nov. 10 (it was rescheduled for early December) and one to unveil the holiday windows on Nov. 14."
As one of the protesters, everything seemed very organized. It was not a mess. With the upcoming holiday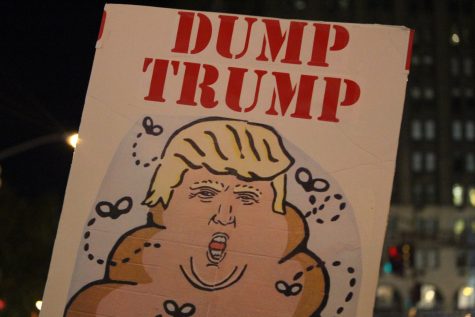 However, with the new security concerns for one of the busiest streets of New York City many people are aggravated. In Newsday, an article entitled, 'New Security Concerns at Trump Tower after Election, Officials say,' mentions a tenant who is renting space in the building. "Protecting Trump when he stays at his Manhattan residence "will have a big impact on us, bigger than we may know," said Robert Strang, head of the Investigative Management Group, an international security firm with offices in Manhattan and Miami. "We have had visits quite often from Obama and Bush, and it is disruptive, no questions. Streets are closed and traffic is jammed and people detoured blocks away. I have a feeling this will be part of our city life."
In The Impact's poll of the Mercy community, Hillary Clinton was the popular choice.
Stefany and the rest of the protesters will continue to question why Donald Trump was elected President. Others will continue to question why so many are still protesting and not embracing the new President, or giving him a chance. The First Amendment allows for both of these opinions, especially the echoing chant that will not seem to be faded away.
Not. My. President.
Leave a Comment
About the Contributors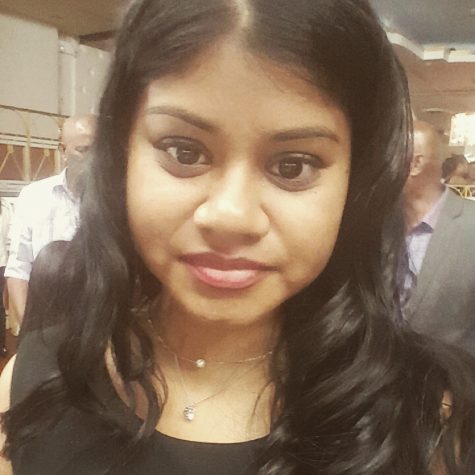 Britney Hoobraj, Impact Staff
Britney is a Journalism major at Mercy College. She was raised in New York City and her hobbies include attending concerts, attending protests, and re-watching...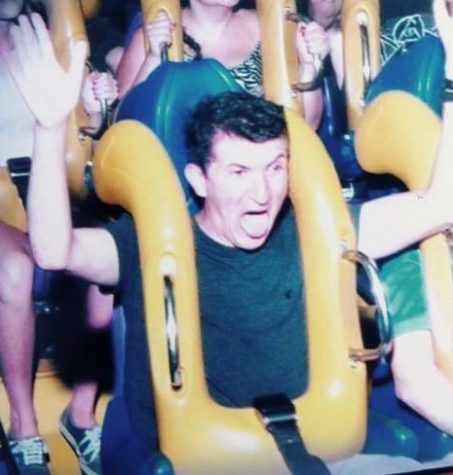 Justin de la Garza, Photographer