UN Ambassador Speaks About Mexico's Role In the Global Landscape
"He thinks he is an American from Texas, but what he really doesn't know is he is a Mexican from Texas."
The permanent representative of Mexico to the UN spoke to a large group of students in the Rotunda about Mexico's role in the United Nations and the world on Nov. 14. Juan José Gómez Camacho is a career diplomat that focuses mainly on human rights and democracy.
This event was one part of a weeklong event at Mercy. Sponsored by the Center for Global Engagement and the Office of International Students, International Week 2016 held a plethora of engaging events for students including the Study Abroad Fair and Passport Day, World Philosophy Day and World Toilet Day. This event was only one of many.
Dr. Sheila Gersh, the Executive Director of the Center for Global Engagement and Saul Fisher, Ph.D., the Executive Director for Grants and Academic Initiatives introduced Camacho.
The conversation started with a discussion about the internal environment in Mexico- the history of truncated territory and a third that went to the U.S. He closed with how the Aztecs, Mayans, and indigenous people were approached by outsiders from Europe who also "truncated their culture" as Kamal said it.
Joining Camacho, was former United Nations Ambassador of Pakistan, Ahmad Kamal. Mercy College regularly hosts a discussion between former United Nations Ambassador Ahmad Kamal and current United Nations Ambassadors from around the globe. Recent Ambassadors speaking at Mercy College include Ambassador Philbert Johnson and Consul General Bernard K.B. Quantson, Republic of Ghana (Spring 2015), Oh Joon, Republic of Korea (Fall 2014), Bekim Sejdiu, Kosovo (Spring, 2014) and Simona-Mirela Miculescu, Romania (Fall 2013).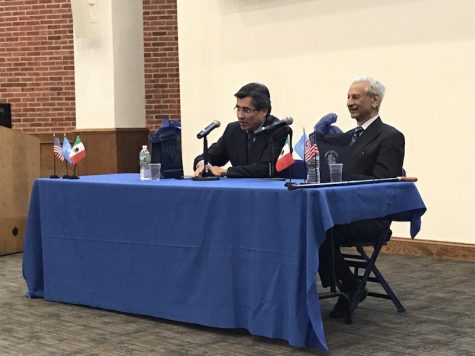 The panel began discussion about Mexico as a colony. It was a colony with the largest pre-Hispanic population that wasn't created by economic motivations but finding followers for the Catholic Church in the new world. Camacho explained that the Europeans "did not just do business and leave." They merged cultures, and the offspring is Mexico today.
Camacho then went on to talk about Mexico City, and its position as one of the most fascinating cities in the world with over 200 archeological sites, the rebirth of a new civilization, with the Mexican Revolution as the signal to the end of rebuilding.
After being independent for 206 years, Camacho described Mexico as "a confident country, moving forward, and embracing complexities."
The conversation began to transition into more detail of the Mexican economy. The main feature for discussion was NAFTA, the North American Free Trade Agreement. Canada, the United States and Mexico entered into this agreement, which seeks the elimination of most products traded between these countries. For Mexico, exports increased from $40-45 billion to about $450 billion dollars per year.
"For the last 20 plus years, the three countries began a very steady, very strong process of integration. Not only, do we belong geographically to America, but we also became completely integrated with the rest of North America."
Furthermore, beyond exports and imports, it encourages joint production and value chains between the countries, increasing connection and integration. Mexico has an economy of around 1.4 trillion a year, is one of the largest economies in the world and one of the largest importers and exporters in the world.
"From almost any angle you want to see Mexico, we are precisely that – one of the largest."
Camacho wrapped up the dialogue in a broader sense. He explained that on a global scale, there is a trend from globalism moving to nationalism, such as Brexit, Argentina, and India.
"Middle income is feeling like their institutions and organizations are not delivering. There is a weak global economy which poses challenges for everyone, and domestically. There is also a very strong sense of insecurity from events such as terrorism. Globalization is not a matter of choice – simply a force of nature."
Even Mexico is taking part in this nationalist mindset, shown in the form of reverse migration. Over the past five years, Mexican migration has been very small, almost negative relative to previous statistics. The number of Mexicans returning to Mexico has increased the same way.
"When things go well for the U.S., they go well for Mexico, and vice versa. The only way we can better ourselves is if we do better by each other. Prosperity can only happen if we encourage the prosperity of the neighbors."
Leave a Comment
About the Contributor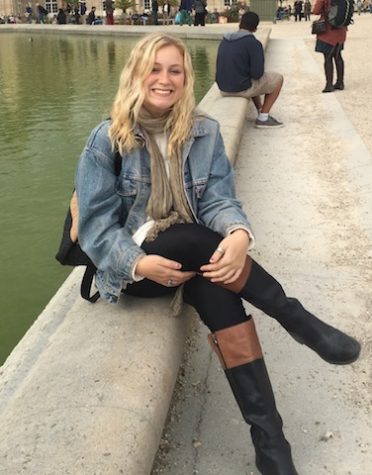 Abigail Smith, Staff Writer
Abigail may be a Public Accounting major at Mercy College but she's not your average accountant. Abigail enjoys meditating, journaling and reading in her...