Bring on Spring: Events You Can Do
We are all counting down the days for the warm weather to come our way. Once the spring semester starts, we think spring. But just because it is the spring semester, it doesn't mean Mother Nature has caught up with its warm weather. So while we wait for that, here is a list of activities we can do while waiting for spring to come!
Go bowling
A great indoor activity includes bowling. The best time to go is at night when places offer their night time specials. Most places call it cosmic or galactic bowling. It's bowling in the dark with black lights and loud music. Normally around $10 a person includes two hours of bowling and shoes per person!
See a movie
You can never go wrong with going out to see the latest movie. Typically the best movies do come out during the spring/summer time but Hollywood has evolved better movies all year long.
Go shopping
Shopping can be expensive but that doesn't mean you can't go to the mall and window shop! Spending the night or day at the mall just hanging around makes the cold days go faster waiting for spring to come!
Go ice skating indoors or outdoors
While waiting for the warm weather, take advantage of the cold. Find a frozen pond and ice skate on it. If that makes you a little uncomfortable, take it indoors to an indoor ice rink.
Take a hike
It may be cold out but taking a hike in the snow is a great exercise. You can also see a beautiful view that you wouldn't see during the summer.
Exercise
Strat working out. Everybody always talks about wanting a beach body. In order to get a beach body you need to start in the winter months and continue all year long. Think summer and work out.
Go out for a drink
Take a Friday night off and go out. Go to the bar or night club just let loose. Relaxing will help you get closer to those warmer days!
Go rock climbing
Not many people know but there are a lot of indoor rock climbing venues open to the public. Its great work out while still being able to have a lot of fun. You can do it with friends or join a class. The more you practice, the better you will get. Then you can take your skills to the outdoors in the spring to an actual mountain to rock climb.
Take a spa day
Spa days sound expensive but they don't have to be. Check out local deals before you go. Always check places like Groupon. Even if you just went for a massage in your nearby mall, it may look sketchy but they do a great job with great prices.
Jump on it
Find your local Bounce or Sky Zone. It's an indoor wall to wall trampoline building for all ages. They have designated areas for dodgeball, acrobats, regular jumping, extreme ropes course, and even a section for little tikes!
Practice your putt!
Find your local mini golf course. Most people are used to seeing them outdoors in tourist locations. Monster Mini Golf is a big chain mini golf that is around the area for all ages.
Dave & Busters
Adult arcades and sport bars are the best. You can drink, eat and play games. They have everything from older arcade games to the newest games you've never heard of. They also have a pool table room, a room dedicated to watching every sports game on, just dining, and just drinking. So no matter what you're in the mood for Dave and Busters has it.
Roller skate or roller blade
Most people don't do either of these things anymore. Some don't even know what it is. But a lot of indoor activity centers offer it and it's a great alternative to ice skating.
Grab a book and relax!
Either hit up your local book store, go to the library, or stay and read. It's a great option for those looking to not spend a lot of money.
Play Laser Tag
Go play a quick round of laser tag for $7 or buy the new at home addition so you never have to leave your home to defeat your friends. Just remember, you are never too old to play laser tag.
Practice shooting at the range
Go to the shooting range. It may sound a little scary and dangerous but why not face your fears. People talk about loving guns and shooting them, why not try it out for yourself and see what they mean?
Find a museum
There are so many museums around that are have everything and anything in them. You can find a museum about ice cream or about sex so why not spend the day there? Culture yourself by visiting all these different museums on your count to spring!
Checkout the recreation center
Your local recreation center is more than a gym with a basketball hoop. They offer basketball leagues, yoga classes, and open gym time. These classes and leagues are open to all ages typically at very affordable fee and they run all winter long.
Blow glass class
You can take a class that always you to make your own blow glass. This is becoming really popular. You can make anything from a bead to a clock to an ornament to a tumbler. It's a great DIY present to give to people or to keep for yourself.
Sip and paint classes
The fad is sip and paint. Drink some wine while trying to paint like a top notch artist for about $40. They offer these all over the place. Some people have them as fundraisers, birthday parties, or they just attend them as classes for fun.
Visit an aquarium
It sounds like it's for little kids but when was the last time you visited one? Take a trip out to an aquarium and see how different they are from when you were little.
Go to an indoor water park
Why wait for the warm weather to hit the water slides? Go to an indoor water park for the day or the weekend. Take a little get away and have fun!
Go to the mountain
With all the snow check out the mountains. You can ski, snow board or snow tube. Most mountains are open until early April.
Game night
With all these new board games and card games coming out have a game night! You can even make it interesting by bringing drinking into it or adding truth or dares into it. Game night never fails on a cold night.
Bake fest!
Have a baking day. Bake everything in your pantry all day long. You can't go wrong with cookies and cake. Eating some of the batter or dough along the way is always a plus.
Leave a Comment
About the Contributor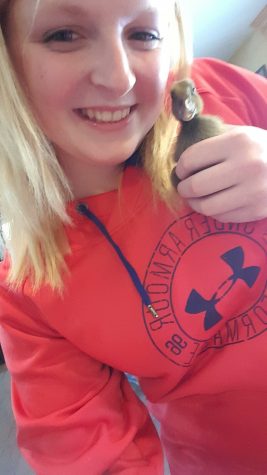 Amanda Depew, Staff Reporter
Amanda Depew is a Radio/TV Production major at Mercy College. Her hobbies include working all the time along with eating all the time. She has many jobs...