Music Freedom Day Is All About Offering A Voice To Artists
For musicians across the world who have been censored in their artistic views and voices, the right to freedom of musical expression, a right often taken for granted, is a crime.
Created in 2007, March 3 has become Music Freedom Day – a day to bring awareness to the censorship and violations against artists who are hindered from expressing themselves through music.
Instituted by Freemuse, an organization dedicated to freedom of artistic expression, Music Freedom Day connects people all over the world, and in 2017, artists and advocates in cities including Barcelona, Oslo, Copenhagen, Milan, Geneva, Nairobi, and New York, came out in support of the theme of this year's event: female voices.
In New York, Mercy College was one of the gathering sites for the occasion. Professor and human rights activist Austin Dacey coordinated the event and spent the afternoon in the Dobbs Ferry campus Lecture Hall with students and other guests sharing information about the issues faced by international artists.
"This was organized to start a conversation with students in the Music Tech program," said Dacey who hopes to get all students interested in the significance of communicating with artists around the globe. Students in the Music Industry and Technology program could perhaps one day work toward facilitating ongoing connections across the international boundaries which prevent those with limited freedom from expressing themselves artistically, he says.
Through interaction with other people, a virtual bridge that defies barriers against human rights could be formed.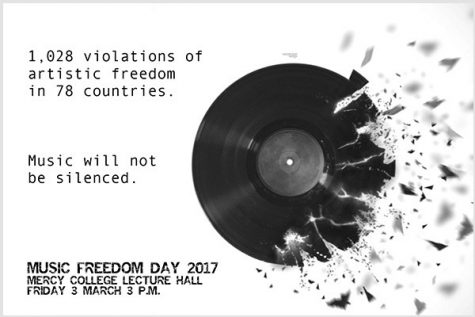 The first piece of music to be featured at the event was a recording from female Somalian singer Maryam Mursal. Mursal's music, which is described as Somali Jazz, provided the backdrop as guests settled in.
In the late 1980s, Mursal, who is Muslim, spoke out against the Somalian government in her song "Ulimada." Following its release she was subsequently silenced. She spent the following two years prohibited from singing.
Along with this type of censorship, attacks on freedom of expression have included torture, imprisonment, and death.
In 2010, the idea to help breakdown the walls of communication came to Dacey while listening to a band from Tehran, Iran.
"I came across a band I really liked, but could not see them." The band, called The Plastic Wave, had been invited to South by Southwest, an annual festival of art that takes place in Texas, but when they tried to obtain artist visas, Dacey states, "they were deemed illegal, so they were not seen as a legitimate band."
Maral, the lead singer of The Plastic Wave, is a woman. In Iran, women are banned from both singing alone and in front of a mixed gendered audience.
According to Freemuse, in their Art Under Threat in 2016 report, in addition to laws regarding gender in Iran, individuals in countries such as China, Nigeria, and Turkey have faced imprisonment, prosecution, and persecution for what are often viewed as attacks on government or religion.
In 2016, artists in the United States faced "13 registered acts of censorship," tying with Turkey in censorship but not in serious violations.
Though The Plastic Wave were not recognized as artists, an ingenious attempt would be made to get their music heard.
In answer to the restriction placed on the band, Dacey would facilitate the sharing of their music through another band acting as "a virtual avatar." Brooklyn based band Cruel Black Dove began learning the songs of The Plastic Wave, one of which was aptly titled, "My Clothes on Other Bodies." This began what would become known as The Impossible Music Sessions. These sessions were created based on the idea that through other artists, or video, the songs of those who had been silenced could still be played to listeners internationally. For the next few months, Cruel Black Dove prepared and subsequently performed The Plastic Wave's music for both a New York audience and the actual band members in Iran.
Following Cruel Black Dove's endeavor, New York hip hop artist Hasan Salaam would be the next performer to take part in the Impossible Music Sessions. Salaam started translating the song "7 minutes of Truth" from Guinea Bissau political rap group Baloberos Crew. Several members of the group had at one point been abducted and beaten for being lyrically vocal about issues affecting their country, such as military crime and corruption. Salaam recorded their song, and ironically music stations in Guinea Bissau began playing his version.
One of the last artists Dacey shared with the audience was Norwegian singer and composer Deeyah Khan. Deeyah, a Muslim, faced threats against her life for performing music, which is deemed unfavorable for Muslim women. Khan eventually had to flee Norway and settle in London after being attacked at one of her concerts.
Before the close of the event, Dacey left audiences with a concept that he believes would be interesting to see in the future on a college campus such as Mercy: the use of Portals, large shipping containers transformed to house floor to ceiling screens and act as virtual hubs, allowing people all over the world to see and communicate as if they are all in the same room. These Portals have already been implemented in cities across the U.S., the closest one located in Brooklyn.
Addressing the disappearance of arts programs in public schools with the students, Dacey's message of the importance of keeping music as a conversation and a connection between individuals puts the spotlight on new outlets for musical expression, such as Portals, coming in while one form is facing its own kind of silencing.
At the end of the event, Dacey said he would like to see a Music Freedom Day Event in the future at Mercy with musicians from the U.S. and all over the world.
Dacey's vision of opportunities for unifying experiences where musicians no longer feel denied a voice that is truly theirs, appears to be endless. Artists are now virtually closer together than the miles and laws that keep them apart.
"I want to mark this day as a way to raise awareness and reach out in solidarity with other artists," he said, and he remains "devoted to music as a human right."
Leave a Comment
About the Contributor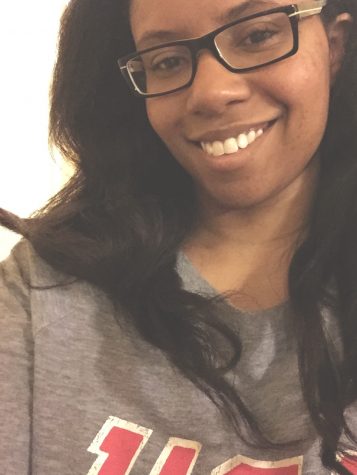 Christine Coleman, Staff Writer
Christine is an English major at Mercy College who is also minoring in Journalism. In her spare time she enjoys writing, dancing, movies (usually scary...