Therapy Dogs Relieve Stress at Mercy College
Stella Bella Mozzarella and Harris Puppy came to visit Mercy College this month as students greeted the therapy dogs with love and affection.
Stella is a six and a half year old poodle who happens to be the number one therapy dog in the nation. Stella also has her own children's book written after her called "Stella: The Dog With The Big Heart" along with her own Facebook page that has almost 33,000 likes. Harris is her baby brother, a four and a half year old Australian Labrador who always makes everyone laugh with his crazy personality.
Student Life organized the dogs to visit Mercy College to help relieve the stress of the students since midterms are right around the corner. Playing with or petting any animal can help increase levels of stress-reducing hormones along with decreasing production of the stress hormone cortisol. These hormonal changes can help an anxious student feel more relaxed about taking a midterm. Reduced stress can also benefit physical health; typically when people are stressed they tend to binge eat causing harm to their physical health.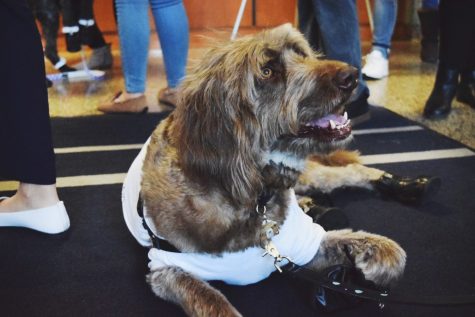 The Student Life office stated they made a conscious effort to help students dealing with stress this semester.
Stella's owner, Marissa Levy, decided to get her after her dad passed away. She couldn't find happiness anymore without her dad in her life. She felt the only way she could survive in the world was with some type of companionship, such as a dog. After explaining that to her mom, Lisa Levy, later she had Stella in her ownership. Originally Marissa received Stella with the intention of just having a regular pet to keep her company. Then one day when she was at the park, a lady came up to her telling her how Stella would make a great therapy dog, and from there the rest is history.
About two years after having Stella, Lisa decided it was time to get herself a dog as well. That is when she got Harris Puppy. She decided to make her a therapy dog as well because she realized how much joy it brings to others.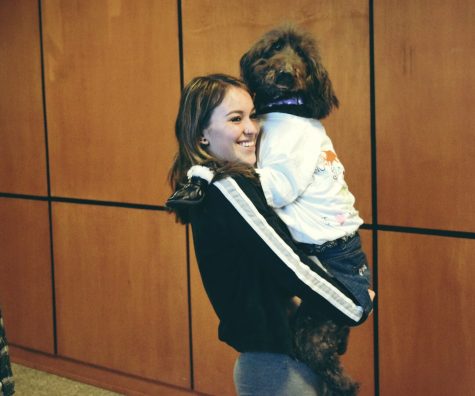 While visiting Mercy College, Stella and Harris brought joy to the students. Diana Castro, freshman, realized how much stress it can actually take away if only for a short period of time. She said seeing Stella and Harris makes her want to get a dog of her own now. Diana also said it is great to see how much dedication Marissa and Lisa have for the dogs, and it shows that there are great people out there.
Other Mercy students felt a similar way about the therapy dogs. Kelly Corvino, sophomore, was in class during the event. Luckily her professor heard about the event and sent her class downstairs to relieve some stress before their big midterm coming up. Kelly said just being able to get out of class to see the dogs for a short time really helped her. She says, "everyone should give therapy dogs a chance even if you are skeptical about it because you never know what can help you until you try something new."
Petting a dog makes people feel safe instantly, which takes away anxiety and vulnerability. For Johanna Alfaro, sophomore, it helps to keep her mind off her stress. "It really made my day being able to play with the dogs during school."
Even though Stella is the number one therapy dog in the nation, her brother Harris is right by her side full of support. Even dogs need support sometimes.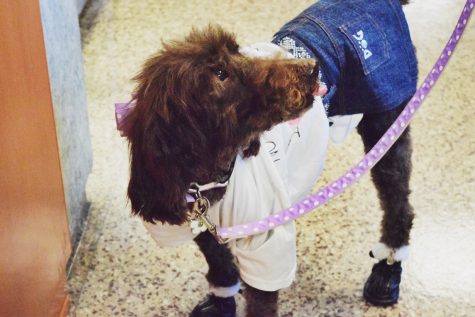 Service dogs and therapy dogs are not the same when it comes to entering the workforce. Therapy dogs are not allowed unless used as a foundation of comfort. It is not necessary for the dogs to perform tricks, although Harris did know a few, and they did bring happiness to the students at Mercy. Harris gave "paw" which was his putting his paws up in the air. It brought a lot of attention to the students surrounding him.
Marissa Levy said Stella and Harris have been to Mercy College multiple times before, and they plan to be back again. It is one of their favorite crowd pleasing spots. Therapy dogs are for everyone, and they aren't just for people with deep problems. They bring love and joy to all.
Leave a Comment
About the Contributor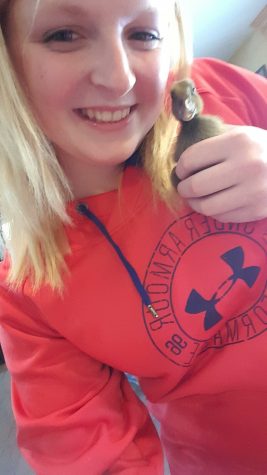 Amanda Depew, Staff Reporter
Amanda Depew is a Radio/TV Production major at Mercy College. Her hobbies include working all the time along with eating all the time. She has many jobs...