Snapchat Cashes In With IPO
Snapchat, IPO chit chat, if you screen shot you're a rat, rat, rat.
Snapchat was off to a fiery start on Mar. 2 during its initial public offering in which it was priced at $17 a share and valued at $24 billion.
Demand was high; Snap Inc. started trading on the New York Stock Exchange (NYSE) at $24 a share, reaching a high of $26.05 during the first day. This event was the second largest U.S. based technology IPO, following only behind Facebook.
An initial public offering is the first time a private company goes public and shares are available to be publicly traded.
A study held in 2015 reported that nearly 77 percent of college students have downloaded Snapchat on their mobile devices and use it daily. Another report from Digital Market Ramblings (DMR) in February of 2017 reported that approximately 20 percent of users post new messages every day.
Snap Inc. is an Lost Angeles-based American multinational technology and social media company that was founded in 2011 by Evan Spiegel and Bobby Murphy. The company was rebranded in 2016 from Snapchat Inc. to Snap Inc., and its products include Snapchat, Spectacles and the Bitmoji app. Snapchat allows the user to take a picture or record a short video, customized with text, drawings and filters that last anywhere between one to 10 seconds, depending on whichever the user chooses. The photos or videos disappear after it has been opened, while giving the receiver only one opportunity a day to re-play.
The entire size of the offering, over 200 million shares, accounted for about 10 percent of trading activity on the The New York Stock Exchange (NYSE). Shares of Snap closed their first day of trading up 44 percent, at $24.48 per share, increasing its market capitalization to around $33 billion.
Over the last few years, Snapchat has launched many new features such as Snapchat Discover, exclusive filters and geotags as well as live behind the scenes footage of publicized events such as marches, concerts, award shows and holidays.
More recently, Snapchat has launched its first physical product ever: Spectacles.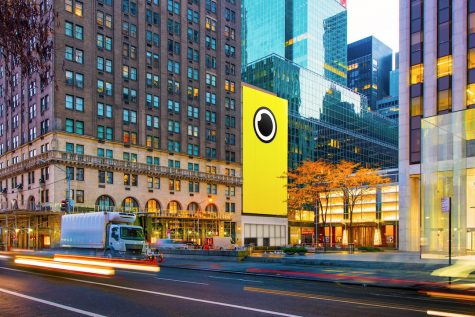 Mahina Won-Milho, junior Marketing major, was among one in the NYC line where she waited in for seven hours to purchase two pairs of Specs. She stayed on top of the IPO news as it is her number one social media and top favorite companies.
"I think from a company point of view, it's awesome and gives more revenue. But as a user, it means more advertisements. Now its about money for the stockholders and marketing revenue, but it will enable them to create better products and better Specs."
Spectacles are sunglasses that record ten-second videos right from your best perspective -your eyes. They come in a rechargeable case and can only be bought from "bots," a unique vending machine that has only popped up in major cities for a short period of time.
Snap has marketed itself as a top social media application with a large following. In 2013, both Facebook and Google had offered to acquire Snapchat for $3 billion and $4 billion, respectively. Attention from investors increased as a result from this bold move, showing that the company had more confidence in the longevity of being an individual business interest.
However, when trying to value the asset, some investors have had trouble justifying what makes Snapchat worth so much.
The company nearly carries no debt and current assets exceed liabilities by a factor of eight. Check mark for cash flow and liquidity.
Junior Public Accounting major, Mickey de Vries, is skeptical of investing in tech companies, especially regarding the understanding of numbers behind them, or lack thereof.
"I don't think there is longevity with Snapchat. A lot of celebrities are moving toward one platform, like Instagram, that allows you to post to your story and individually," he said. "People that I'm friends with on Snapchat are my close friends, that are only private. People go on Snapchat to talk to their friends. They can't reach a higher public than that."
Its net worth (assets minus liabilities) is about $1.5 billion, which is positive. Still, with a high valuation and $24 billion price tag, a market value some 15x higher than net worth raises some red flags.
To add to that, Snapchat has never made a profit, and for the fiscal year ending Dec. 31, 2016, the company lost $500 million, and $372 million the year before that.
Snapchat increased its advertising revenue by more than 6x from 2015 to 2016, but whether or not that is sustainable is an unknown matter.
School of Business Professor and Marketing specialist, Mark Chmiel, leverages his knowledge in Marketing and Economics to understand companies like Snapchat and what compels them to succeed.
"The longevity and popularity of a Snapchat is and will continue to be very strong because the content is consumer activated. Compared to traditional news and entertainment media that relied on sourcing information, this type of platform is as fresh, edgy and relevant as the consumer wants to be."
Chmiel strongly believes that the consumer is in complete control of the messaging, therefore its popularity and longevity rests with the consumer.
He asks, "Do they share popular, interesting content? If so, the platform in some form will be around for a long time."
In the end, investing is based on human behavior and that sometimes is erratic. Worth is measured in many ways, some based on investor emotion. There is no doubt that as of today, Snapchat is one of the top social networks, but Facebook and other mediums are searching for ways to win over their users, creating similar features like the Snapchat "story."
We'll see, as long as Ghostface Chillah is around.
Leave a Comment
About the Contributor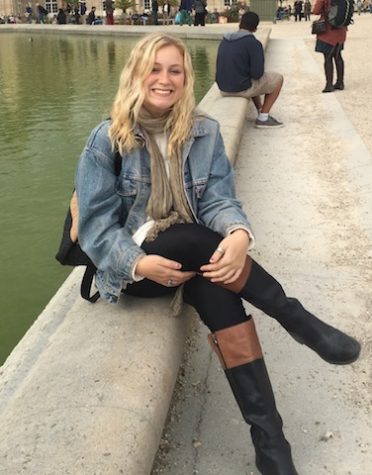 Abigail Smith, Staff Writer
Abigail may be a Public Accounting major at Mercy College but she's not your average accountant. Abigail enjoys meditating, journaling and reading in her...