Mexican Photographer Karla Guajardo Shares Her Work At Mercy
Mexican photographer and photojournalist Karla Guajardo shared her work with Mercy students last April 5 during an intimate talk and exhibit titled, "Another Italy: Other reality".
This eye opening exhibit, shares the story of Mexicans who emigrated and a currently living in Italy, or "Mexican Expatriates."
After relocating to Italy to continue her education, Guajardo fell in love with the Italian lifestyle and decided to settle down and start a life away from friends, family and everything that was familiar to her.
After two years in her new home, she realized she hardly met two other Mexicans while living abroad, so in an attempt, she actively tried to find other Mexicans in Italy through social media (mainly Facebook). Now, almost a decade later, it became an ongoing project, photographing and sharing the story of those who relocated. "Through photography, Mexican Expatriates witnesses and shares the small universe that tells the stories of migration from Mexicans living in the most affluent cities in Italy, such as Rome and its surroundings, Florence, Milan, Turin, Cremona, Brescia, Venice, Bologna and Naples."
In this search for fellow Mexicans, she realized that most of the people she found were women, and were there because they got married to an Italian citizen and relocated after. After all, migrating to Italy is not very common for Mexicans due to the distance and the complicated process to be able to do so legally. In 2011, there were roughly 5,600 Mexicans living in Italy, spread throughout the Italian territory, which runs from the island of Sicily to northern Italy. They either came for work, marriage or collegiate studies.
Within the workplace, the person who has been working the longest in Italy arrived in 1968. Then younger stories with less than 5 years since they emigrated have been found, she said.
An online community for Mexicans living in Italy has been growing. To connect those who are living abroad and keep them in touch with their Mexican roots. Internations, one of these online communities, states "Socializing with fellow Mexicans is an important facet of living abroad and can be a huge stepping stone in getting to know the Italian mentality and way of life."
"Having Karla Guajardo visit Mercy College was very important because it showed that just as the Italian diaspora has influenced the entire world in rich and beautiful ways since the beginning of mass emigration from Italy (c. 1880), so too is the Mexican diaspora a beautiful and enriching phenomenon that positively influences our global community," said the Director of the Modern Foreign Languages program, Dr. Alan Hartman.
Guajardo states what she sees the most is how stereotypes seem to follow Mexicans wherever they go. Most Mexicans living there migrated legally and the stereotype the U.S. has given them seems to have follow them there.
Although a large percentage of the people she connected with have college degrees, they are not able to do so because Italian employers feel they are not qualified enough. Most have had to settle for a lower ranking job, or doing something completely unrelated to their field.
Reflecting back on her experience, Guajardo concludes that in Italy, from what she has experience, connections are everything. "Here in the U.S., I would say connections are 30 percent of the process of getting a job, the rest are your qualifications, while in Italy, I would say the make up about 70 percent of the process, so you have to learn how to integrate and make connections of your own" she says. She remembers her biggest struggle when first arriving in Italy was making those connections and making herself feel included in the Italian society and lifestyle.
She is currently happy with her new life and like most of the fellow Mexicans she connected with, she doesn't wish to go back to Mexico. She loves that she is part of a new culture which continues to grow and strive.
"Karla Guajardo's presentation reminded the Mercy College community that Italy today is a land of immigrants who play a very similar role in Italian society that Italian immigrants have played in the United States and elsewhere around the world," added Hartman. "Her presentation also showed that Mexicans are now part of the increasingly cosmopolitan Italian society just as they are in the United States and elsewhere."
Leave a Comment
About the Contributor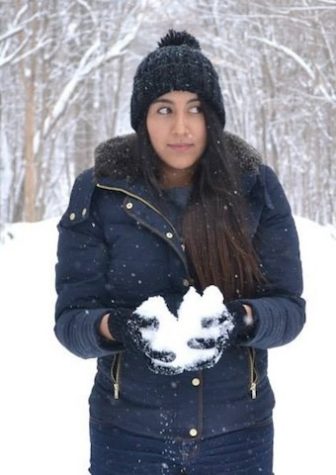 Alejandra Naranjo, Staff Writer
Alejandra is a Music Technology major at Mercy College who is born and raised in Colombia.

She writes a column titled Let's Talk...

She can reached...