Destructive Hurricanes Affect Mercy College Community
This year's storm season has brought unprecedented destruction to parts of the United States and its territories. Hurricanes Harvey, Irma and Maria have caused immense flooding and record-high wind speeds, and while these disasters did not directly strike the North-East region of the U.S., they have affected some members of the Mercy College community.
Hurricane Harvey hit the shore of Southern Texas on August 25th, 2017 as a Category 4 storm with wind speeds up to 130-mph. Harvey is the strongest storm to hit a U.S. coast since Hurricane Wilma hit Florida in 2005, and is also the first major hurricane to strike Southern Texas, according to National Geographic.
This storm has affected about 13 million people in the state and nearly 135,000 homes have been either damaged or destroyed due to the powerful winds. The official death toll currently sits at 82 residents, according to numbers Texas officials have released to the media.
Texas Governor Greg Abbott said on "Fox News Sunday" that it may cost up to $180 billion to rebuild the state as powerful storm surges dumped about a year's worth of rain on Houston and southeastern regions of the state.
Mercy College President Tim Hall, a Texas native, expressed that some of his family back in the Lone Star state were affected by the storm, but thankfully, they are all safe. Hall also noted that he has seen a lot of his high school friends on Facebook, reporting about the damage inflicted upon their homes.
While it's common for Texas to experience flooding and storms, his family was able to prepare properly for Hurricane Harvey.
Growing up in Texas, Hall remembers experiencing many storms as he lived along the Gulf Coast. His family would secure plywood over the windows of his home to prevent water damage when there was flooding. He also experienced the loss of a car during Hurricane Isaac in 2012 due to massive flooding.
"As my family and friends are okay, I'm now worried about my Mercy College family,"  Hall expressed.
He has encouraged members of the Mercy College community to donate all they can, in a series of several emails regarding relief for all of the hurricanes.
Hurricane Irma first made landfall as a Category 5 storm over Antigua and Barbuda, also hitting parts of Puerto Rico and the British and U.S. Virgin Islands on Sept. 6. It then moved towards the Dominican Republic and Haiti on the following Thursday with a straight path to Florida.
The storm hit the Florida Keys on the morning of Sept. 10 as a Category 4 storm, ultimately knocking out power to more than 6.8 million residents. By Sept. 11, it had weakened to a Category 3 hurricane as it moved toward the Florida mainland that Monday. It continued to power north towards Georgia and Alabama until finally weakening to a tropical depression and dissipating by Sept. 13, according to CNN.
With winds, up to 185-mph, this storm with a massive 30-mile-wide eye, tore off roofs and flooded many coastal cities. The death toll across the states affected, according to News 4, is 34 in Florida, three in Georgia, four in South Carolina and one in North Carolina.
It is estimated that the total damage from Irma is up to $100 billion, as it caused storm surges between one and six feet in coastal areas and has left some Florida residents still without power, almost a month after the storm hit, according to ABC News.
Matt Assumma, a member of Mercy College's Executive Development and Growth Experience (EDGE) program and seasonal resident of Key Largo, Florida, was severely affected by this storm as the Florida evacuation fell on the first day of the fall semester.
It took him two days to get out of the state of Florida. Assumma referred to this evacuation as "a race against gas and traffic," as Governor Rick Scott announced on Sept. 7 that there was no gas south of the city of Orlando. It took Assumma seven tries at different gas stations before he could fill up his tank in Florida.
At one point, while on his way to his parents' house in New Jersey with his girlfriend and their two dogs, Assumma found himself sitting in the same spot on the highway somewhere near Jacksonville, Georgia for two straight hours. As almost the entire state was trying to evacuate, everyone was stuck.
"It was worth it for us to go to New Jersey because we didn't know how long it was going to be until we could return home," he said.
About a week after the storm hit, Assumma got a call from his boss at the private club where he works saying that they received a generator and now had power. He claimed that going back was just as bad as leaving, as there was traffic going back into Florida.
After his boss said they had power, she said to Assumma "If you plan on being down here, bring at least a month's supply."
Even though Assumma lives four blocks from the beach, his house luckily didn't have any water damage. But some of his neighbors weren't so lucky.
"It's still an absolute war zone down here," he said.
Assuma and a lot of his neighbors have all pitched in to help slowly rebuild their community.
"It gives a whole new meaning to southern hospitality, in my opinion," he said. "People as far as Texas are coming to help us."
Now that Assumma is back in Florida, he will continue to help rebuild his community and his place of work all while catching up on classwork he has missed.
Hurricane Maria quickly became a Category 5 storm when it first hit the Leeward Islands on Sept. 19. From there, it caused massive devastation for the island of Dominica where, according to the prime minister, it was the strongest hurricane on record to make landfall on the island.
Hurricane Maria then directly hit the territory of Puerto Rico on Sept. 20, less than two weeks after Hurricane Irma, as a Category 4 storm with winds up to 155-mph which caused the entire island to be without power, destroyed hundreds of homes and produced heavy flooding.
Puerto Rican Governor Ricardo Rossello said, "No generation has seen a hurricane like this since San Felipe II in 1928," during an interview with CNN. This makes Maria the strongest hurricane to hit Puerto Rico in more than 80 years.
On September 20th, Rossello stated to his citizens "We are stronger than any hurricane. Together, we will rebuild."
Puerto Rico's entire population of 3.1 million people has been affected by this hurricane as there is still a lack in temporary housing and basic necessities such as clean drinking water on the island. While Hurricane Maria has killed 16 people in Puerto Rico, it seems that many others are at risk of death due to lack of food and medical attention.
Felix Delgado, mayor of Catano, Puerto Rico, told CNN that "months and months and months and months are going to pass before we can recover from this."
Tiffany Cordero, Mercy alumna and class of 2016, has many family members in the San Juan and Moca regions of Puerto Rico. As she refers to the island as her second home, she can't help but feel powerless over the damage that Hurricane Maria has inflicted.
"I feel more affected by this than Superstorm Sandy and I'm not even there," Cordero stated.
Since most of the island is still without power, it is hard for Cordero to contact her relatives, and she's still unsure if everyone is safe. She tries calling either her uncle who is a doctor in San Juan or the number for her grandmother's municipality multiple times a day. When Cordero does get in contact with her uncle, it's only for a few moments.
"You can say a lot in those 30 second phone calls," she said. "It's important to make them count."
Even with the massive destruction and Cordero's concern for the local economy, she remains optimistic because that's what she feels she can do for her family at this time. She explains that it's even hard to directly send them money because there's no way of getting mail. Cordero has plans to help her family members get back on their feet when the condition of the island improves to the point where there are clear roads and enough essential supplies. Until then, she will continue to try and reach her family through phone calls and Facebook messenger every day.
"The absolute worst news is that someone has died, but other than that the rest is good news."
Leave a Comment
About the Contributor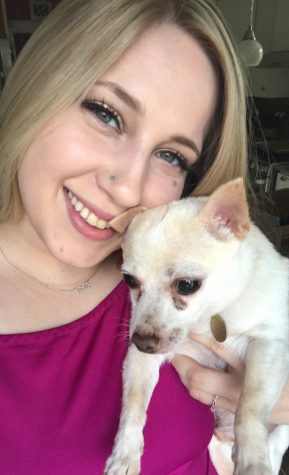 Liv Meier, Former Associate Editor
Olivia Meier, most commonly referred to as Liv, is a journalism student at Mercy College. And while she loves New York, she is a true Jersey girl. If she's...