A Year After Presidential Election, Students Continue to Chant 'Not My President'
A year after the 2016 Presidential Election, many are still protesting against President Donald Trump and what his administration is doing.
Many Hillary, Bernie, and Independent supporters came out to say 'No!' to Trump and Mike Pence.
On Nov. 4, RefuseFascism.org held a Trump/Pence Regime Must Go! Protest in New York City and many other cities across the United States. On Nov. 1, Refuse Fascism organization placed a full page ad into the New York Times. The ad said, "Nov. 4 – It Begins Be There. Join with Thousands who will gather in cities and towns across the country. A movement of protests that continue every day and night, growing until we become millions … determined not to stop until this regime is driven from power."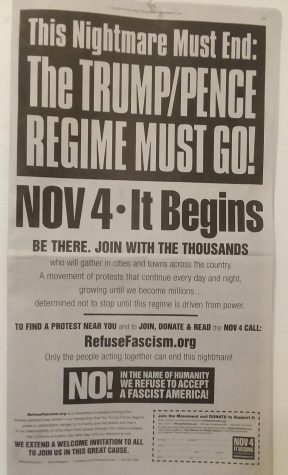 With the protest starting from Times Square and ending at Washington Square Park, there were all ages from youngsters (who were probably forced to go by their parents) to people in wheelchairs.
There were those few that supported Trump, and decided it would be joyful to join the Anti-Trump Protest. Some decided to leave, others decided to stay and march. To each their own.
Antifa or according to the Washington Post's article titled, Who are the antifa, "Militant anti-fascist or "antifa" (pronounced Antifa) is a radical pan-leftist politics of social revolution applied to fighting the far right. Its adherents are predominantly communists, socialists and anarchists who reject turning to the police or the state to halt the advance of white supremacy. Instead they advocate popular opposition to fascism as witnessed in Charlottesville."
The Impact was on hand to see the protest.
One protester started a chant saying, "This nightmare must end!"
A Trump supporter countered and said, "You should go pay our taxes!"
The bickering continued between the two until a police officer stepped in. You can sense the tension between the Anti-Trump and Trump supporters who attended the protest.
"Nov. 4, is just the beginning!" said one of the organizers of the protest. Others shouted in agreement while others clapped. Since then, New York City has held a protest everyday since. It may not have thousands of people attending; however, it will leave an impact on those that attend.
Refuse Fascism's goal with this protest was to have a peaceful protest. To some it was and to others it was not. Many of Trump's supporters decided to join the march. The Trump supporters counter-argued all the chants that were being said by Anti-Trump Supporters.
Many Anti-Supporters argued with Trump supporters. Many of the organizers tried to break off the argument; however, the bickering between the supporters continued until the police officers had to get involved.
The protest was at a standstill until the police officers broke off the fight. Once the police broke apart the fight, the peaceful protest continued.
While marching, people were marching with signs and chanting:
No Trump, No KKK, No Fascist USA!
Not My President!
Use your First Amendment Right!
In the name of Humanity, We refuse a fascist America!
To those that had no clue about a protest, or whoever was standing taking photos, chanted Join us!
According to Refuse Fascism's website, the reason for this protest is, "Our actions reflect the values of respect for all of humanity and the world we want – in stark contrast to the hate and bigotry of the Trump/Pence fascist regime."
"Our determination to persist and not back down will compel the whole world to take note. Every force and faction in the power structure would be forced to respond to our demand. The cracks and divisions among the powers evident today will sharpen and widen. As we draw more and more people forward to stand up, all of this could lead to a situation where this illegitimate regime is removed from power."
"Spread the word and organize. Be a part of history in the making. Don't let it be said that you stood aside when there was still a chance to stop a regime that imperils humanity and the earth itself. Join us in taking to the streets and the public squares day after day and night after night. Let's stand together with conviction and courage, overcoming fear and uncertainty, demonstrating that."
Camille Smith, 28 from Chicago, was one among those protesting.
"He is a problematic man," she said. "He disrespects other cultures."
In the past, Trump has made fun of people with disabilities, different religions, and disregarding basic human rights.
Smith continued, "As an African-American woman, I feel as if whatever Trump plans on doing with America in the future, just won't benefit me."
According to Gallup Poll, as of Nov. 5, Trump is at a 37 percent approval rating. His all time low was on Oct. 30, with a 34 percent approval rating.
Leave a Comment
About the Contributor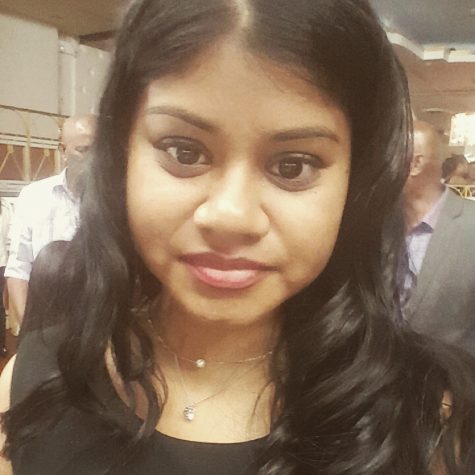 Britney Hoobraj, Impact Staff
Britney is a Journalism major at Mercy College. She was raised in New York City and her hobbies include attending concerts, attending protests, and re-watching...